Wales
A small country with a big personality, a distinct culture and an action-packed 2000 years of history.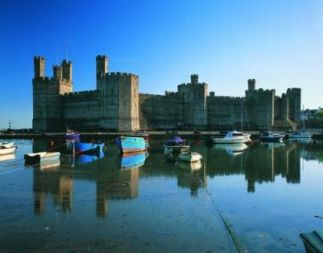 Caernarfon Castle is one of the most picturesque in Wales
Welsh Tours
The number of castles is testament to Wales's turbulent history - no less than 641! From defensive beginnings to Tudor banqueting and Victorian decadence, the splendour of these fortresses will touch the soul. Dozens of them are beautifully preserved and in spectacular surroundings. Here are our recommendations for the greatest castles to visit in Wales.
Spectacular aerial footage of Caernarfon Castle © Crown copyright (2016) VisitWales
Harlech Castle, for example, is one of six World Heritage Sites in Wales and sits spectacularly on the mountain side, overlooking Tremadog Bay at the edge of Snowdonia National Park in North Wales. It is one of the most famous castles in Great Britain. Conwy is also a firm favourite – a true medieval marvel, perched on a rock in with Snowdonia in the background.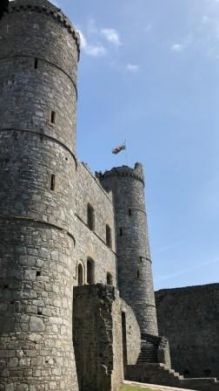 Harlech Castle © Neil Redler
With over 1600 miles of coastline, Wales has no shortage of fabulous beaches. Whether you are looking for a secluded bay or a romantic cove, a family-friendly space or miles of golden sand, Wales has a beach for you.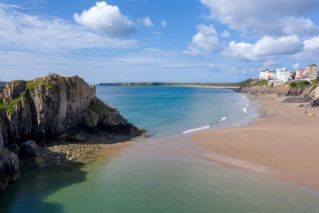 Castle Beach, Tenby © Hawlfraint y Goron / © Crown copyright (2019) Cymru Wales
From the snowy peaks of Snowdonia, to the Christmas markets of Cardiff and Swansea, and from frosty Welsh castles in their festive finery, to roaring log fires in warm and welcoming hostelries, there is so much to enjoy on a tour of Wales in winter.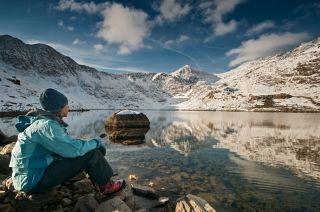 Yr Wyddfa (Snowdon) in winter © Hawlfraint y Goron / © Crown copyright (2022) Cymru Wales
Something for everyone
North Wales was listed at number four in Lonely Planet's Top Ten 'Best in Travel 2017' list, described as a 'stunning area with a vast array of activities on offer to keep travellers entertained'. 
 There's something for everyone on the North Wales coast, one of the most popular parts of the UK for seaside holidays. North Wales boasts numerous coastal resorts catering for all tastes, within a stone's throw of spectacular Snowdonia National Park.
Plas Dinas in North Wales was the ancestral home of Lord Snowdon, who married Princess Margaret in 1960. Now a luxury hotel, this is the perfect place to stay on a Royal Britain Tour.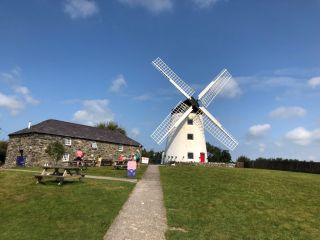 Melin Lynnon, pictured above, is situated on the island of Anglesey and is the only surviving working windmill in Wales. A popular visitor attraction in its own right, Melin Lynnon also produces a range of delicious chocolate and gins.
Here are our suggestions for five things you can do in Wales to make your tour special!
Shaun, one of our team, enjoyed a trip on the Llangollen Canal, which runs across the border between Wales and England, and includes the incredible Pontcysyllte Aqueduct, a UNESCO World Heritage Site, which is the longest aqueduct in Britain and the highest canal aqueduct in the world. Read Shaun's blog here.
Rugby, the national sport of Wales, plays a huge part in the nation's culture. The Welsh Rugby Union dates back to 1881 and Wales is one of the world's most successful teams. Rugby takes place around the country, with clubs in every town and city. The world-famous Principality Stadium in Cardiff, with its retractable roof, is home to the national team. When Wales are playing rugby the nation comes to a halt, and there's nothing quite like the atmosphere of being at a match or watching in a Welsh pub when Wales is playing in the Six Nations championship!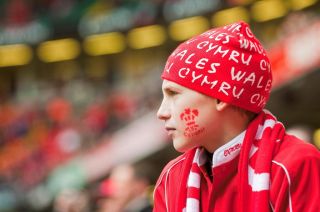 An avid Welsh rugby fan! © Hawlfraint y Goron / © Crown copyright (2021) Cymru Wales
Land of History and Heritage
Wales is renowned for its heritage railways, which delight passengers as they travel through the dramatic Welsh countryside. The Ffestiniog and Welsh Highland Railways, for example, operates two fabulous heritage lines in North Wales.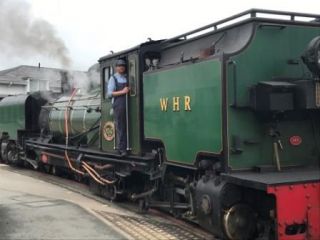 Welsh Highland Railway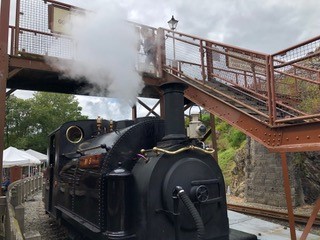 Ffestiniog Railway © Neil Redler
The Ffestiniog Railway is the oldest narrow-gauge railway in the world, with almost 200 years of history, and the Welsh Highland Railway is the UK's longest heritage railway, which runs for 25 miles through the magnificent scenery of Snowdonia National Park.
A steam train leaving Porthmadog Station on the Ffestiniog Railway © Crown copyright (2016) VisitWales
Yr Ysgwrn in Snowdonia, former home of Hedd Wyn, a Welsh language poet who was killed in World War One and was posthumously awarded the bard's chair at the 1917 National Eisteddfod, recently reopened after major restoration work and is well worth a visit.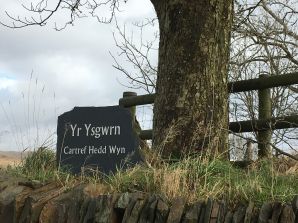 A day out in Snowdonia is perfect for following in the footsteps of some of Wales's most famous people, such as Hedd Wyn, Bishop William Morgan, Thomas Charles and Mary Jones.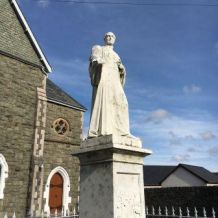 Thomas Charles
Gladstone's Library in north east Wales is the ultimate stopover for bookworms! Britain's finest residential library, it was founded by the great Victorian Prime Minister William Gladstone himself and, following his death in 1898, became the national memorial to his life and work.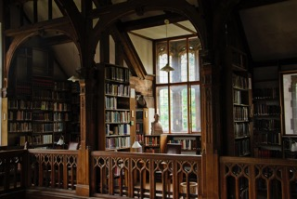 Gladstone's Library
Powis Castle started life back in the 13th Century, with a magnificent collection of paintings, tapestries and Clive of India treasures  has become world famous for its baroque gardens, hewn out of the red sandstone in the 17th century.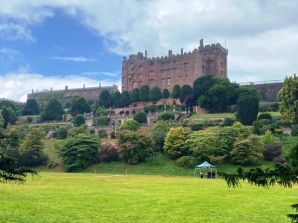 The magnificent Powis Castle and Gardens © Neil Redler
The human story of Britain goes back thousands of years and there are dozens of ancient sites to visit and explore, many of which are in Wales, including Castle Henllys Iron Age Fort and Pentre Ifan burial chamber. Read more here.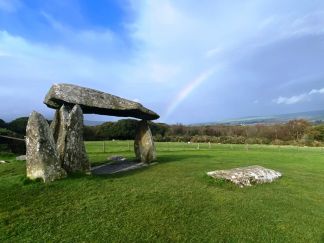 Pentre Ifan burial chamber © Neil Redler
Strata Florida (pictured below), which translates from Latin as Vale of Flowers, is the romantic ruin of a former Cistercian abbey, founded in 1164, near Tregaron in mid Wales.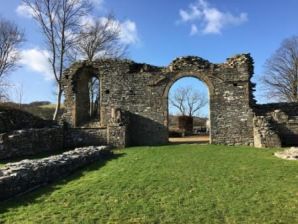 You can also discover more about the history of Wales by exploring the archives, collections and manuscripts of the country on one of our tailor-made tours.
Garden Tours
Welsh gardens to tempt visitors include Aberglasney, an inspiration to poets since the 15th Century, Bodnant, which is situated above the River Conwy in North Wales and boasts fabulous views of Snowdonia National Park, and Plas Brondanw, the Arts and Crafts inspired garden designed by Sir Clough Williams-Ellis of Portmeirion fame.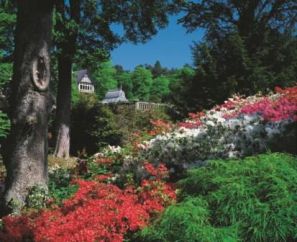 Bodnant Garden © Crown copyright (2016) Visit Wales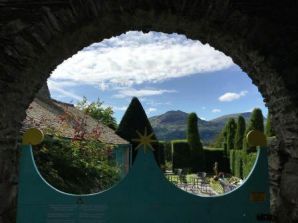 Plas Brondanw
Portmeirion is an eccentric Italian style village close to Porthmadog in north west Wales. It was designed and built by Sir Clough Williams-Ellis between 1925 and 1976 and is a now a must-see tourist destination. Williams-Ellis wanted to show how a naturally beautiful site could be developed without spoiling it and he hoped the village would make people to think about buildings in the landscape.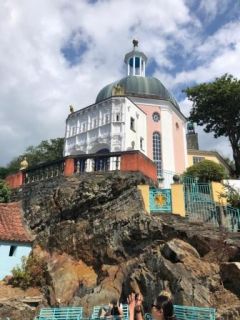 Portmeirion © Neil Redler
A bird's-eye view of Portmeirion © Crown copyright (2016) VisitWales
Choir Tours
Wales is famed for its singing and male voice choirs are as popular today as ever. More than a quarter of the nation is able to speak Welsh, a language that is 4000 years old and dates back long before roman times. You'll hear this fabulous language spoken and see it on road signs throughout Wales.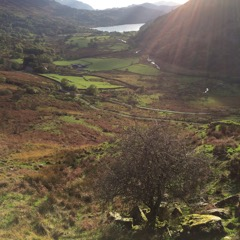 Nant Gwynant Valley in North Wales
Why not visit Wales's capital city, Cardiff? This is the youngest capital city in Europe and, no doubt you've guessed it, there is a castle there too - together with the acclaimed Museum of Wales which houses Wales's national archaeology, art, geology and natural history collections and major visiting exhibitions.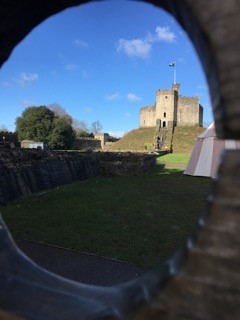 Cardiff Castle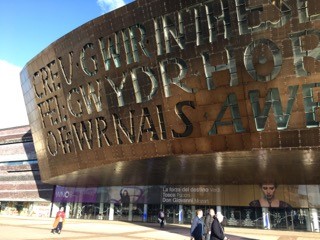 Wales Millennium Centre, Cardiff, is one of Wales's leading cultural venues
Adventure and Walking Tours
Wales is one of the best places in the United Kingdom to enjoy a wide variety of outdoor activities on an Adventure Tour. 
Wales offers a wide range of adrenaline-packed activities, from surfing in Snowdonia to speed boat rides down the Menai Straits in North Wales. Here are our top ten suggestions for some unforgettable experiences!
For travellers wishing to enjoy a Walking Tour, Wales should be top of the list. 
Cader Idris (or Cadair Idris) has to rank amongst the most iconic mountains in Wales, after Snowdon, and is well worth a visit. Although only 2,930 ft (893m) high, it is very much a 'mountain' and the hike to Penygader i involves scrambling over rocks and boulders.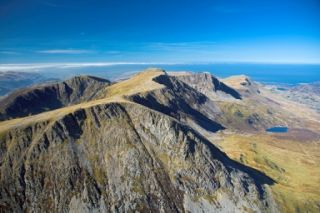 Cader Idris
The spectacular Elan Valley in mid-Wales, pictured below, is beautiful for outdoor activities at any time of year.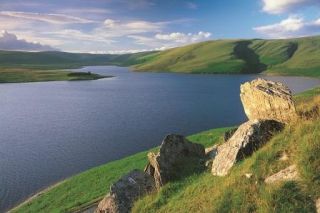 © Crown copyright (2016) Visit Wales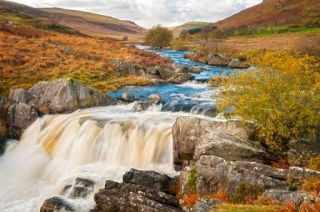 © Crown copyright (2016) Visit Wales
The Wales Coast Path is a designated footpath which follows, or runs close to, the entire coastline of Wales. A series of walking itineraries cover the entire 870-mile trail, helping visitors to discover new and exciting ways to explore the Welsh coastline.
Pembrokeshire in south west Wales is one of the most beautiful parts of Wales, jutting proudly into the Celtic Sea, surrounded on two sides by water.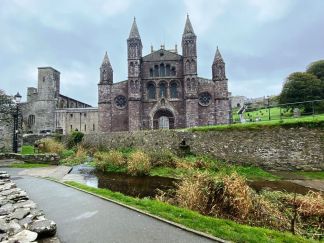 St David's in Pembrokeshire © Neil Redler
Iconic St David's, Britain's smallest city, is the perfect starting point for a tour of the region, and the Pembrokeshire Coast Path, which runs through Britain's only coastal National Park, is one of the world's great walking trails.
The magnificent Pembrokeshire coast © Neil Redler
Golf Tours
Janet Redler Travel & Tourism designs unique golf tours of Wales for our clients. Our tours feature courses of outstanding character, as well as the finest accommodation, delicious meals and additional activities to suit the needs and expectations of your group. Read more about our golf tours here.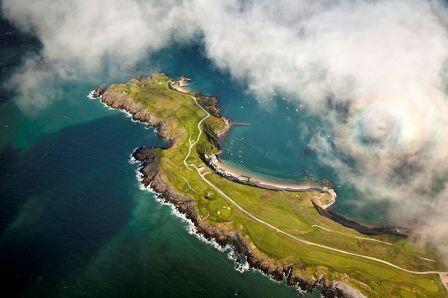 Aerial view of Nefyn and District Golf Course © Crown copyright (2014) Visit Wales
Food and Wine Tours
For food and wine connoisseurs, we have developed a number of food and wine tours to excite the taste buds. For instance, we haves teamed up with a number of leading vineyards to create a tour which showcases the best of Welsh and English wine. And it's not just wine – Janet Redler Travel and Tourism can organise visits to the best breweries, distilleries and cider producers, as well as tours for foodies which take in Wales's best restaurants and cookery experiences.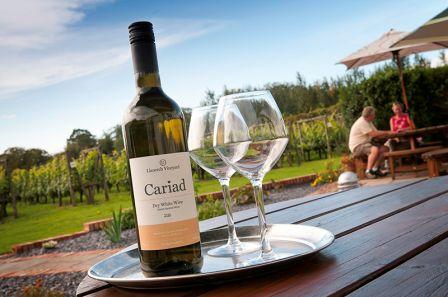 Llanerch Vineyard near Hensol in the Vale of Glamorgan © Crown copyright (2014) Visit Wales
Whether it is the chance to try one of the country's five Michelin starred restaurants, a cookery weekend in the heart of Snowdonia, a luxury wine tour offering a flavour of the exceptional wines produced in Wales these days, or a trip to a brewery, such as the award-winning Monty's in Powys, we can create a food and drink tour to suit every palate.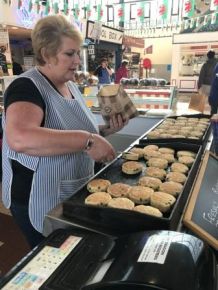 One of our clients was the first winner of Loving Welsh Food's A Taste of Wales Penderyn Distillery Limerick Competition. Our guests enjoyed a lush Welsh supper and a fabulous evening of Welsh entertainment!
If you or your group would like to enjoy your own unforgettable tailor-made Welsh tour, please do contact Janet Redler Travel today.