The greatest castles to visit in Wales
With over 600 castles in Wales, there are more per square mile than any other country in Europe! From romantic ruins to aristocratic estates, and from imposing fortresses to beautiful country homes, the variety of Welsh castles is second to none. Here are our recommendations for those castles that should not be missed by your clients on a tour of Wales!
Caernarfon Castle
Perhaps one of the most famous and recognisable castles in the world, Caernarfon Castle and the medieval town that sprang up around it was at the heart of King Edward I's ruthless conquest of North Wales. It forms part of a UNESCO World Heritage Site along with Beaumaris, Harlech and Conwy castles.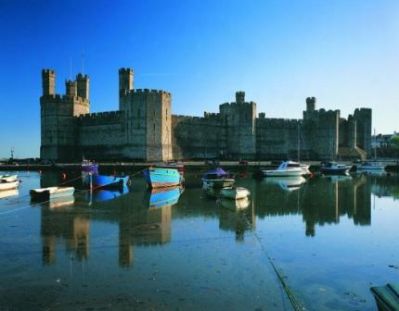 Unforgettable Caernarfon Castle in North Wales
Beaumaris Castle
Unfinished Beaumaris Castle, on the historic island of Anglesey, is described by UNESCO as one of the finest examples of medieval military architecture in Europe and is recognised as a wonderful example of 'symmetrical concentric planning', with its square layout and walls within walls.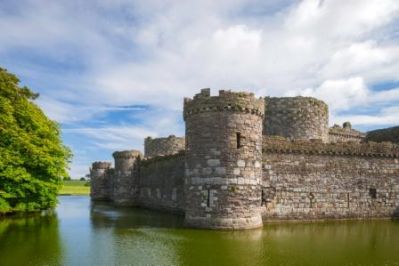 Beaumaris Castle on Anglesey © Hawlfraint y Goron / © Crown copyright (2019) Cymru Wales
Cardiff Castle
While Cardiff Castle is famous as a medieval castle with a splendid Norman keep, it is also known for its Victorian mansion, which replaced many of the original buildings. Lavishly constructed by the Marquesses of Bute over several generations, with gardens by Capability Brown, the interior is said to be one of the most magnificent of the gothic revival.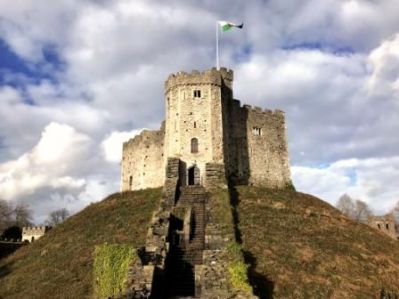 The Norman Keep at Cardiff Castle © Hawlfraint y Goron / © Crown copyright (2019) Cymru Wales
Harlech Castle
Of all the spectacular locations for Welsh castles, none is perhaps as breathtaking as the location of Harlech Castle. On a rocky crag overlooking the sand dunes of Tremadog Bay, with the mountains of Snowdonia behind, the castle withstood numerous sieges during its long history and inspired the famous Welsh song, Men of Harlech.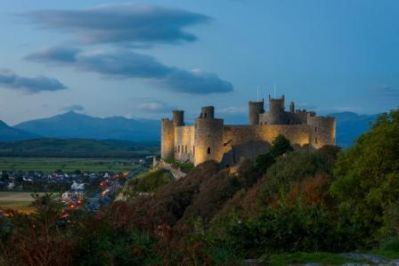 Spectacular Harlech Castle © Hawlfraint y Goron / © Crown copyright (2019) Cymru Wales
Powis Castle
One of the few medieval castles in Wales built by a Welsh prince and not by the English, Powis Castle was extravagantly expanded in the 17th century, when its extraordinary terraced gardens were created. One of the few surviving Baroque gardens in the UK, the gardens, which were extensively restored in the early 20th century, should not be missed.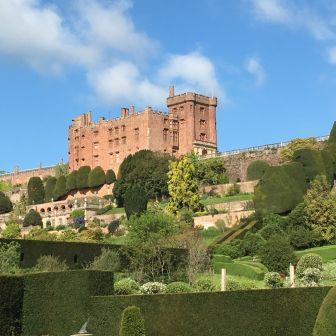 Powis Castle and its magnificent gardens
Castell Coch
Castell Coch, a fairytale 19th century castle in south Wales, was built on the site of an earlier Norman castle by the Marquess of Bute, one of Britain's wealthiest men, as his country residence in summer. Described as one of the greatest Victorian triumphs of architectural composition, the castle is closer in design to a European castle than a British fortress.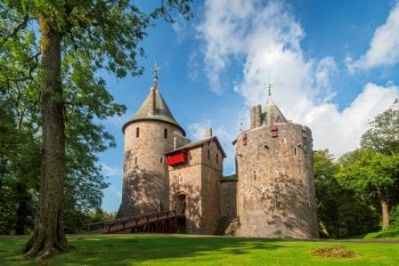 Fairytale Castell Coch © Hawlfraint y Goron / © Crown copyright (2019) Cymru Wales
Caerphilly Castle
Dating back to the 13th century, Caerphilly Castle is Wales's largest castle and the second largest in the United Kingdom after Windsor. Today, the location of the castle seems splendidly romantic, surrounded as it is by lakes, and the castle's unique leaning tower is perhaps its most recognisable feature, leaning at a greater angle than Pisa's famous tower!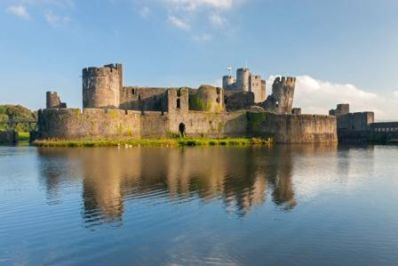 Imposing Caerphilly Castle © Hawlfraint y Goron / © Crown copyright (2019) Cymru Wales
Pembroke Castle
Dating back to the Norman invasion of Wales, Pembroke Castle on the coast of south west Wales was a key strategic fortification standing on a rocky promontory overlooking the Pembroke River. With a long history of royal ownership and connection, Pembroke Castle is famous as the birthplace of Henry Tudor, who later became King Henry VII and founded the Tudor royal dynasty.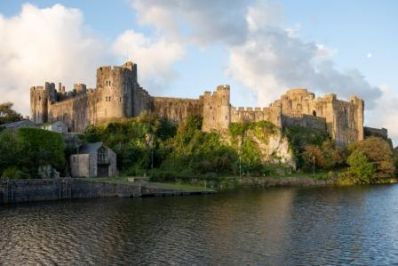 Historic Pembroke Castle © Hawlfraint y Goron / © Crown copyright (2019) Cymru Wales
Conwy Castle
One of Edward I's 'ring of iron' fortresses in North Wales, Conwy Castle, along with its medieval town walls, is one of the most impressive sights on the North Wales coast. Visitors to this incredibly well preserved 700 year old castle can walk a full circuit of the ancient battlements and explore the most intact set of medieval royal apartments in Wales.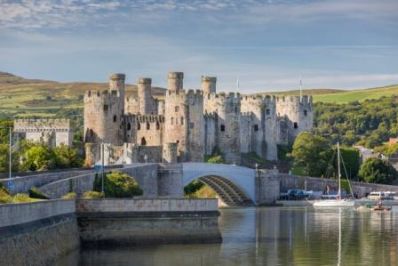 Impressive Conwy Castle © Hawlfraint y Goron / © Crown copyright (2019) Cymru Wales
Raglan Castle
Raglan Castle in south east Wales dates back to the late Middle Ages and was one of the last true castles to be built in Wales. Described as the grandest castle ever built by Welshmen, it was once one of the most impressive fortress-palaces in Britain, with its luxurious apartments, deer park, water gardens and terraces. Destroyed in the English Civil War, the ruined castle became a popular tourist destination as far back as the 18th century.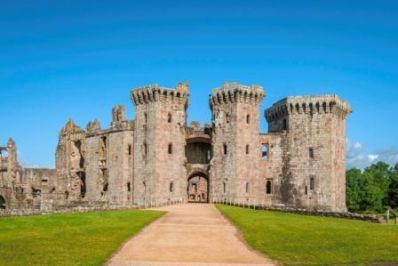 The grand ruins of Raglan Castle © Hawlfraint y Goron / © Crown copyright (2019) Cymru Wales
If you would like us to organise a tailor-made tour of Wales for your clients, taking in some of the country's many fabulous castles, please do contact us today. As travel experts for Wales, we are well-placed to recommend the most interesting and rewarding things for your group to enjoy - creating memories that will last a lifetime!