Our Chief Executive Janet Redler spent a day in Snowdonia in North Wales following in the footsteps of three of Wales's most famous people.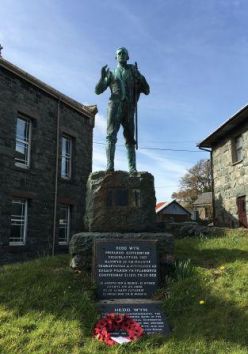 First stop was Yr Ysgwrn, home of Hedd Wyn, a Welsh language poet who was killed in World War One and was posthumously awarded the bard's chair at the 1917 National Eisteddfod.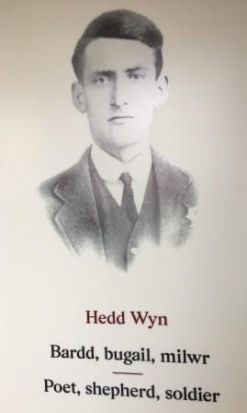 Hedd Wyn was the bardic name of Ellis Humphrey Evans, who was born in 1887 at Trawsfynydd in North Wales, within the bounds of what is now the Snowdonia National Park. The eldest of fourteen children, Evans and his family moved to the large hill farm of Yr Ysgwrn, just outside of Trawsfynydd, soon after he was born. Evans lived at the farm until he went to war in 1917. He was killed at the Battle of Paschendaele later that year.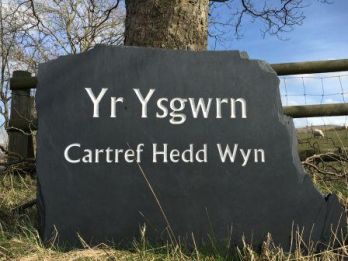 Hedd Wyn's poetry was influenced by the romantic movement and was dominated by themes of nature and religion. He also wrote several war poems. While on leave in 1917, he wrote his winning entry for the National Eisteddfod, the poem Yr Arwr ("The Hero"). However, by the time of the Eisteddfod in September that year, Hedd Wyn had been killed in action, so he was awarded the bard's chair posthumously. The empty chair was draped in a black sheet and presented to his parents. 'The Black Chair' as it became known has been kept at Yr Ysgwrn ever since.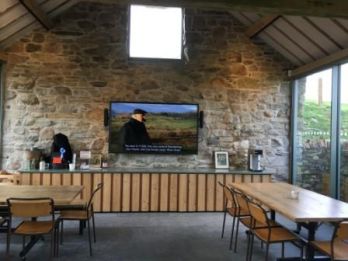 Yr Ysgwrn recently underwent major restoration work and reopened to the public in 2017, in time for the 100th anniversary of Hedd Wyn's death.
On the edge of the Snowdonia National Park sits the historic farmhouse of Tŷ Mawr Wybrnant, the birthplace of Bishop William Morgan, who translated the first published Welsh Bible. Thanks to his contribution, Welsh was preserved as a language of scholarship while boosting literacy amongst ordinary Welsh people, whose only text would have been their Bible. Copies of the bishop's translation are on display in Ty Mawr, as well as a collection of family bibles and religious works in Welsh.
For the next stop on the tour, Janet visited the town of Bala, famous as the home of Thomas Charles, a Welsh Calvinistic Methodist clergyman of considerable significance, who is best known as the inspiration behind the forming of the Bible Society.
Born at Abercywyn in South Wales in 1755, Charles moved to Bala in 1783 when he married Sally Jones from the town, and was credited with developing the Methodist movement in North Wales. Charles had been an evangelical Anglican clergyman before converting to Methodism and one of his most important contributions was his educational work. 
Charles organised circulating day schools, employing schoolmasters and arranging for them to circulate from one neighbourhood to another to teach people to read the bible and about the Christian faith. Charles also set up Sunday schools for local people to continue the educational work after the schoolmasters had moved on. These circulating schools and Sunday schools were very successful and ultimately helped a large section of the population of North Wales to become literate.
In January 1804, in an effort to address the problem of a lack of affordable bibles in Welsh, Charles was instrumental in setting up the British and Foreign Bible Society, which went on to supply bibles throughout the world.
There is a statue of Thomas Charles outside the Calvinistic Methodist chapel in Bala.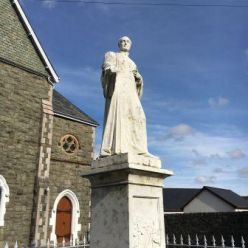 Last but by no means least, Janet visited the home of possibly the most famous Welsh woman in the world, Mary Jones – better known as the 'little Welsh girl without a bible'.
Mary was born in 1784 into a poor family in Llanfihangel-y-Pennant in Snowdonia, at the foot of Cader Idris, one of Wales's highest mountains. Having learned to read in Thomas Charles's circulating schools, Mary yearned to possess a Bible of her own, but the nearest copy was at a farm two miles away and there was no copy on sale nearer than Bala, which was 25 miles away.
Saving up for six years until she had enough money to pay for a copy, Mary set out for Bala in 1800 and walked the 25 miles, barefoot as usual, to obtain a copy from Thomas Charles.
It is said that Mary Jones's visit to Thomas Charles to purchase a Bible made such an impression upon him that he could not rest until he had found a way to ensure a regular supply of cheap Bibles for the people of Wales, and this ultimately led to the founding of the Bible Society.
There is a memorial to Mary Jones on the site of the cottage where she lived in Llanfihangel-y-Pennant and Mary Jones World in Bala is a new state of the art visitor and education centre that tells the story of Mary Jones and Thomas Charles.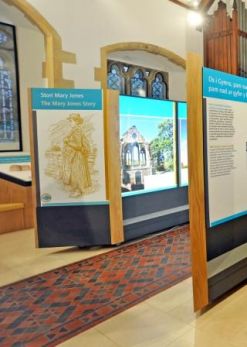 Mary Jones World © Evan Dobson
Summing up her tour, Janet Redler said: "There is so much history in Snowdonia and visiting places made famous by the people who lived there is such a rewarding experience. Hedd Wyn, Thomas Charles and Mary Jones are just some of the fascinating people who have played an important part in Welsh history and it has been a fantastic day out tracing their steps across the stunning landscape of Snowdonia."
More of North Wales's finest...
And if you're in North Wales, you might like to explore the Welsh roots of some of the famous people who made their name in North America.
Elihu Yale
Yale University is named after the wealthy merchant Elihu Yale, whose surname is a corruption of the Welsh word 'ial'. His family were named after their ancestral home, Plas Yn Ial in Llanarmon-Yn-Ial, west of Wrexham, which is now self-catering accommodation. Born in Boston, Massachussets, Yale returned to Wales in later life and was buried in St Giles Churchyard, Wrexham, where his tomb can still be seen.
Thomas Wynne
The early days of America, surprisingly enough, can be traced back to the tiny Flintshire town of Caerwys. In 1682, a Caerwys doctor, Thomas Wynne, sailed to America with Quaker William Penn, who had been given 45,000 square miles of land by English king Charles II. Penn wanted to call this land New Wales, but Charles II overruled him, calling it Pennsylvania instead, although the street plan for its largest city, Philadelphia, was based on Caerwys. Wynne's home, Bron Fadog still stands today.
Abraham Lincoln
Abraham Lincoln's great-great grandfather John Morris was brought up in Bryngwyn farmhouse near Betws-y-Coed, Snowdonia. While the farmhouse is long derelict, it is fascinating to explore the rugged landscape where the ancestors of one of the USA's greatest Presidents originated.
John Evans
Waunfaur, near Caernarfon, was the home village of John Evans, an eccentric 26-year-old explorer who travelled to America in 1793. Evans set out to discover whether a medieval legend of Welsh-speaking Native Americans was true. Sadly for Evans, the legend proved groundless and the adventurer died penniless in New Orleans. On his travels across the USA, he did however produce an early map of the Missouri River, and he has of course left us with the stirring legacy of his idealistic adventures.
If you or your group would also like to follow in the footsteps of some of Wales's finest people, please do contact us and we will put together a tailor made tour for you.