Portmeirion
Portmeirion is an eccentric Italian style village close to Porthmadog in north west Wales. It was designed and built by Sir Clough Williams-Ellis between 1925 and 1976 and is a now a must-see tourist destination.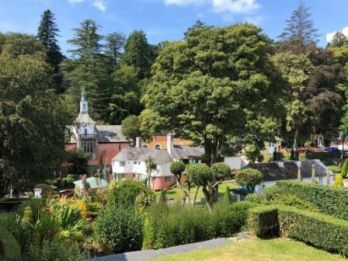 Portmeirion © Neil Redler
At the beginning of the 20th Century, Clough Williams-Ellis, a promising young architect, had the idea of creating a romantic village on the edge of the sea, to show how a naturally beautiful site could be developed without spoiling it. He also hoped that the village would make people think about buildings in the landscape.
This idea stayed with Williams-Ellis until, in 1925, he discovered that the Aber Iâ estate on the Dwyryd estuary near his home was for sale. It was more or less exactly what he had been hoping for and he bought if for what is said to be around £5,000.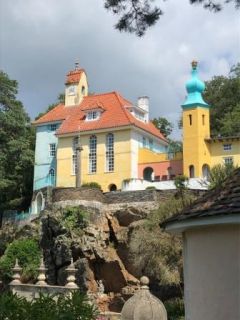 Portmeirion © Neil Redler
The first thing Williams-Ellis did was to change the name of the estate to Portmeirion, as he did not feel that the name Aber Iâ (which can mean 'frozen river mouth' in Welsh) was appropriate for a holiday resort. The name Portmeirion comes from 'Port' and 'Meirion' the correct spelling of Merioneth, the county in which is located.
At the quayside © Tim Richmond Photography / www.portmeirion-village.com
Portmeirion was built in in the style of an Italian village in two stages, from 1925 to 1939 and from 1954 to 1976. Today Portmeirion is one of Wales's top tourist attractions and welcomes almost a quarter of a million visitors each year.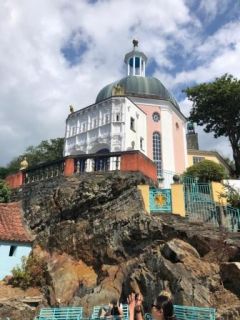 Portmeirion © Neil Redler
Aside from its iconic architecture, scenic surroundings and vast woodland gardens, Portmeirion is now home to luxury hotels, a huddle of historic cottages, a spa and award-winning restaurants.
A bird's-eye view of Portmeirion © Crown copyright (2016) VisitWales 
Portmeirion has attracted a good deal of interest over the years, especially from other architects, such as prolific American architect Frank Lloyd Wright, who visited Portmeirion in 1956 on his one and only visit to Wales, his ancestral homeland. In the 1960s, Portmeirion was the location for the filming of the cult TV series The Prisoner, starring American born actor Patrick McGoohan.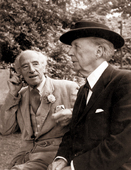 Williams-Ellis with Frank Lloyd Wright © Portmeirion Ltd / www.portmeirion-village.com
Castell Deudraeth, an early Victorian castellated mansion is, in the words of Williams-Ellis, "the largest and most imposing single building on the Portmeirion estate".
Williams-Ellis purchased the mansion and its grounds in 1931 to expand the Portmeirion estate. However, the Second World War and subsequent building restrictions delayed his plans to integrate the Castell into the hotel accommodation at Portmeirion and it was only in 2001, seventy years after he originally acquired it, that Williams-Ellis's vision was finally realized.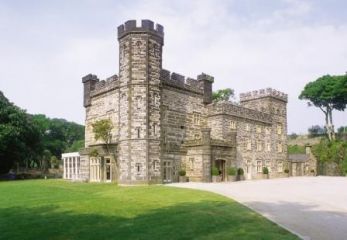 Castell Deudraeth © Portmeirion Ltd / www.portmeirion-village.com
All the buildings at Portmeirion are Grade II listed and the whole estate is now a designated Conservation Area.
If you or your group would like to explore the delights of Portmeirion on a tailor-made tour of Wales, please do contact our friendly team.