We were delighted to hear that North Wales has made it on to Lonely Planet's Top Ten 'Best in Travel 2017' list – the only destination in the UK to do so – along with the Skellig Ring in Ireland.
Caernarfon Castle in North Wales
North Wales has a holiday for every kind of traveller – from walkers and climbers to foodies and garden lovers – but what most caught the eye of Lonely Planet, one of the world's leading travel authorities, is the way the former industrial landscape has been reinvented to create a series of truly world class attractions – from high speed zip lining and inland surfing, to underground trampolining in a disused slate mine.
On the southwest tip of the Wild Atlantic Way in Ireland, The Skellig Ring is a coastal drive that is an extension of the Ring of Kerry, which Lonely Planet describes as "a wild and emerald stretch of coastline".
Tom Hall, Lonely Planet's Editorial Director, said: "We included North Wales in this year's list of top ten regions because it deserves to be recognised on the global stage. It's a stunning area with a vast array of activities on offer to keep travellers entertained. North Wales has also become a haunt of in-the-know foodies, so however visitors get their kicks, once they've worked up an appetite, they'll also be well catered for. North Wales is a gem and should be on every traveller's radar."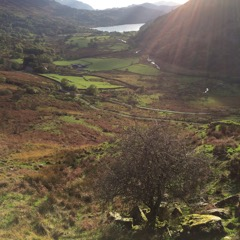 Nant Gwynant Valley in North Wales
Ken Skates, Economy Secretary in the Welsh Government, added: "This is such fantastic news for Wales as our Year of Adventure draws to a close. Being listed as one of the best in the world by such a well respected and established publication such as the Lonely Planet is a real coup for North Wales. North Wales has reinvented itself over recent years and the addition of some cutting edge, world class facilities to match the awe-inspiring scenery has given people compelling reasons to visit the area."
Welcoming the inclusion of the Skellig Ring, Niall Gibbons, Chief Executive of Tourism Ireland, commented: "The inclusion of The Skellig Ring in the Top Ten Regions in the world in Lonely Planet's Best in Travel 2017 is wonderful news and will surely help to inspire travellers everywhere to put the Wild Atlantic Way on their holiday wish-list for 2017."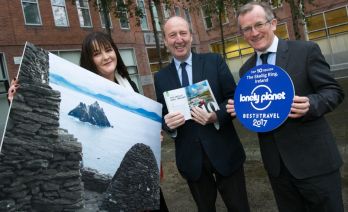 Tourism Ireland welcome the inclusion of the Skellig Ring
Janet Redler, Chief Executive of Janet Redler Travel & Tourism, added: "We are thrilled that North Wales has been recognised in this way, as it has so much to offer travellers from all over the world. Making number four on Lonely Planet's global list is sure to help raise awareness of this fabulous region of the UK, where visitors are assured of a warm welcome.
"We are also absolutely delighted that the Skellig Ring, in County Kerry in Ireland, has also made it onto this prestigious list – another well deserved accolade for tourism in Ireland which will help to promote the beautiful and wild Atlantic Coast as a must-see destination."
The Top 10 regions in Lonely Planet's Best in Travel 2017 were:
Choquequirao, Peru
Taranaki, New Zealand
The Azores, Portugal
North Wales, UK
South Australia
Aysén, Chile
The Tuamotus, French Polynesia
Coastal Georgia, USA
Perak, Malaysia
The Skellig Ring, Ireland.
If you or your group would like to experience the delights of North Wales or Ireland on a tailor made tour, please do contact us.