With over 1600 miles of coastline, Wales has no shortage of fabulous beaches. In fact, 39 Welsh beaches have been awarded the internationally recognised Blue Flag eco-label for environmental and safety standards – that's more per mile than anywhere else in the UK. Whether you are looking for a secluded bay or a romantic cove, a family-friendly space or miles of golden sand, Wales has a beach for you. Here is just a handful of our favourites.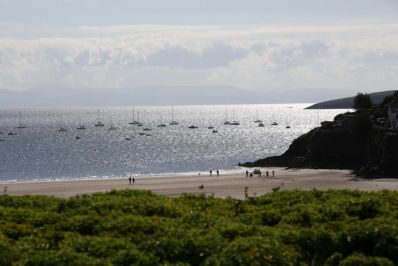 Abersoch Beach, Llyn Peninsula
You cannot fail to be impressed by the sheltered sandy beach at Abersoch, which overlooks the imposing mountains of Snowdonia. Abersoch is a popular coastal village on the Llyn Peninsula in North Wales and has long been a magnet for water sports enthusiasts. If you are feeling adventurous, the beach is safe for swimming and bathing, and you can easily spend a day here, as there are plenty of shops and eateries nearby.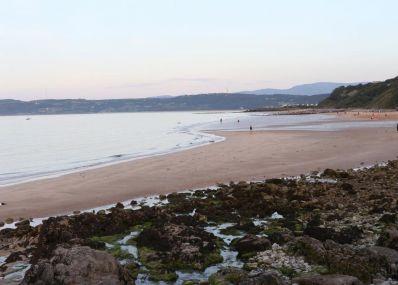 Benllech Beach, Anglesey
We think that Benllech Beach is one of the finest on the island of Anglesey, and that is really saying something, as there are at least two dozen wonderful beaches in this unspoilt corner of North Wales. If you are staying at one of the popular coastal resorts on the mainland, or in Snowdonia National Park just over the Menai Straits, it is well worth taking the short trip to Benllech. While the beach is popular at peak times, it is always possible to find your own little oasis of calm, as the sand stretches for miles at low tide.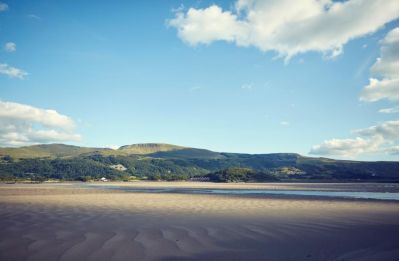 Barmouth Beach, Gwynedd
Barmouth is the most popular coastal destination in southern Snowdonia, and its beach is one of our favourites, with its traditional British seaside atmosphere. The ideal destination for a day trip, the long sandy beach seldom gets crowded and, even if it did, it would still be worth visiting for the spectacular views of Cardigan Bay, the surrounding mountains, and the bustling harbour. Finish your day with a bracing stroll along the mile-long promenade.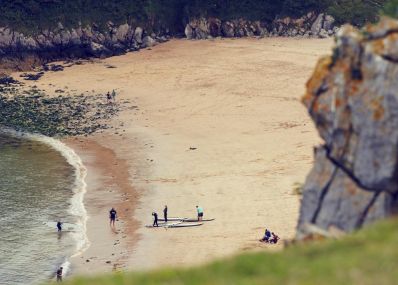 Barafundle Bay, Pembrokeshire
If you love small coves and beaches, then Barafundle Bay ticks all the boxes! Situated on the rugged south coast of Pembrokeshire, this remote place often features in lists of the world's best beaches. A pleasant half mile stroll from the nearest car park, Barafundle Bay is framed by pine trees and sand dunes. This is the perfect spot if you enjoy walking and there are spectacular views from the surrounding cliffs.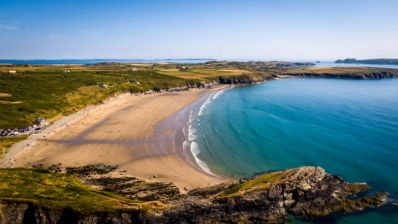 Whitesands, Pembrokeshire
Jutting out bravely towards the Atlantic Ocean, Whitesands is at the western tip of Pembrokeshire. Just a short hop by shuttle bus from Britain's smallest city – pretty little St David's – it feels like you are approaching the end of the earth as you snake your way to this sublime spot. If you like a good sunset, then this is the place to go on a clear evening, and it is also one of the most popular places in Wales for surfing. (Oh, and despite the name, the sands are golden!)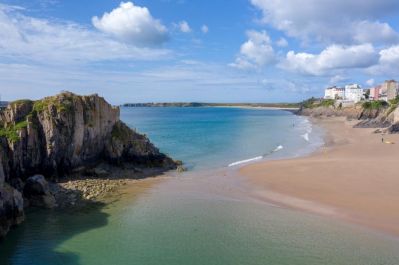 Castle Beach, Tenby
The medieval walled town of Tenby boasts not just one or two Blue Flag beaches, but three! North, South and Castle Beaches are all sensational sandy beaches, close to one of the UK's best-loved seaside resorts. If you are looking for somewhere for all the family, then look no further than Tenby. Enjoy the safety of the well-supervised beaches without straying too far from ice cream vans and traditional fish and chips!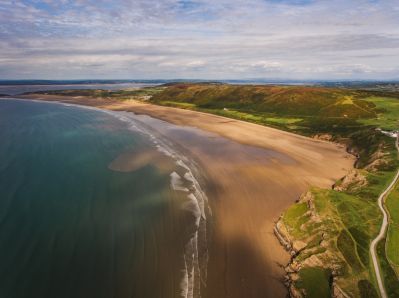 Rhossili Bay, Gower Peninsula
If you want your beach to be wild and dramatic, then Rhossili Bay is the one for you. This iconic beach, located on the beautiful Gower Peninsula near Swansea in South Wales, boasts three miles of golden sand surrounded by spectacular cliffs, and is reached by a steep path down the rocks. You can delight in peaceful walks and breathtaking clifftop views, as well as exploring prehistoric stone circles in the nearby landscape, and the remains of a shipwreck on the beach at low tide. A visit to Rhossili Bay is always memorable, but it makes sense to take your camera!
If you or your group would like to enjoy a tailor-made tour of Wales taking in some of the many wonderful Welsh beaches, please do contact our friendly team today.
All photos courtesy of VisitWales © Hawlfraint y Goron / © Crown copyright (2019) Cymru Wales