The Channel Islands
While not actually part of the UK, the picturesque Channel Islands are territories for which the United Kingdom is responsible. The islands are situated just off the coast of France in the English Channel and, although there are seven inhabited islands, including Alderney, Sark and Herm, as well as a number of uninhabited islets, Jersey and Guernsey are the biggest.
Jersey Tours
Just nine miles by five, Jersey is great for exploring while on a short tour or weekend break. Boasting spectacular coastal views, stunning beaches and one of the mildest climates in this part of the world, Jersey is an unforgettable place to visit. Enjoy delicious meals overlooking the sea, discover secret coves or take a boat trip around the island.
The capital of Jersey is St Helier, a vibrant port in the south of the island. While British in feel, St Helier also has French and Portuguese influences, with many French sounding street names and shops. The capital offers a good range of accommodation, eating places and attractions including the bustling harbour, the lively market, a number of museums, parks and gardens, and pretty Elizabeth Castle across the bay.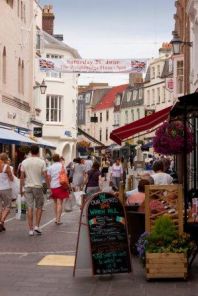 St Helier, Jersey © VisitBritain / Britain on View
Jersey is a magnet for sports lovers, with several beautiful golf courses, numerous opportunities to enjoy sailing, watersports and many other outdoor activities. Jersey is also a walkers' and cyclists' paradise.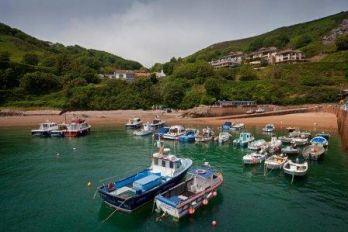 Bonne Nuit, Jersey © VisitBritain / Britain on View
One of Jersey's top attractions is the Jersey War Tunnels, a poignant reminder of the German occupation in World War Two. For animal lovers, Durrell Wildlife Park is a must and 600 year old Mont Orgueil Castle is well worth visiting.
Jersey is a foodie's paradise – an island shaped by the sea where some of the most astonishing tides in the world circle the coast and feed the land. To truly experience the island's rich natural larder, you really need to visit!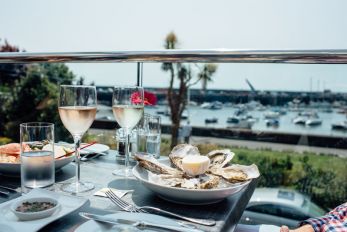 Enjoying oysters in Jersey © Visit Jersey
Bohemia is a Michelin starred restaurant in St Helier which celebrates the island's fresh produce with meticulous attention to detail, serving local delicacies such as slow cooked turbot and Jersey oysters. The Quayside is St. Helier's largest alfresco dining spot, with panoramic views over the Marina, where you can enjoy a Jersey Lobster as part of an impressive fruits de mer, with a buttery side serving of Jersey Royal potatoes.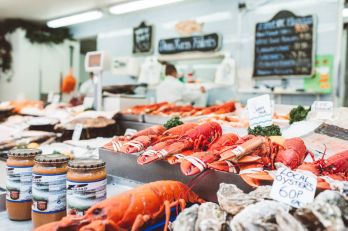 Seafood in St Helier © Visit Jersey
Book a culinary walking adventure and explore Jersey's natural landscapes, from the sun kissed cotils (steeply sloped fields) planted with Jersey Royals to the oyster beds at low tide. Join a sea foraging and oyster trail and come up for air in the internationally acclaimed Ramsar Wetlands site, or relax in the beautiful vineyards and orchards of La Mare Wine Estate, in the heart of Jersey's countryside.
There are many food and drink experiences to choose from during a visit to Jersey that will allow you to experience the island's beautiful landscape as well as help you to understand the island's rich food heritage.
Reconnect with nature in Jersey
Nature is never far away in Jersey. For a small island, Jersey is full of wild spaces where you can experience nature at its best. 
From the wide open vistas of the Coastal National Park, spanning Jersey's west coast, to the unspoilt heights of the north coast, and the low tide lunar landscape uncovered by the island's tides, Jersey has rare natural habitats and wildlife that are just waiting to be discovered.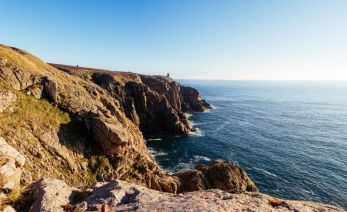 Jersey National Park © Visit Jersey
Explore the north coast, where steep cliffs clad in gorse and bracken overlook perfect hidden bays and inlets, while an uninterrupted coast path climbs and dips like a rollercoaster. Get lost in the wide expanse of St. Ouen's Bay, where you can take in fantastic scenery, encounter local wildlife and learn about the vast array of wild edible and medicinal plants this unique environment has to offer.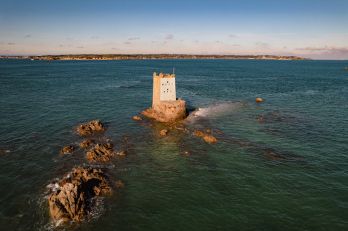 Seymour Tower © Visit Jersey
Enjoy a walking tour at Seymour Tower, just off the south east coast, as night descends and the ocean recedes. Experience the other-worldly uniqueness of bioluminescence on the beach, as star-like shapes of luminous green begin to twinkle and sparkle at low tide.
Or get really wild with a stay at Durrell Wildlife Camp. Wake up among wildlife, with luxury camping in the grounds of Durrell, the wildlife park founded in 1959 by writer and conservationist Gerald Durrell. 
Guernsey Tours
Guernsey is about half the size of Jersey, but offers much for visitors, over and above the jaw dropping scenery, coastal views and rugged landscape.
St Peter Port, the capital, is considered to be one of Europe's prettiest towns, with its cobbled streets, picturesque marina and historic gardens. In fact, the restored Victorian Candie Gardens offer spectacular views across St Peter Port harbour and are home to the oldest heated glass-houses in the British Isles.
800 year old Cornet Castle, at the mouth of St Peter Port harbour, is unmissable and for those with an interest in literature, a visit to famous French novelist Victor Hugo's home Hauteville House is well worth it, preserved as it was when he lived in Guernsey.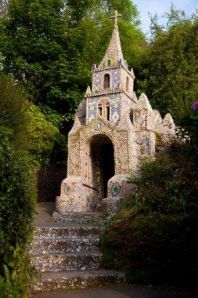 Little Chapel, Guernsey © VisitBritain / Britain on View / Visit Guernsey
The amazing Little Chapel is perhaps one of Guernsey's most famous and unusual attractions, built by a monk in the 1940s as miniature version of the grotto and basilica at Lourdes in France.
The island's location in the English Channel, so often a crossroads of military conflict, is evident in the numerous forts and gun batteries on the island and La Vallette Underground Military Museum tells the story of the German occupation of Guernsey in World War Two.
Guernsey islanders are passionate about food and the island boasts many delightful restaurants, often in picturesque locations. Understandably the fish and seafood is second to none, but there is a wide range of eating places for such a small island, from beach side cafés to the best in fine dining.
A visit to the Channel Islands is one you will never forget. If you would like Janet Redler Travel to put together a tailor made tour for you or your group, please do contact us today.