The Channel Islands
While not actually part of the UK, the picturesque Channel Islands are territories for which the United Kingdom is responsible. The islands are situated just off the coast of France in the English Channel and, although there are seven inhabited islands, including Alderney, Sark and Herm, as well as a number of uninhabited islets, Jersey and Guernsey are the biggest.
Jersey Tours
Just nine miles by five, Jersey is great for exploring while on a short tour or weekend break. Boasting spectacular coastal views, stunning beaches and one of the mildest climates in this part of the world, Jersey is an unforgettable place to visit. Enjoy delicious meals overlooking the sea, discover secret coves or take a boat trip around the island.
The capital of Jersey is St Helier, a vibrant port in the south of the island. While British in feel, St Helier also has French and Portuguese influences, with many French sounding street names and shops. The capital offers a good range of accommodation, eating places and attractions including the bustling harbour, the lively market, a number of museums, parks and gardens, and pretty Elizabeth Castle across the bay.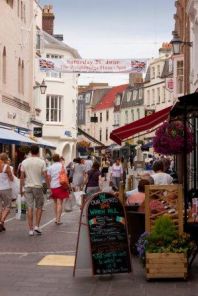 St Helier, Jersey © VisitBritain / Britain on View
Jersey is a sports lovers' paradise, with several beautiful golf courses, numerous opportunities to enjoy sailing, watersports and many other outdoor activities. Jersey is also a walkers' and cyclists' paradise.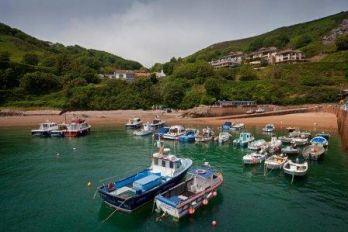 Bonne Nuit, Jersey © VisitBritain / Britain on View
One of Jersey's top attractions is the Jersey War Tunnels, a poignant reminder of the German occupation in World War Two. For animal lovers, Durrell Wildlife Park is a must and 600 year old Mont Orgueil Castle is well worth visiting.
Guernsey Tours
Guernsey is about half the size of Jersey, but offers much for visitors, over and above the jaw dropping scenery, coastal views and rugged landscape.
St Peter Port, the capital, is considered to be one of Europe's prettiest towns, with its cobbled streets, picturesque marina and historic gardens. In fact, the restored Victorian Candie Gardens offer spectacular views across St Peter Port harbour and are home to the oldest heated glass-houses in the British Isles.
800 year old Cornet Castle, at the mouth of St Peter Port harbour, is unmissable and for those with an interest in literature, a visit to famous French novelist Victor Hugo's home Hauteville House is well worth it, preserved as it was when he lived in Guernsey.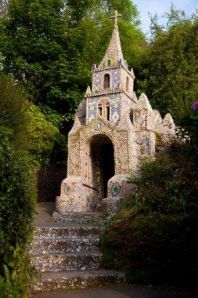 Little Chapel, Guernsey © VisitBritain / Britain on View / Visit Guernsey
The amazing Little Chapel is perhaps one of Guernsey's most famous and unusual attractions, built by a monk in the 1940s as miniature version of the grotto and basilica at Lourdes in France.
The island's location in the English Channel, so often a crossroads of military conflict, is evident in the numerous forts and gun batteries on the island and La Vallette Underground Military Museum tells the story of the German occupation of Guernsey in World War Two.
Guernsey islanders are passionate about food and the island boasts many delightful restaurants, often in picturesque locations. Understandably the fish and seafood is second to none, but there is a wide range of eating places for such a small island, from beach side cafés to the best in fine dining.
A visit to the Channel Islands is one you will never forget. If you would like Janet Redler Travel & Tourism to put together a tailor made tour for you or your group, please do contact us today.