Ireland
A warm Irish welcome awaits in this land steeped in myths and legends. Enjoy a 'proper' Guinness in one of the welcoming pubs and chat with the locals, take in the rugged coastal landscape, or experience the rolling countryside and tranquil lakelands on one of our tailor-made tours.
Irish Tours
Dublin, the capital city, is the cultural, political and economic centre of Ireland, and a perfect place to start a tour of the country.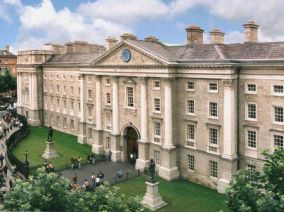 Trinity College, Dublin
Explore the grounds of 18th Century Trinity College, Ireland's oldest university, and view the world famous Book of Kells - an illustrated medieval manuscript - in the College's Old Library. Visit 13th Century Dublin Castle, impressive St Patrick's Cathedral and cross the River Liffey on the romantic Ha'penny Bridge. At night, why not stroll down to Temple Bar, the city's cultural quarter, for a meal and a pint of Guinness? Alternatively, enjoy a fantastic evening of traditional Irish music and dance at the Belvedere Hotel, produced by leading Irish dance company, Damhsa. Read more here about our suggestions for an incredibly rewarding visit to Dublin!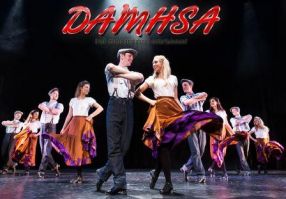 From the rolling hills and wooded valleys of the Wicklow Mountains, close to Dublin in the east, to the austere beauty of The Burren in the south west, Ireland's six National Parks offer visitors the chance to explore the Irish countryside at its best.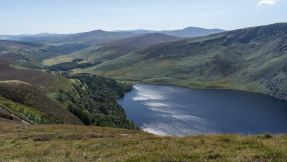 Wicklow Mountains National Park © Fáilte Ireland
The Powerscourt Estate in the foothills of the Wicklow Mountains is one of the leading visitor attractions in Ireland. As well as the magnificent 18th century house and extensive gardens - boasting Ireland's hgihest waterfall - there are two championship golf courses, a distillery and a luxury five star hotel. The time-lapse video below captures a summer's day at Powerscourt.  
St Patrick's Day - an annual celebration of Irish culture - is one of the biggest annual events in the world and the festival in Dublin is, not surprisingly, one of the best, attracting over 1 million people each year.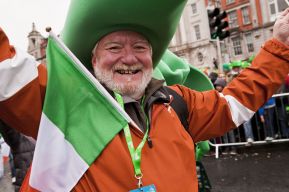 Limerick International Band Festival, which forms part of Limerick's St Patrick's Day Festival, sees the streets filled with the sights and sounds of talented marching band musicians from across Ireland, Europe and America competing for Ireland's only international band championship.
There are many wonderful activities and experiences in Ireland which can make a vacation extra special for you or your group and, for food and drink lovers in particular, there is certainly a lot to enjoy. Here is just a flavour of the foodie tours we can recommend on one of our tailor-made tours.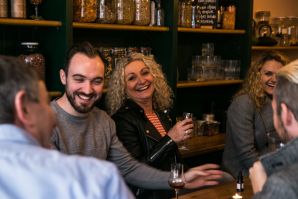 Photo courtesy of Galway Food Tours
Our clients recently enjoyed a private tour of Dublin's Coastal Craft Beer and Seafood Trail, organised by Hidden Howth Experiences, and this is the wonderful video of their tour.
The Ring of Kerry in Killarney mixes breathtaking landscapes with charming villages. Long lunches are a must! The Cliffs of Moher, Ireland's most visited and spectacular cliffs, rise over 200 metres above the Atlantic, and Skellig Michael Island can be seen rising out of the ocean. Travel by boat to this haunting island, with the remains of its 6th Century Christian Monastery, designated as a UNESCO World Heritage Site.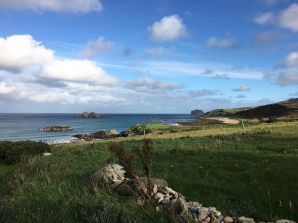 Malin Head on the Wild Atlantic Way
The Wild Atlantic Way is an extraordinary coastal route which follows the Atlantic coast of Ireland, from Derry-Londonderry in the north to Kinsale in the south. Visit Malin Head, Ireland's most northerly point, where the Star Wars movie The Last Jedi was filmed, or climb the 79 steps of Farad Lighthouse, which reaches out bravely into the Atlantic Ocean.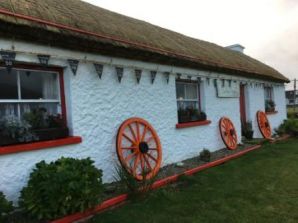 Traditional cottage at Glencolmcille Folk Village in Donegal
Donegal is Ireland's most northerly county and was named the number one cool place to visit in 2017 by National Geographic Traveller magazine. Donegal is a rural county which boasts spectacular landscapes and a rugged coastline. It is also home to traditional crafts which have been practised for centuries and ancient settlements which can be traced back for generations.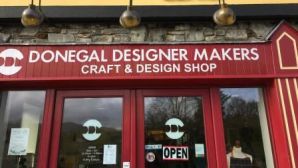 Ireland's history goes back millennia of course. Visit one of the most important prehistoric sites in Europe - Bru na Boinne - made up of Neolithic chamber tombs, henges and standing stones, some dating back as far as 35 BC. We can track back even further with The Burren, an area unspoiled since the Ice Age. For those with an interest in botany, archaeology or ecology, this should definitely make the itinerary.
Galway on the west coast is one of Ireland's most popular tourist destinations, famed for its friendliness, vibrant culture and numerous festivals and events. The city's hub is 18th century Eyre Square, which is lined with shops and traditional pubs that often offer live Irish folk music. Be sure to explore the cobbled lanes of the lively Latin Quarter, which retains part of the city's medieval walls. Galway also has some of Ireland's most exciting attractions right on its doorstep, including the Cliffs of Moher, The Burren, the Aran Islands and the wild beauty of Connemara.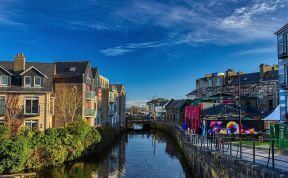 Galway © Tourism Ireland

Ireland's Ancient East boasts the earliest evidence of human settlement in the country and an abundance of historical sites that enable visitors to trace the development of civilisation, society and religion in Ireland.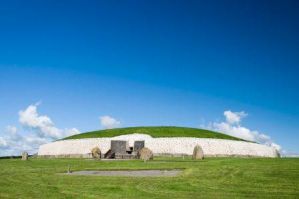 Newgrange at Brú na Bóinne © Tourism Ireland
County Wexford, in the south-east corner of Ireland, is home to the Dunbrody Famine Ship, the reproduction of a 19th Century emigrant vessel, which took those escaping Ireland's potato famine to the New World. Discover more about the Dunbrody Famine Ship and the Irish emigrant experience in this short film.
The Kennedy Homestead, also in County Wexford, is a museum dedicated to John F Kennedy and five generations of the Kennedy family. Find out more below.
Visitors to Cork in the south of Ireland can take the short trip to Blarney Castle to 'kiss the Blarney Stone' and, as legend has it, you will get the gift of the gab! For over 200 years world statesmen (including American Presidents), literary giants and stars of the silver screen have joined the millions of pilgrims. But don't worry, visitors are no longer dangled by their ankles to reach it, though an element of contortion is still required.
Garden Tours
Ireland is home to some of the world's most beautiful gardens. First planted in 1868, Mount Usher, for example, is one of Ireland's greatest gardens and a world-class example of a so-called Robinsonian garden, with its relaxed, informal and natural layout.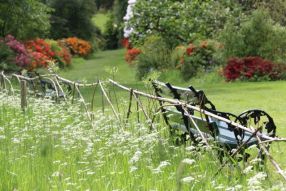 Mount Usher Gardens, Co. Wicklow
Bantry House and Gardens in County Cork features within its 45 acre grounds a collection of sub tropical plants and shrubs reflecting the best in European design and style.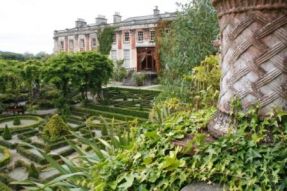 Bantry House and Gardens, Co. Cork
Brigit's Garden offers a touch of magic in the heart of Ireland's West, at the gateway to Connemara. Its unique gardens, themed on the old Celtic festivals, bring Irish heritage to life in beautiful surroundings.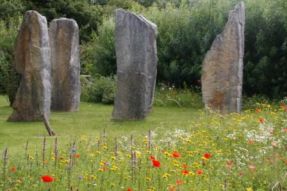 Brigit's Garden, Co. Galway
The Japanese Gardens and St Fiacra's Garden at the Irish National Stud are part of a unique attraction of outstanding natural beauty that is home to some of the most magnificent horses and sumptuous gardens to be found anywhere in the world.
The Japanese Gardens at the Irish National Stud, Co. Kildare
A winter vacation to Ireland can be magical and we recently organised a 15 day winter tour of Ireland (and some of Wales and England too) for a couple from California, who said they had an unforgettable time! Read more here.
The Finest Hotels
We offer a range of accommodation across the island of Ireland to meet your expectations and budget. Here is just a selection of the fabulous hotels we work with.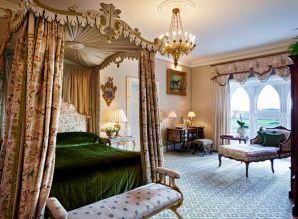 Ashford Castle © The Red Carnation Hotel Collection
If you or your group would like to enjoy your own tailor made Irish tour, please do contact Janet Redler Travel today.