British actors led the way for awards at this year's Golden Globes, but not only was British acting talent on display, so were many British film locations. In 2019, why not visit the places you've seen on the screen?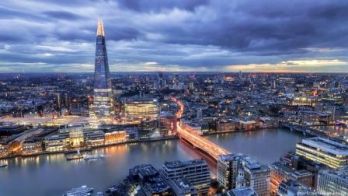 London skyline © VisitBritain / George Johnson
One of the surprise winners at this year's Golden Globes was Bohemian Rhapsody, in which Rami Malek portrayed Queen frontman Freddie Mercury. Shot across London, notable landmarks used during filming include the Grade II listed art deco Gillette Building in Brentford and Hornsey Town Hall in Haringey.
Southwark's Union Street also doubled up as New York in the biopic, with the picturesque backdrop of the Grand Union Canal near Rickmansworth providing a further spectacular setting for a glimpse into the life of one of music's most revered talents.
Hatfield House © VisitBritain
Brit Olivia Colman won Best Actress (Musical or Comedy) for her portrayal of Queen Anne in The Favourite and the magnificence of Hatfield House in Hertfordshire provided the predominant filming location for this 18th century period drama. The country house is a leading example of Jacobean architecture, while the surrounding landscape is home to two deer parks and an array of other wildlife.
The beauty of the Arbigland Estate near Dumfries and Galloway in Scotland provided one of the settings for The Wife, in which this year's Best Actress (Drama) winner Glenn Close portrays a wife who questions her life choices during a trip to Stockholm with her husband. The Wife was also filmed at the elegant Hutcheson's Hall in Glasgow, a restaurant and former hospital dating back to 1805.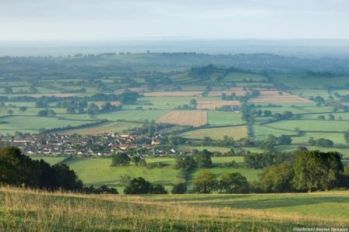 Glastonbury © VisitBritain / Stephen Spraggon
A Star Is Born received five nominations and was partly filmed at the iconic Glastonbury Festival site at Worthy Farm in Somerset, where Bradley Cooper's character Jack took to the stage to film his festival scenes. Held every year, apart from the odd fallow year when the ground is allowed to recover, Glastonbury Festival is the largest greenfield festival in the world, featuring five days of music and performing arts. (Find out more here about some of our other favourite festivals.)
The heart of the City of London was a prominent feature in Mary Poppins Returns and the spectacular Victoria Monument, near to Buckingham Palace, also appeared in the film.
Stan & Ollie, a movie about iconic comedy duo Laurel and Hardy, was filmed across Britain. Locations included the Lido in Worthing on England's south coast, as well as the Black Country Museum and a stretch of the Great Central Railway, a heritage railway in the Midlands. Birmingham's The Old Rep Theatre, as well as the Lyceum Theatre and Fortune Theatre in Covent Garden, London, also appear as settings in the film, alongside the Hackney Empire and Bristol Hippodrome.
Janet Redler, Chief Executive of Janet Redler Travel & Tourism, said: "This year's Golden Globes demonstrated once again what a wealth of acting talent we have here in Britain. But not only are our actors stealing the show, so are our film locations. This year's crop of nominated movies featured locations across Britain which are a must-see for film lovers, but also well worth visiting for anyone exploring Britain's heritage on a tour of this country."
If you or your group would like to enjoy a tailor-made location tour of Britain or Ireland, taking in your favourite movie locations, please do contact our friendly team today.