At Janet Redler Travel & Tourism, we were delighted to find out that Glasgow in Scotland has been named by National Geographic Traveler as one of its 20 'Best of the World' destinations for 2016.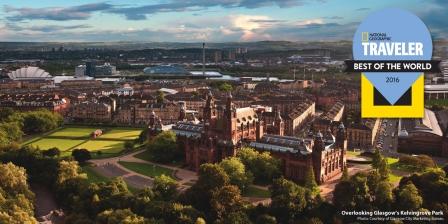 The renowned global travel magazine has selected Glasgow for its fifth annual 'Best of the World' list of unmissable global destinations to visit.
VisitScotland, the national organisation for tourism in Scotland, has welcomed the inclusion of Glasgow in the influential list, and hopes it will lead to an influx of new visitors to the city.  With a reach of more than 8.5 million readers and over two million Twitter followers, National Geographic Traveler has the largest audience of any publication of its type.
The other 19 destinations listed alongside Glasgow as 'Best of the World' 2016 stretch globally from Brazil to Botswana and Greenland to Japan.
The 'Best of the World' 2016 list was compiled following a competitive selection process which involved nominations from National Geographic Traveler's worldwide network of editors, writers and explorers. Reflecting the unrivalled global travel knowledge and expertise of this highly experienced team and the influential publication itself, the destinations listed represent – as the magazine states - what is "superlative, timely and richly authentic in the world of travel today". 
Glasgow's thriving and vibrant arts and music scene was singled out as the key unique, determining factor for the city being selected for inclusion in this distinguished global 'top 20'.
VisitScotland Regional Partnerships Director Liz Buchanan said: "For Glasgow to be named as one of the top 'must visit' destinations in the world by such a respected, trusted and influential publication as National Geographic Traveler is extremely important. We look forward to many more visitors from all over the world coming to Glasgow to experience not only our fantastic music and arts scene but also all that the city offers – resulting in even more economic benefits."
Janet Redler, Chief Executive of Janet Redler Travel & Tourism, added: "Glasgow is a must-see destination for many of our trips to Scotland. Not only is it the ideal the gateway to the Highlands but, as National Geographic Traveler's recognition shows, it is an exciting, culturally-important global city. We will certainly be visiting again soon!"
Full details about the 'Best of the World' 2016 list is available on the National Geographic Travelers' website.
To find out more about our tours, including our specialist music tours, please do take a look around our website or contact us today.