Enjoy a taste of Ireland
There are many wonderful activities and experiences in both the Republic of Ireland and Northern Ireland which can make your vacation extra special and, for food and drink lovers in particular, there is certainly a lot to enjoy. Here is just a flavour of the foodie highlights we can recommend on one of our tailor-made tours.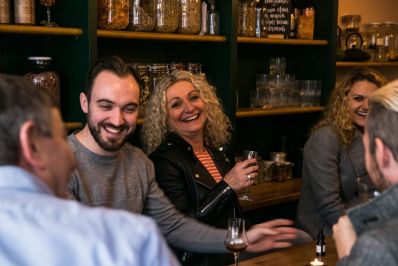 Photo courtesy of Galway Food Tours
Galway Food Tours delivers culinary tours of the city of Galway and beyond, providing a delicious overview of the passionate people and beautiful produce available in the region. The tours are given by experienced local guides and offer visitors the chance to enjoy delicious treats from family run businesses and artisan producers. There are tours for all interests, for example whiskey lovers or those who enjoy sweet treats and chocolates. Away from the city, tours include a visit to Connemara and the Aran Islands, travelling along the Wild Atlantic Way to enjoy the sights, sounds and tastes of this incredible part of the world.
Causeway Coast Foodie Tours offers guided food and drink tours of the Causeway Coast in Northern Ireland. These tours showcase the best local produce and the hidden gems this stunning destination has to offer. Tours include 'Coast and Country', which offers visits to farms and producers as well as to the markets and restaurants which use the produce; 'Heart & Soul of Portrush', a foodie walking tour of the seaside town of Portrush, and the award-winning 'Catch and Sea', featured in the video below, which involves catching your breakfast while experiencing the beautiful coastline!
Hazel Mountain Chocolate in County Clare is one of only 2% of companies worldwide that makes chocolate directly from the cocoa bean. Hazel Mountain chocolatiers are passionate about crafting their chocolate collection through a multi-stage process in the Connolly family's traditional Irish farmhouse. Hazel Mountain Chocolate offers a range of visitor experiences in both their Burren and Galway City locations.
Ireland's artisan cheeses are one of its best kept secrets and Dart Mountain Cheese in County Derry, Northern Ireland, makes a range of award-winning cheeses, including creamy Banagher Bold Cheese, which is dipped in local ale and best served with their own Derry ale drizzle from the homeplace of Seamus Heaney. Visitors are invited to enjoy one of their cheesemaking tours, which can also include a visit to a local brewery or an exploration of the magical Dart Mountain landscape.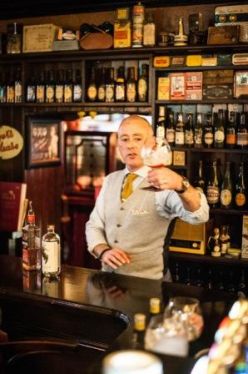 Photo courtesy of Galway Food Tours
Pearse Lyons Distillery is Dublin's only boutique distillery. Housed on the former Church of St James, the distillery dates back to the 12th century. After a tour of the graveyard, guests witness the process of whiskey making before sampling award-winning whiskeys.
The Boatyard Distillery in Enniskillen, is an award-winning farm-to-bottle distillery, located on the banks of Lough Erne in north west Ireland, producing some of the finest spirits using the highest quality ingredients. Tours of the distillery last 90 minutes and include a gin and tonic reception, the history and origins of the distillery and a tasting of their full spirits range.
Read more here about our food and drink tours and if you or your group would like to enjoy a taste of Ireland on a tailor-made tour with Janet Redler Travel & Tourism, please do contact our friendly team today. We can create the perfect foodie tour that meets your interests and expectations, helping to ensure that your culinary vacation in Ireland is extra special!