Discover Ireland's Ancient East
Too often, the east of Ireland has been seen as a gateway for visitors to pass through on their way to the rugged beauty of Ireland's west. However, Ireland's east is beautiful too and boasts an abundance of historical sites, which enable visitors to trace the development of civilisation, society and religion in Ireland. Join us on a tailor-made tour to discover Ireland's ancient east.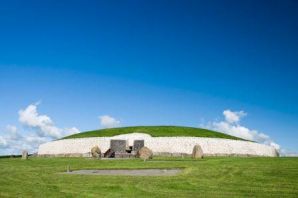 Newgrange at Brú na Bóinne © Tourism Ireland
Dublin is for many the first place they visit in Ireland, whether that is because they arrive at the city's international airport or nearby ferry port, or because it is a first-class tourist destination in its own right, famed for its friendliness and the well-known Irish craic. For those keen to explore Ireland's ancient history, the city is the perfect place to start a tour. View the sumptuous Book of Kells in the old library at Trinity College and browse treasures from the past at the National Museum of Ireland.
A short journey north from Dublin brings us to one of the most impressive ancient sites in Ireland, Brú na Bóinne. A UNESCO World Heritage site on the banks of the River Boyne, Brú na Bóinne is home to Europe's largest and most important concentration of prehistoric megalithic art. Dominated by the three huge burial mounds of Knowth, Newgrange and Dowth, and surrounded by many small passage graves, Brú na Bóinne has held great ritual significance through the ages, and the ancient site also incorporates Iron Age, early Christian and medieval monuments.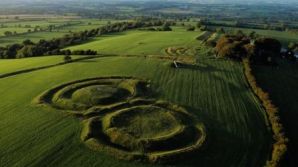 Hill of Tara © Tourism Ireland
The Hill of Tara, less than 20 miles away from Brú na Bóinne, is another major archaeological complex, made up of burial mounds, ditches and standing stones. According to tradition, the Hill of Tara is the seat of the High Kings of Ireland and the place where St Patrick began his conversion of the Irish people to Christianity.
Heading south from Dublin into the picturesque Wicklow Mountains, we come to Glendalough, one of Ireland's most beautiful places. Described as a monastic 'city', this incredible site, nestled in a lush green valley, was a sixth century religious settlement and was once one of Ireland's greatest Christian foundations and seats of learning. To explore the romantic ruins on a misty autumn morning is to step back in time to another world…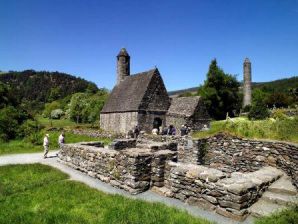 Glendalough © Tourism Ireland
Heading further south, we arrive at the well-preserved medieval city of Kilkenny. Explore the history of the city on a walk along Kilkenny's Medieval Mile, which links St. Canice's Cathedral with the stunning Anglo-Norman castle, and visit Kyteler's Inn, one of Ireland's oldest inns, which was established by the notorious Dame Alice de Kyteler. Dame Alice was accused of using poison and sorcery against her four husbands to amass great wealth and was tried as a witch in Ireland's only witch trial in 1324. Before she could be tried, Dame Alice fled to England, but her maid was flogged and burned at the stake in her place.
Historic Kilkenny © Tourism Ireland
Dunmore Cave, on the outskirts of Kilkenny, was the site of a terrible Viking massacre in the 10th Century, when hundreds of local people, who had hidden in the cave, were killed in cold blood. Consisting of a number of chambers formed over millions of years, the cave contains some of the finest calcite formations found anywhere in Ireland.

County Wexford, in the south-east corner of Ireland, is home to the Dunbrody Famine Ship, which reveals a more recent era of Irish history. Moored on the quay at New Ross, Ireland's most historic departure point, is this reproduction of a 19th Century emigrant vessel, the Dunbrody, which took those escaping Ireland's potato famine to the New World. Sadly, between a fifth and a half of the passengers on these so-called Coffin Ships were destined to die on board.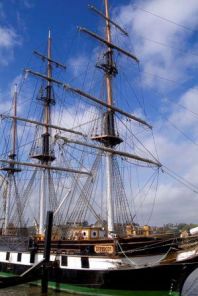 Dunbrody Famine Ship © Tourism Ireland
While there were struggles ahead for those who arrived in North America, many immigrants went on to great things. President John F Kennedy's great-grandfather, for example, sailed from New Ross in 1848 and on the quay beside the Dunbrody is the Irish Emigrant Wall of Honour, a national memorial to the Irish diaspora.
Waterford, Ireland's oldest city, is a short drive from New Ross. Originally named "Vadrarfjord", Waterford was founded in 914 AD by the Vikings and became a flourishing port. Today's narrow streets and medieval walls still stand on the site of the original Viking settlement and a walking tour helps transport today's visitors 1000 years back in time.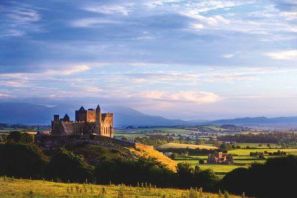 Rock of Cashel © Tourism Ireland
No tour of Ireland's ancient east would be complete without a visit to the majestic Rock of Cashel, a medieval complex which sits imposingly on top of a rocky outcrop. This important archaeological site includes a Gothic cathedral, round tower and 15th Century castle.
Perhaps fittingly we finish our tour in Cobh (pronounce Cove), near Cork on Ireland's south coast, where so many Irish people left for the New World. See the statue of Annie Moore, the first immigrant to the United States to pass through the Ellis Island facility in New York, who departed Cobh in 1892, and visit the Titanic Experience, a must for all those interested in the ill-fated maiden voyage of the world's most famous cruise ship.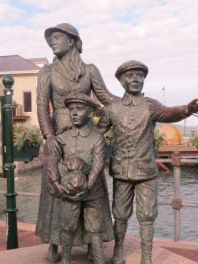 Statue of Annie Moore in Cobh © Tourism Ireland
In Ireland's east we can trace the history of this amazing country from prehistoric times to the present day, from burial mounds and ancient tombs, through the arrival of Christianity and struggles with marauding Vikings, to the medieval period and the hardships of the 19th Century.
On a tailor-made tour with Janet Redler Travel & Tourism, we combine the history and heritage you are interested in with luxury accommodation and delicious food and drink. We travel at a pace that suits you or your group, and we can also include cultural activities, shopping trips and visits to Ireland's many stately homes and gardens, depending on your preferences.
If you would like to find out more about a tour of Ireland's ancient east, please do contact our friendly team today.