In 2019, Jan and Nick, the Partners at Janet Redler Travel & Tourism, enjoyed a road trip to France and Belgium with their beloved puppy Perry. Here is part one of Nick's blog about their tour.
One of John Steinbeck's better known works, Travels with Charley, is the inspiration. But that is as far as the comparison goes! I can't attempt to match John Steinbeck's style, ability or experience. And our little journeys in Europe with Perry are a poor relation to Steinbeck's epic trip across the USA in the middle of the last century.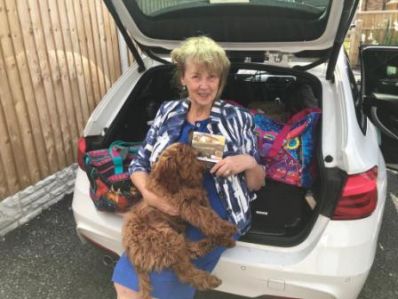 Perry, Jan and our audiobook of Travels with Charley
But like JS, we like to travel with our dog Perry and Perry is half poodle so she has some of Charley's ancestry and at least a bit of his intelligence and character. She has a reddish brown coat too as Charley did. In August 2019 she was five months old - a puppy in many ways but grown very leggy so she looks just like a small dog. She instinctively loves everyone she meets whether on two legs or four - but she is especially close to Jan. If possible she likes to be just a few feet away and if Jan leaves the room she is looking for her straight away.
So a trip to France seemed like a big adventure. We chose the ferry from Poole to Cherbourg. An afternoon crossing would mean being left on her own in the car but only for about five hours, rather less than her usual night time confinement in her "crate". Our planned itinerary provided for a return journey from Calais to Folkestone on "le shuttle" in the car still, but a rail journey of only 45 minutes or so - with Jan in constant attendance!
And we had acquired a great audiobook version of John Steinbeck's epic - an excellent companion on some of the long drives we had planned.
The ostensible reasoning for the trip was part business and part vacation. The partners were tired from several months of almost uninterrupted activity expanding our travel business. We needed a proper vacation and Northern France is easy to reach, even with a dog in the party - a perfect destination for travellers looking to extend a tour of the UK into Europe. My daughter Susie lives close to Dinan with Andy and her three daughters Lily, Alice and Sophia. A few days at the end of August before the girls go back to school seemed to be a good idea - and Alice has her birthday at the beginning of September.
We wanted, too, to explore the North East to see for ourselves the towns, villages and battlefield sites of the Great War in France and Belgium. Visits to Ghent and Bruges looked to be in reach if we could find a suitable base in the area. Many of our travellers from Canada and the US are interested in this part of Europe. As always we like to know what we are talking about. There's nothing to beat a personal visit.
But first we had to get to Poole!
Wednesday August 21
From our home near Shrewsbury to Poole in Dorset, on England's south coast, is a drive of about four hours, and with coffee stops for ourselves and Perry nearer five hours. And we had business to attend to in Salisbury. In June 2020 we have a large group of quilting enthusiasts touring in England and Wales. Included is a unique "behind the ropes" visit to Stonehenge early in the morning, just a few days before the iconic Summer Solstice celebrations.
The group have two nights in Salisbury and the farewell dinner is planned for the cloisters of the magnificent Salisbury Cathedral. We needed to check out our hotels and meet the new catering events manager at the Cathedral.
And we had a great inn to visit in Dorset, the Acorn in Evershot. This is one of England's finest old coaching inns known well to Thomas Hardy and featured in Tess of the d'Urbervilles. Although much altered, it retains plenty of character. Our recent US visitors have been most enthusiastic about the rooms, the food and the welcome. And the inn makes dogs welcome too! So we had the first night of our trip nailed down.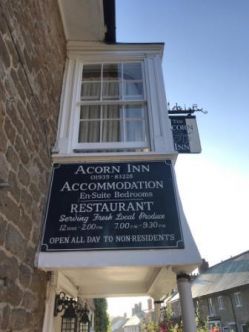 The Acorn Inn in Dorset, which featured in Tess of the d'Urbervilles
After a productive visit to Salisbury we were glad to make tracks to Evershot. The Acorn did not disappoint. There were quite a few doggy friends for Perry, the dinner was delicious and the 350 year old four poster bed (with no doubt some modern additions) proved very comfortable!
Thursday August 22
Our Brittany Ferries ferry to Cherbourg was not scheduled to leave Poole until early afternoon so Perry had a great opportunity for a good run in Upton Country Park, conveniently located on our route to the ferry terminal. And it was good for Jan and I to stretch our legs too. Not only did Perry have plenty of doggy company, but there were obliging adults with footballs for her to chase!
At the Poole Harbour terminal Brittany Ferries gave us all a warm welcome. The formalities were straightforward for all three of us but, for Perry, going on board a large car ferry was a new experience. She was a bit apprehensive!
Everything went to plan on the 4/5 hour crossing to Cherbourg and Jan was only slightly anxious about poor Perry locked away on the car deck!
But we had an especially warm welcome when we rejoined her at Cherbourg. She travels very well in the car. Indeed she survived for an additional hour on the road from the Cherbourg terminal before we found a convenient toilet stop.
We eventually reached La Hisse in Brittany about 10pm, in time for a welcome cup of tea before bed. Not a bad journey at all.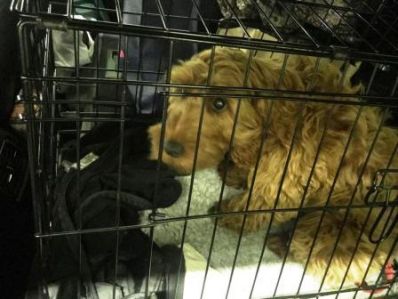 Perry dismebarking on her first sea voyage!
Friday August 23 to Sunday August 25
We spent a most enjoyable and relaxing two days with our French family including swimming in the Rance and several trips into Dinan, always a pleasure. There is plenty to do there, especially if you have a granddaughter with a birthday coming up!
And there are many excellent restaurants. We had a splendid lunch with the girls on Friday with both savoury and sweet pancakes, Breton style, galettes and crêpes at a pavement cafe. Perry obligingly laid herself out under the table!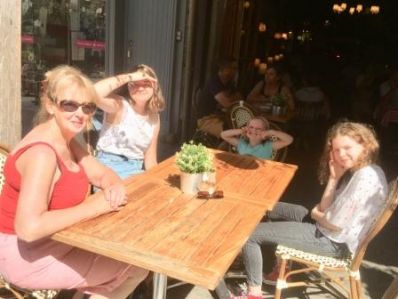 Sunday August 25 to Monday August 26
We left La Hisse and the French family on Sunday afternoon to head East into Normandy to break the long drive up to the Somme with an overnight stop in a Chambre d'hôte at Mahéru near l'Aigle.
We had a delicious breakfast on Monday morning and Perry was able to explore the small holding and gardens round the farm cottage.
There she met her first goats. They were small goats, so looked a bit like dogs to her. Luckily there was a stout fence to keep her out of their enclosure!
Our drive east and north to the Somme took us through Vernon, very close to the delightful Giverny where you can visit Monet's house and garden - but also enjoy a splendid lunch in the Ancien Hotel Baudy frequented not just by Monet but also by other famous painters of that era - Cézanne, Renoir, Rodin...
It has a well shaded outdoor seating area, perfect for a hot August lunchtime - and is welcoming to well behaved dogs. Luckily Perry came up trumps, sitting quietly under our table with a large bowl of iced water!
In part two, Perry, Jan and Nick arrive in the Somme, their base for exploring the World War One battlefields of North East France and Belgium, and visit Ypres, the Menin Gate and Thiepval.
If you or your group would like to extend your visit to the UK with a tailor-made tour to the neighbouring countries of Northern Europe, please do contact us. Alternatively, if you would like to follow in the footsteps of your ancestors on a tour of the World War One battlefields in North East France and Belgium, we can put together the perfect itinerary.