On the second leg of their journey, Jan, Nick and puppy Perry arrive in the Somme, their base for exploring the World War One battlefields of North East France and Belgium, and visit Ypres, the Menin Gate and Thiepval. Here is part two of Nick's blog about their tour.
Our base for exploring the Somme (and Flanders) battlefields was Hardecourt-aux-Bois, one of many small villages captured, lost and recaptured by both sides during the four long years between 1914 and 1918. Very little remained of any of the buildings when it was taken for the last time by a British regiment in August 2018 when German forces finally started to fall back from the front lines established in 2014.
We were accommodated at Chavasse Farm owned and managed by the Porter family, some of whom live on site. Richard and Jonathan are a mine of information particularly about the Somme battlefields and the 1916 campaign.
We had Dupres Cottage, a comfortable two bedroom self catering holiday let, well equipped and welcoming to dogs too.
Tuesday August 27
We were blessed with fine weather throughout our trip. Tuesday was a particularly hot day with temperatures in the mid 30s Celsius (perhaps mid 90s Fahrenheit).
After a quick trip into Fricourt for bread we walked with Perry around Hardecourt and in the fields of the surrounding countryside. Here you are never far from a cemetery or a memorial to the fallen soldiers of the Great War. It is hard to take in just how many young (and not so young) men died on both sides. This crucifix is typical of so many - but here there is a wreath too from the Royal Welch Fusiliers.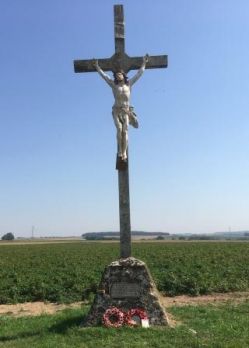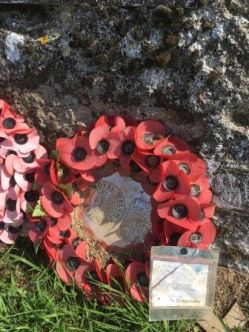 For Perry, still with her winter coat, the priority was to find somewhere cool. The tiled floor of Dupres was a good choice!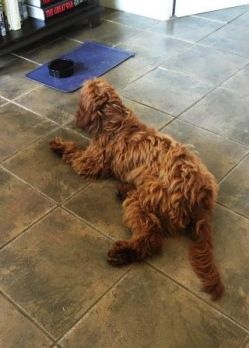 In the afternoon we headed into Albert for some basic shopping and fuel for the car at Super U. Jan was disappointed at the choice of food available - the "gazole" however was cheap, so I wasn't complaining!
In the town centre of Albert there is the excellent Musée Somme 1916. I visited rather late in the afternoon and was able to spend only 30-40 minutes there. A longer time would have been well worth while. It is housed in tunnels constructed largely in the Second World War as an air raid shelter and is devoted to the life of the soldier in the trenches in the Somme battlefield in 2016. As it's several metres underground it was pleasantly cool on a hot afternoon. Jan and Perry meanwhile enjoyed a late afternoon aperitif in the main town square.
Car parking is easy to find and is mostly free in Albert - always an important consideration.
Wednesday August 28
The battlefields of the Great War ranged over considerable distances through France and Belgium. We decided this day to head north to Ypres (Ieper in Flemish). No one wishing to have an understanding of the battlefields should omit the Ypres Salient and particularly the iconic Menin Gate, built after the war to commemorate the thousands of Commonwealth soldiers for whom there is no known grave. The Last Post has been sounded here at 8pm every evening since July 1st 1928, interrupted only for the period of German occupation in the Second World War.
But before we entered Ypres we went to Langemark just north of the town to see the German Military Cemetery there. We should never forget that very large numbers of sometimes very young soldiers from Germany too died in the battlefields and that those in command on both sides sometimes sent troops into action knowing full well that most of the men would not return.
There is no sense of triumph at Langemark - just great sadness for the enormous loss of life.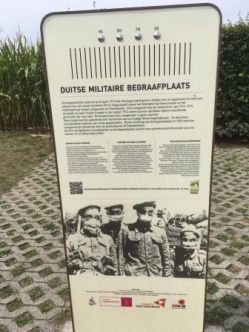 Ypres itself was almost totally destroyed by 1918 - but it has been rebuilt faithfully. The downtown is attractive with fine buildings, pleasant shopping and great pavement cafés. And you can park there for a reasonable period without difficulty. We paid 4 x euro for three hours.
We found too that there was a warm welcome. The Flemish do not expect visitors to speak Dutch - English is spoken everywhere. Even our Perry was accepted happily and allowed to lie in the shade while we enjoyed a late lunch - no insistence (as is the usual experience in France) that lunch takes place between 12 noon and 2pm!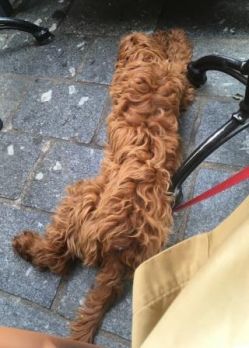 We were determined of course to be at the Menin Gate for the last post, moving the car so that we could head back to the Somme soon afterwards. Perry was happy, I think, to stay in the car while we were attending the ceremony.
It's always I'm sure a special occasion. This night was no exception. There were hundreds there standing in respectful silence. For us the evening was much enhanced by the presence of the Brymbo Male Voice Choir, who sang beautifully, and I was lucky enough to able to capture the performance on video.
Thursday August 29
Perry had an important appointment with a vet in Amiens today. Without treatment for tapeworm and ticks (with her Pet Passport certified and stamped by the vet) she would not be allowed to return to the UK! The formalities are vital. Only a few years ago it was virtually impossible for a dog to travel on holiday outside the UK. The Pet Passport scheme is a great boon to pet lovers throughout Europe. Hopefully it will survive in some form after Brexit!
But we had time before that to visit another iconic memorial at Thiepval, where many thousands more men without known burial places are commemorated.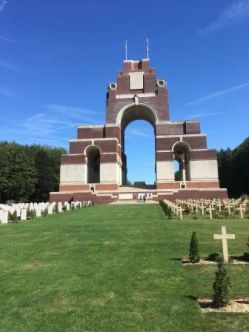 Even more impressive perhaps was one of the smallest and certainly least conspicuous memorials we saw on the whole trip. It was placed (exactly 100 years later) on the bank where men of the Lancashire Fusiliers waited to attack on July 1st 2016. Very few of these brave men survived the day.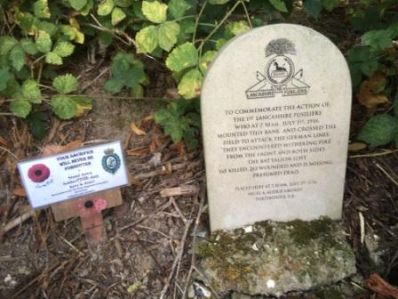 Friday August 30
Our last full day in France. We had excellent advice throughout our visit from Captain James Redler, Jan's elder son, who urged us to visit both the Newfoundland and Ulster Memorials before we left.
The Newfoundland Memorial incorporates many of the trench systems - largely untouched - in which the Newfoundlanders fought and died.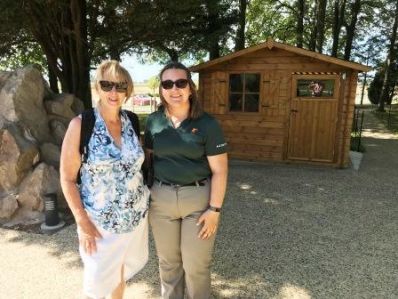 The Canadian guide (from Newfoundland) introduced Jan and me to the superb memorial at Beaumont-Hamel
At the Ulster Memorial we were lucky enough to encounter the resident guide - from Ulster of course. Austin is a mine of information explaining how the men attacked across open ground against well dug in and fortified German positions. His great uncle was one of many who died and who have no known burial. "He's out there somewhere" was Austin's moving description.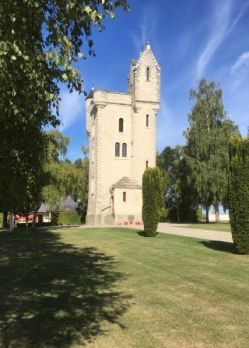 The impressive Ulster Memorial Tower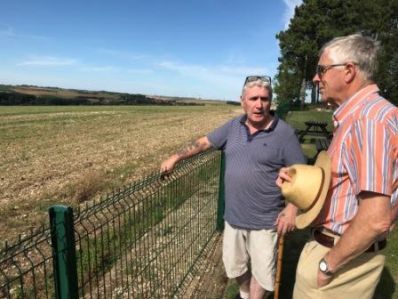 Austin describing the battlefield where his great uncle died in July 2016
Our final visit was to Auchonvillers, which our "Tommy" ancestors anglicised into "Ocean Villas". Now there is the excellent B&B and tea rooms run by Avril Williams, a great place for a tea break on a hot afternoon - full of memorabilia too.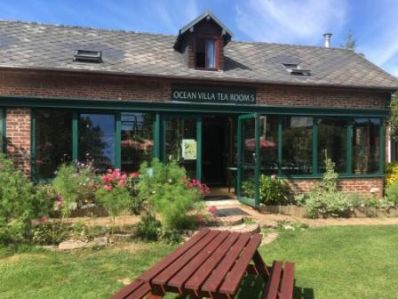 Auchonvillers or "Ocean Villas" as it was called in 1916
Saturday August 31
We left Hardecourt early to catch "le shuttle" train from Calais. We had been warned that it would be a busy day but we reached the terminal in good time to join other dog owners at the Pet Reception so that Perry's Passport could be duly inspected for that critically important vet's stamp. Without this we would not be able to check in our car or ourselves!
In the event we boarded a train slightly earlier than we had booked so we had time at Folkestone not only to give Perry a quick break before joining the M20 to London but also to visit the impressive memorial to the Battle of Britain nearby.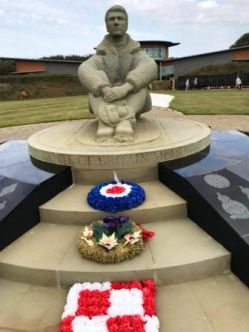 Perry was intrigued by the cast of "the Squadron Dog" and undertook a close inspection!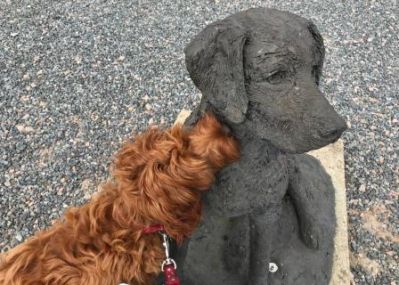 Sunday September 1
After a very enjoyable evening/overnight with my sister Sue and her family in Barnet, North London, we arrived back home in Shropshire on Sunday afternoon. Perry was very pleased to be back.
But she is an excellent traveller and, like John Steinbeck's Charley, she added greatly to the trip. We shall certainly include her on an itinerary next year!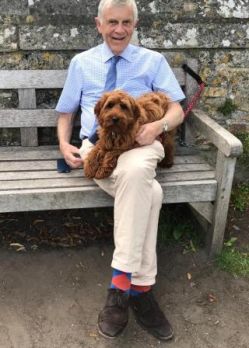 If you or your group would like to extend your visit to the UK with a tailor-made tour to the neighbouring countries of Northern Europe, please do contact us. Alternatively, if you would like to follow in the footsteps of your ancestors on a tour of the World War One battlefields in North East France and Belgium, we can put together the perfect itinerary.