Dorset is one of the hidden gems of southern England, too often overshadowed by its more high-profile neighbours, Devon and Cornwall. Perhaps best known as the South Wessex of Thomas Hardy's novels, it is also famous for its spectacular Jurassic Coast.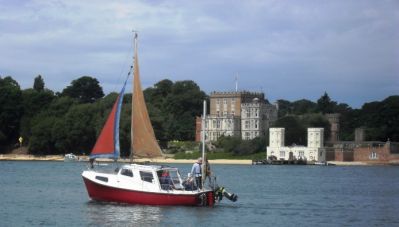 Poole Harbour in Dorset
A county of contrasts, from peaceful rural landscapes to lively seaside resorts, rugged coastlines to historic towns, Dorset has something for everyone, and is well worth including in any European tour that takes in England. Situated around 100 miles from London Heathrow Airport, with good road links, Dorset can generally be reached by car in under two hours, and a regular train service operates from London Waterloo station to several parts of the county.
An excellent starting point for a tour of Dorset is Lyme Regis, the historic seaside resort and fishing port, known for its literary and movie connections. The town's famous harbour wall, The Cobb, featured in Jane Austen's novel Persuasion, and who can forget Meryl Streep gazing forlornly out to sea in The French Lieutenant's Woman, one of cinema's most memorable scenes?
Lyme Regis is situated at the heart of the Jurassic Coast, England's first World Heritage Site, covering almost 100 miles of Dorset and Devon coastline. Spanning 180 million years of geological history, the Jurassic Coast is famous for its dinosaur fossils, which are still being discovered today.
Travelling from Lyme Regis along the coast to the east, it is well worth visiting Chesil Beach and the Isle of Portland. A unique 18 mile long stretch of shingle, Chesil Beach separates a shallow lagoon from the sea. The Beach is best viewed from the Isle of Portland, a dramatic limestone peninsula jutting into the English Channel, noted for its distinctive red and white lighthouse.
The Isle of Portland overlooks the popular seaside town of Weymouth (Thomas Hardy's Budmouth in Far from the Madding Crowd). Weymouth's smart Georgian seafront looks out onto an arc of golden sand and fine views of Weymouth Bay. Weymouth hosted the sailing in the 2012 Olympic Games and its bustling harbour offers high speed ferry connections to The Channel Islands and France.
Thomas Hardy lived in Weymouth for a while, but he is most closely associated with the town of Dorchester (or Casterbridge in his Wessex novels). Situated eight miles inland from Weymouth, Dorchester is the county town of Dorset, and Hardy spent most of his life there. Hardy's Cottage, where he was born in 1840, and Max Gate, the town house he designed, are both open to the public.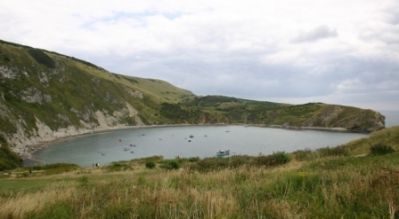 Lulworth Cove in Dorset
The coastline of Dorset beyond Weymouth is one of the most spectacular and dramatic in England. Picture perfect Lulworth Cove, shown above, the natural limestone arch of Durdle Door and the distinctive chalk stacks of Old Harry Rocks are just some of its memorable landmarks.
A few miles inland from the coast is the picturesque village of Corfe Castle, with its romantic ruined castle, built by William the Conqueror. A busy tourist destination, Corfe Castle is perhaps best appreciated in the quiet of evening, when the day-trippers have departed.
Situated on the Swanage Heritage Railway, Corfe Castle is also the ideal boarding point for a train ride to Swanage. The beautifully restored Victorian station dates back to the 1880s and steam trains depart regularly in the summer months. Swanage is a traditional British seaside town, with a popular sandy beach and a recently restored pier, from where you can take a trip on what is claimed to be the world's "last sea going paddle steamer".
Not too far from Corfe Castle is Clouds Hill, an isolated, white-washed cottage that was once the home of T.E. Lawrence ("Lawrence of Arabia") and is now a museum dedicated to the man himself.
No visit to Dorset would be complete without a boat trip on Poole Harbour, the largest natural harbour in Europe. A playground for watersports and sailing enthusiasts, the harbour is dotted with islands and surrounded by wooded bays and luxury homes. The largest island in the harbour is Brownsea Island, famous as the location of the experimental camp set up by Robert Baden-Powell, which led to the formation of the worldwide Scout movement.
Other places of interest in Dorset include:
- Christchurch Priory
- Studland Bay
- Cerne Giant
- RSPB Arne
- Sherborne Abbey