Mix and match your accommodation
The UK and Ireland offer a diverse selection of accommodation for visitors – from self-catering cottages to castles, and from canal boats to colleges! As well as the finest hotels, we can offer you or your group a choice of places to stay to meet your needs and interests, helping to make your vacation extra special.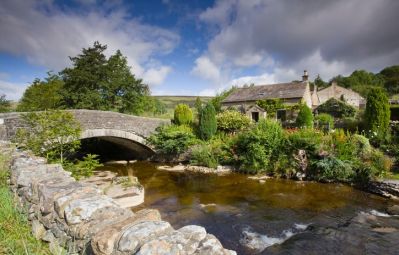 Enjoy staying in a cottage in the Yorkshire Dales of England © VisitBritain / Lee Beal
While you may want to spend some (or all!) of your vacation time in a luxury hotel or in a comfortable bed and breakfast, you or your group may also like the freedom to try something different. A hotel can provide the perfect start and end to a vacation, offering a relaxing environment to unwind in, perhaps near an airport or as a stop-over en route, but it can also be nice to stay somewhere a little bit different.
Self-catering accommodation
There are self-catering properties all over the United Kingdom and Ireland, and many are of a very high standard. As local experts on the ground, we have an extensive knowledge of popular properties to suit all pockets and tastes. This includes charming country cottages and elegant townhouses, smart seaside apartments and luxury lakeside lodges.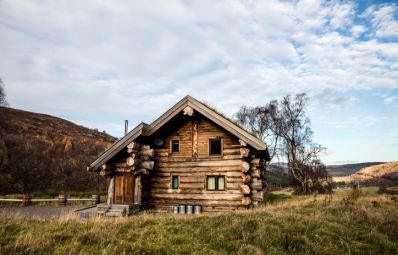 Self-catering in the Scottish Highlands © Visit Britain / Andrew Pickett
If your vacation is largely centred around one location, if there is a large group of people, or if you would like the extra freedom to do your own thing, then a self-catering property could be just what you need. It could also be a more cost-effective way of experiencing high quality accommodation, especially for larger groups.
There is high demand for self-catering properties in the UK and Ireland, particularly in the summer months when accommodation gets booked up quickly, but we know the market, so Janet Redler Travel & Tourism is well-placed to help you find the accommodation you prefer. This competitive market also helps to drive up standards, so it can be just like home-to-home – or indeed home to somewhere even nicer!
Historic properties
Whether you or your group have always dreamed of staying in a castle or a lighthouse, a water tower or a railway station, we can find the perfect property for you! There are a number of organisations in the UK and Ireland that specialise in restoring historic buildings and making them suitable for self-catering stays. Often the properties have played an important role in their local area over centuries and are recognised landmarks, set in picturesque surroundings.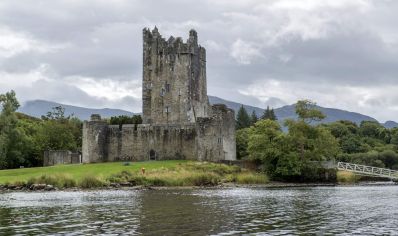 Ross Castle offers accommodation in a historic Irish castle © Tourism Ireland
While the properties are comfortable and well-furnished, they often pride themselves on offering an escape from the 21st century – so don't expect wall-to-wall electrical gadgets and state-of-the-art communications technology! Instead, you can step back in time and live life at a slower pace, reading, walking, cooking and enjoying quality time with family and friends.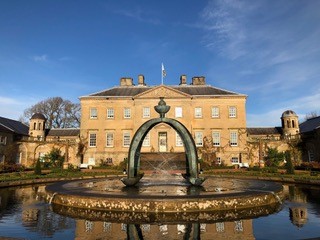 Dumfries House in Scotland offers accommodation in its estate lodge (photo by kind permission of Dumfries House)
Farm stays
A popular and growing vacation idea is a self-catering stay on a farm. Not only does a farm vacation give you or your group the chance to enjoy a rural way of life, by experiencing the day-to-day activity of a working farm, but it also provides hard-working farming families with valuable extra revenue. The degree of involvement that you and your group can have with the farm where you are staying varies from property to property, but many offer farm tours and the chance to feed the animals – great fun for all the family!
As well as self-catering cottages, many farms offer camping, caravanning and the more upmarket glamping! Perhaps you or your group would like to stay in a traditional shepherd's hut, or a yurt (tepee)? It isn't as basic as it sounds, as many are luxuriously furnished, with electricity, gas and sometimes even a sauna!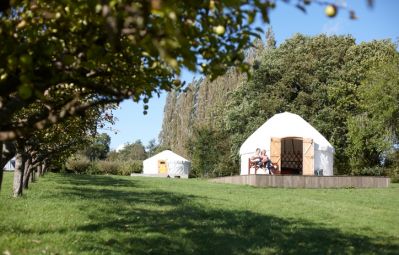 A campsite on a working farm © VisitBritain / Joanna Henderson
A farm stay in the beautiful countryside is also the perfect base for an activity or adventure holiday. Enjoy walking, cycling, horse-riding, fishing or one of the many other outdoor pursuits you come across in the countryside. A farm stay really is a chance to experience the timelessness of the landscape, enjoying fresh locally sourced food, perhaps cooked outside, while watching the sun set over the rolling hills.
Boating vacations
A boating vacation on the inland waterways of the UK and Ireland is another wonderful way to enjoy the countryside at a slower pace of life. Canals provide an ideal opportunity to experience a vacation on water, as you or your group travel slowly through the landscape, while taking on the challenge of steering your own rental boat through the twists, turns – and locks – of the canal! You should prepare for some bumps along the way, but be willing to enjoy the fun too. After all, it is incredibly rewarding to moor alongside the canal bank after a busy day's boating, and then to sit back and gaze at the stars with a glass of wine!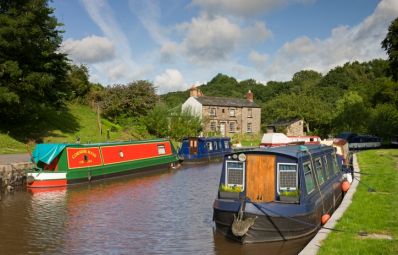 Canal boats in Wales © VisitBritain / Adam Burton
The Norfolk Broads in the East of England is one of the main boating destinations in the UK, and offers experts and novices alike the chance to explore over 125 miles of navigable lock-free waterways. While the Broads can get busy in summer, off-season they can provide a peaceful getaway, as you discover your own quiet channels and streams in this outstandingly beautiful National Park.
Universities and colleges
To stay at an Oxford College or at Cambridge University is a dream come true for many who never got the chance to study there – but of course you don't have to be an academic to stay! In fact, many universities and colleges in the UK and Ireland offer accommodation in their quiet times, when the student rooms are empty. Whatever your group's ages, these colleges can be a fun and affordable place to stay, enabling you to enjoy the history and architecture of some of the UK and Ireland's most famous buildings, while being well-placed to explore the local area, as universities are often located in prime city centre locations. University accommodation is especially suitable for larger groups.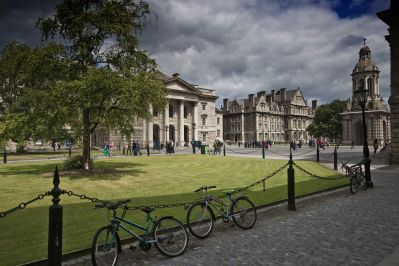 Trinity College Dublin © Tourism Ireland
Imagine, for example, just how wonderful it would be to enjoy a stay at Dublin's Trinity College, as you explore the delights of Ireland's capital! This historical university campus boasts over 600 rooms in an oasis of calm at the heart of the bustling city. And what better place to enjoy some of Ireland's greatest treasures, such as the Book of Kells, which are actually to be found at Trinity College.

If you or your group would like to enjoy a vacation in the UK and Ireland, staying in one or more of the many different types of accommodation we offer, please do contact our friendly team. We will discuss your needs and work out exactly what would be most suitable for you. We will then make all the arrangements, from the moment you step off the plane...