The Finest Hotels…
At Janet Redler Travel & Tourism, we pride ourselves on finding the ideal places for our guests to stay. From vibrant city centre hotels to tranquil rural retreats, and from five star luxury to homely bed and breakfasts, we offer first class accommodation, specially selected for you or your clients.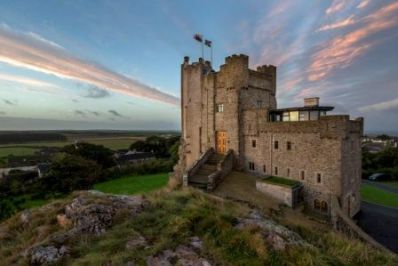 Roch Castle, Pembrokeshire, Wales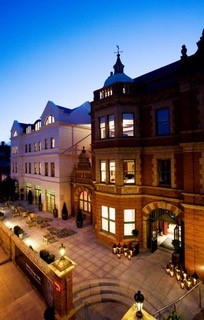 Dylan's, Dublin
With over 30 years' experience, Janet Redler Travel & Tourism has built up an extensive portfolio of hotels to choose from across the UK and Ireland, which we are comfortable to recommend to our guests as they meet our exacting standards.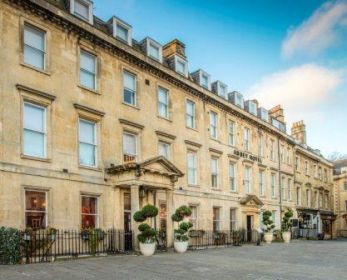 Abbey Hotel, Bath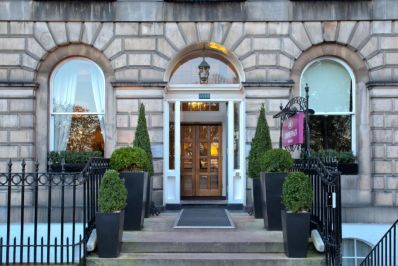 Crowne Plaza Edinburgh - Royal Terrace
Every year, we endeavour to visit the hotels we have chosen, to ensure standards remain high. We also spend a good deal of our time viewing – and reviewing – our hotel portfolio, adding the latest must-stay destination hotels and looking for those places which provide our clients with just that little bit more. Something special, something unique…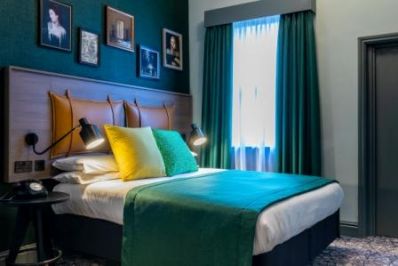 Abbey Hotel, Bath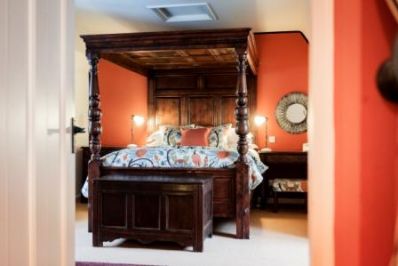 The Bear at Rodborough, in The Cotswolds
Sweet dreams
A comfortable bedroom which ensures a good night's sleep is perhaps the most important prerequisite of the hotels we choose. Large comfortable beds, festooned in crisp cotton sheets with dreamy pillows and luxurious covers and throws. Room to breathe, with plenty of space for those travel bags and impulse purchases; somewhere to eat breakfast quietly; plush sofas to relax in after a rewarding day's sightseeing…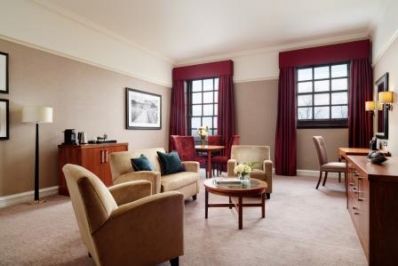 Bedroom living area at The Grand, York
If you're anything like us, a spotless bathroom, perhaps with a deep roll top bath to soak away your cares in lashings of hot water, or a powerful shower to invigorate body and mind, is paramount.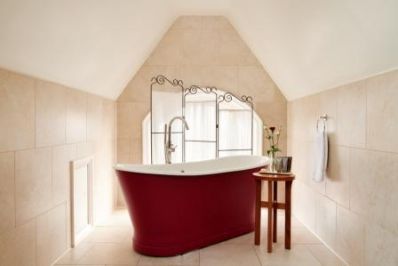 Penthouse bathroom at The Grand, York
Foodie heaven
A memorable dining experience is often key to a hotel's appeal. Many of the places we recommend are famed for their culinary reputation, with restaurants managed and created by top chefs. Of course, it doesn't have to be high end extravagance. Home-cooked fayre, prepared with the finest locally sourced ingredients, served efficiently in a welcoming setting, is at the heart of the ethos we look for in our hotel restaurants.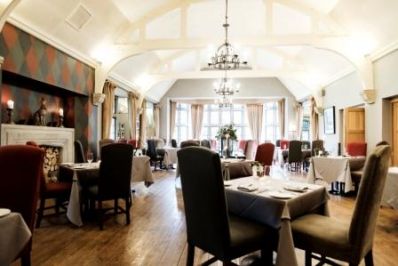 Dine in style at The Hare and Hounds Hotel in The Cotswolds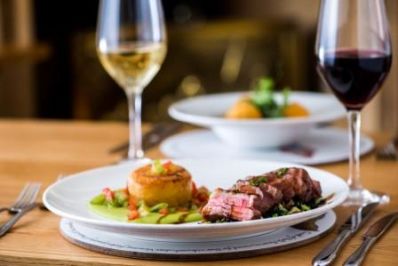 Dinner at The Acorn Inn in Dorset
The delights of a traditional afternoon tea are hard to put into words, and something that we would urge all our visitors to enjoy. From the delicious cakes and pastries to the fine china teacups and plates; from the pots of freshly brewed tea to the celebratory glasses of champagne. All in all, afternoon tea is an experience not to be missed!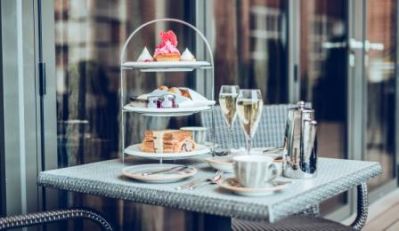 Afternoon tea at The Grand, York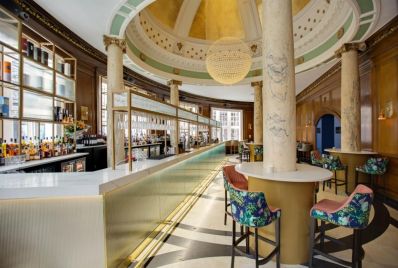 Enjoy a drink in the stylish Champagne Bar at Glasgow Grand Central Hotel
A room with a view
A room with a view can add that little touch of something special, which makes an enjoyable vacation unforgettable. Gaze over city rooftops at cathedrals and palaces; find time to stand and stare at the sea as the breakers roll in; rise early to watch the sunrise over lakes and woods...
The View from Twr y Felin Hotel Observatory in Pembrokeshire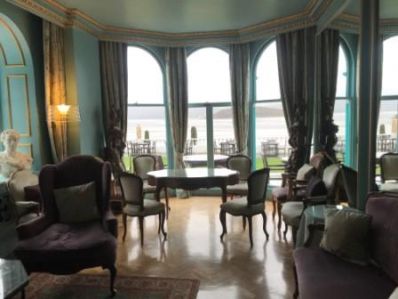 Hotel Portmeirion, on the coast of North Wales
That's why we choose hotels in the most memorable locations – from the rugged Highlands of Scotland to the rolling Cotswold Hills of England; from Ireland's ancient east to the vast mountain landscapes of North Wales; from the well known cityscape of London to the famous landmarks of Edinburgh.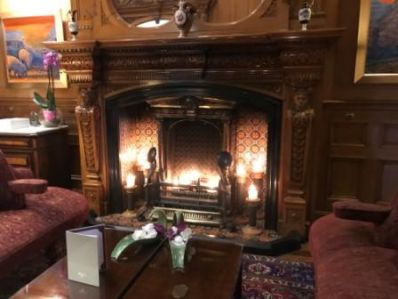 A welcoming fire at Palé Hall Hotel, North Wales
Amenities for all
We endeavour to ensure that the hotels we select, as well as meeting the highest standards of comfort and service, deliver the amenities our guests require.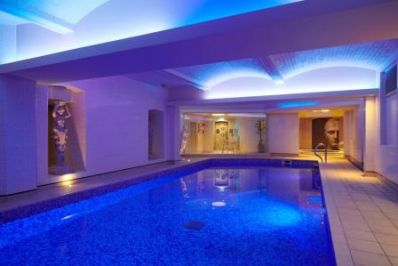 Spa and swimming pool at The Grand, York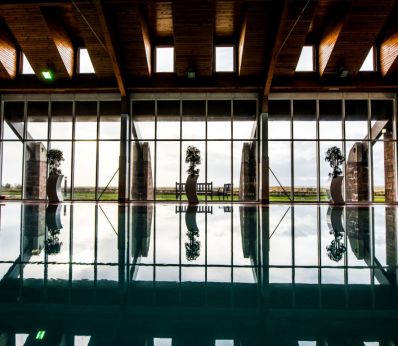 Pool with a view at The Marine Hotel in Troon, Scotland
Whether that is a sumptuous spa for some much-needed pampering; a well-equipped gym to help keep us fit and healthy on our travels, or perhaps a well-stocked bar with comfortable armchairs and sofas to sink into after a delicious meal at the end of the day.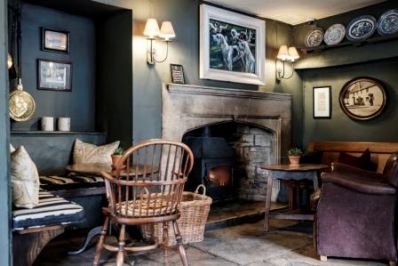 Relax by the log fire at The Lamb Inn in Oxfordshire
Above all, when looking at hotels, we look for that little extra. Perhaps it is the exceptionally warm welcome, with staff that go just that bit further; perhaps it is the unique style of a boutique hotel or the traditional hospitality of a historic house hotel; maybe it is just that warm, cosy feeling you get, that the Danes so evocatively describe as hygge: the indescribable little pleasures that make your stay magical. This is what we aim to achieve for our guests. A memorably good stay is our goal.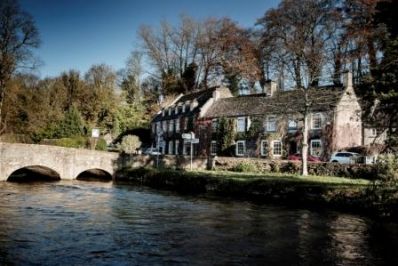 The Swan Hotel in Gloucestershire on the banks of the River Coln
And finally, here are some of the other fabulous hotels we can recommed on the island of Ireland...