Travel from Wall to Wall in England's North West
Janet Redler Travel is proud to be a trade partner for England Originals, which is brought to you by England's Historic Cities – a partnership of destinations. Working with England Originals, we have put together our 'Wall to Wall' package, which offers tailor-made itineraries focused on three of North West England's most historic cities: Chester, Lancaster and Carlisle.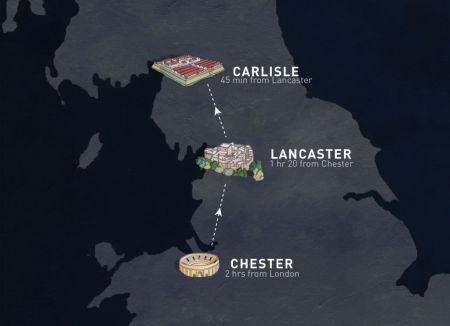 The ancient city of Chester boasts the most complete set of Roman Walls in Britain and is famous for its medieval shopping streets. Lancaster is the home of England's oldest courtroom, which has links to some of the most notorious 17th century witch trials. And Carlisle, known as the 'Great Border City', lays claim to England's most besieged castle, as well as being situated on the doorstep of Hadrian's incredible 73 mile long Roman wall.
Chester – where past meets present
Just two hours from London by train, Chester is magnet for history buffs and pleasure seekers alike, with the most complete city walls, the oldest racecourse and the largest Roman amphitheatre in Britain. And for shopaholics, the 700-year-old Rows burst with stylish boutiques, all within the original medieval shopping mall - it has to be seen to be believed!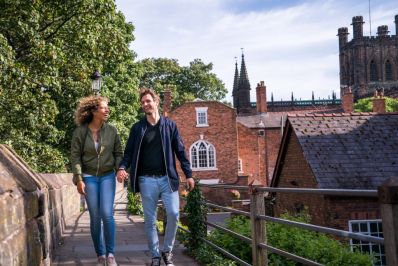 Walk the complete circuit of Chester city walls © England Originals
Explore Chester's historic city walls on a walking tour with a Roman guard! The city walls are the oldest, longest and most complete in Britain, parts of which date back almost 2,000 years. Together with your Roman guard you'll walk the complete circuit, which gives wonderful views down into the city, and you'll receive a fantastic insight into Chester's long history. (Find out more about our tours of Roman Britain.)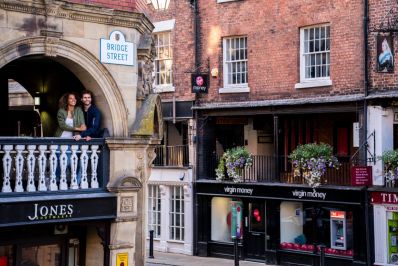 The Rows in Chester © England Originals
The Rows are continuous half-timbered galleries, reached by steps, which form a second row of shops above those at street level in each of the four main streets of Chester. There really is nothing like these medieval walkways, which are packed full of stylish shops, cafés and restaurants.
Visit Chester Cathedral and take the tower tour – a multi-award winning experience, which is one of the best things to do in Chester. You'll climb right to the top of the central tower and see one city, two countries and five counties. At over 125 feet above ground, you really will get Chester's best views!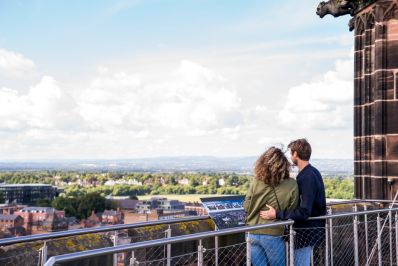 Get the best views of Chester © England Originals
To complete your time in Chester, why not enjoy a cocktail making class and food at Oddfellows, a delightful hotel housed in a whimsical Georgian Townhouse. The restaurant is an intimate and fun setting where fabulous wallpaper and living moss adorn the walls around the striking looking glasses, while luxurious fabrics blend perfectly with one of the most beautiful settings in Chester – looking out to The Secret Garden!
A train journey from Chester will get you into Lancaster in less than an hour and a half, or you may prefer to pick up a rental car for self-drive. For a real taste of luxury, sit back and relax as your private driver takes you from door to door on your tour…
Lancaster – the historic heart of North West England
Nestled on a hilltop in the historic county of Lancashire in the North West of England lies the ancient city of Lancaster. With its magnificent Georgian buildings, historic castle and spectacular views from the Ashton Memorial, one of the north's great follies, it's the prefect place to explore.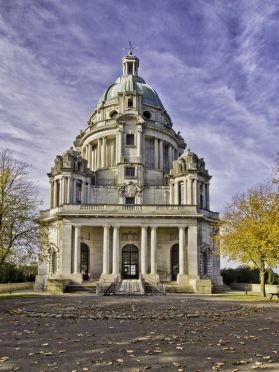 Ashton Memorial, Lancaster © England Originals
Begin your visit at Williamson Park to see the Ashton Memorial. The memorial sits like a mini St Paul's Cathedral, high up on a hill, dominating Lancaster's skyline. From the top of the memorial there are fantastic views across Lancaster and the Cumbrian Fells. 
Spectacular views from Ashton Memorial © England Originals
Visit Lancaster Castle to hear about the Pendle witch trials. Eighty years before the Salem witch trials in Massachusetts, the Pendle witch trials of 1612 are among the most infamous in English history, and some of the best recorded. A number of the witches were tried at Lancaster Castle.
Lancaster Castle really does have a gruesomely fascinating history! Over 200 executions took place there, with those after 1800 occurring at 'Hanging Corner', in an angle between the tower and the wall on the east side of the terrace steps. On the ground-floor of the tower is the chilling 'Drop Room' which now contains relics of the many executions.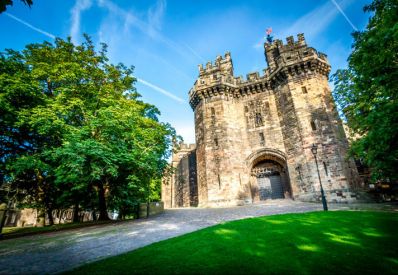 Lancaster Castle © VisitBritain
Relax at the end of a busy day's sightseeing with traditional British fish and chips on a twilight canal cruise. Lancaster is at the heart of 43 miles of lock-free canals which wind their way through the city and surrounding countryside.
A short hop by train through some of the North West's most scenic countryside will see you in Carlisle, close to the Scottish border. By car, there's an excellent motorway or take a more leisurely route through the eye-catching landscape.
Carlisle – the great border city
Celts, Romans, feuding border raiders and invading armies have all left a fascinating legacy for visitors to discover in Carlisle.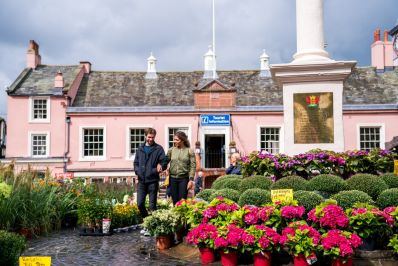 Carlisle © England Originals
Iconic Hadrian's Wall is a must visit when in Carlisle and the area from Gilsland to Birdoswald remains one of the best and most complete sections of the wall. Back in 122AD the emperor Hadrian – the builder of the Roman Pantheon – decided to build a wall across the north of Britannia to keep out the tribes of Scotland. Hadrian's Wall remains one of Europe's greatest ever engineering projects, a masonry barrier stretching 73 miles coast-to-coast built by 15,000 men within seven years.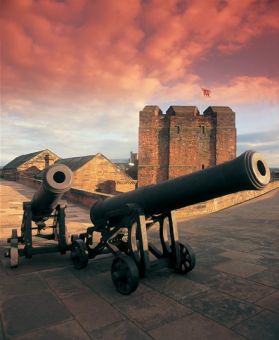 Carlisle Castle © England Originals
Standing proud in the city, Carlisle Castle has dominated for nine centuries. Explore the medieval castle rooms, discover a turbulent history in the castle exhibition, and walk some of the medieval walls. It remained a working fortress until well within living memory and has withstood many sieges, held a royal prisoner captive, and has been home to the King's Own Royal Border Regiment.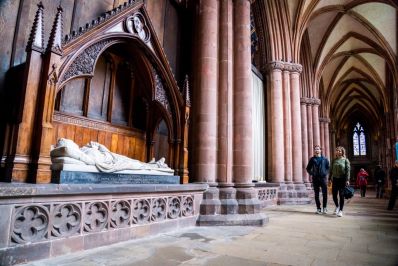 Carlisle Cathedral © England Originals
Carlisle Cathedral is one of the jewels of North West England and celebrates its 900th anniversary in 2022. Although Carlisle is the second smallest of England's ancient cathedrals, it is packed with history and its most notable feature is its incredible stained glass window - the largest in England in the intricate Flowing Decorated Gothic style.
And our American visitors might be interested to stop and admire the home of US President Woodrow Wilson's mother, who was from Carlisle. The Woodrow family home was Cavendish House on Warwick Road, built by his grandfather Reverend Thomas Woodrow in 1831.
Carlisle is the perfect starting point for you to extend your tour over the border into Scotland. Visit majestic Edinburgh, bustling Glasgow or carry on into the Highlands! Alternatively, make your way back south again by train or road to Chester, head out east to Durham or York, or set out into the Lake District, one of England's most delightful National Parks.

If your or your group would like to travel from Wall to Wall on a tailor-made tour, following in the footsteps of Romans, Celts, Georgians, and generations throughout history, please do contact our friendly team today. We will look after all aspects of your vacation from the moment you step off the plane, including the best hotels to meet your budget, delicious meals to satisfy your tastes and local attractions to suit your interests. We will make all the train travel arrangements for you, organise car rental or provide you with your own private driver guide!