VisitEngland has announced that businesses in the UK registered to the 'We're Good To Go' industry standard scheme are now automatically eligible for the World Travel & Tourism (WTTC) international 'Safe Travels' stamp. Janet Redler Travel & Tourism is proud to be registered for 'We're Good to Go' and we are looking forward to using the new global stamp.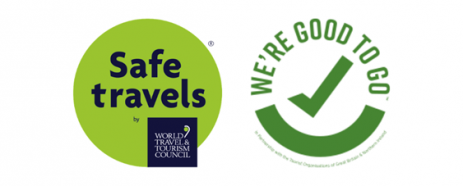 The We're Good To Go scheme, launched in 2020 by VisitEngland in partnership with the tourism boards of Northern Ireland, Scotland and Wales, is a UK-wide industry standard and consumer mark to reassure customers that businesses adheres to Government and public health guidance.
The scheme has been recognised by WTTC as meeting international global standardised health and hygiene protocols and for its role in supporting the recovery of the UK tourism sector. The protocols for their global Safe Travels stamp were designed with the World Health Organisation and the Centers for Disease Control and Prevention guidelines' and developed alongside leading industry associations and international organisations.
Businesses that have qualified for the We're Good to Go scheme have demonstrated that they are adhering to the latest Government and public health guidance, that they have carried out a Covid-19 risk assessment and that they have the required processes in place to aid social distancing and cleanliness.
VisitBritain CEO Sally Balcombe said: "We are delighted that businesses certified to We're Good To Go can also automatically register for the WTTC's global Safe Travels stamp, recognising the standard of protocols and processes we have in place in the UK. This is also testament to the hard work and commitment of tens of thousands of businesses right across the country who have adapted and innovated to safely meet new ways of working and are already 'good to go'."
WTTC President & CEO Gloria Guevara said: "We are pleased to see VisitBritain, the tourism agency for one of the world's most popular destinations, implementing enhanced health and safety measures that are in line with our global protocols, to ensure safe travel, and we are delighted to recognise its efforts through the WTTC Safe Travels stamp."
Janet Redler, Chief Executive of Janet Redler Travel & Tourism, added: "We were proud to receive 'We're Good to Go' certification last year and it's good news that this means we can now use the WTTC global Safe Travels stamp too. We're looking forward to welcoming international travellers again soon, and we think it is important that they know that Janet Redler Travel & Tourism, as well as the hotels and service providers we work with, are taking health and safety extremely seriously."
We want to assure our clients that the health and safety of all those who travel with us is paramount. Read more here.