After months of lockdown throughout the world, let's start travelling again - and keep safe!
We want to assure our clients that the health and safety of all those who travel with us is paramount.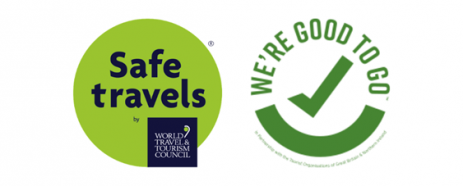 Travellers will soon be ready to start making trips overseas once again - but rightly expect the highest standards of hygiene wherever they are, and that at every location their hosts are following the latest international and local guidelines in responding to the COVID-19 pandemic.
We are working with hotels, restaurants, transport providers and attractions seeking every possible assurance that these standards are being met and guidelines followed.
We are asking them to provide details of the steps they are taking to protect our travellers, from hygiene measures such as cleaning and sanitizing to guidelines on social distancing, the use of face masks and how they handle suspected or confirmed cases of COVID-19.
We are continuously monitoring official regulations and recommendations throughout the UK and Ireland, making sure that our service providers are equally aware of the most recent advice and regulatory requirements.
At Janet Redler Travel & Tourism, we are committed to providing a first class travel experience and if you or your clients have any concerns about a forthcoming tour with us, please do contact our friendly team.
We take great pride in the tours we deliver, and we are always happy to discuss your travel plans, advise you on the latest situation in the UK and Ireland and look at flexible booking options.
Janet Redler Travel & Tourism is proud to be registered for the 'We're Good to Go' scheme and to be able to use the internationally recognised 'Safe Travels' stamp. Read more here.
For the latest updates on the global COVID-19 situation, please visit: https://www.who.int/emergencies/diseases/novel-coronavirus-2019
For the latest Government information on COVID-19 in the UK, please visit: https://www.gov.uk/government/topical-events/coronavirus-covid-19-uk-government-response
For the latest Government information on COVID-19 in Ireland, please visit: https://www.gov.ie/en/publication/472f64-covid-19-coronavirus-guidance-and-advice/