Skomer Island, off the Pembrokeshire coast in south west Wales, is one of the world's prime habitats for puffins, and nature-lovers everywhere can now watch these charming seabirds live online.
As a result of coronavirus, few people will get a chance to visit the island this year, so Welsh Wildlife has begun 'live-streaming' film of the site on their website, allowing members of the public to view the puffins in their natural clifftop habitat.
Skomer Island has long provided sanctuary for the Atlantic puffin, which typically returns to nesting sites on the island each April, and almost 22,000 birds use the island for habitation.
The live video stream was set up by the Wildlife Trust of South West Wales (WTSWW), which is in charge of the continuing and essential conservation work on Skomer Island, and neighbouring Skokholm. The Trust predicts a very tough year ahead, thanks in no small part to the COVID-19 pandemic, which has decimated the tourism industry worldwide.
Skomer Island © Crown copyright (2017) VisitWales
Skomer is well-known for its wildlife. Around half the world's population of Manx shearwaters nest on the island, the Atlantic puffin colony is the largest in southern Britain and the Skomer vole is unique to the island. It is a national nature reserve and Site of Special Scientific Interest.
The island, which can be reached in 15 minutes by boat from the mainland, boasts dramatic cliffs and spectacular views, providing visitors with an exhilarating experience, whether walking, birdwatching, or hiking. It is also a magnet for archaeologists and ancient history buffs, with its stone circle, standing stone and the remains of prehistoric houses.
The Wildlife Trust of South West Wales is currently in the middle of an appeal for funds to help keep their vital conservation work going, as a result of the pandemic's devastating effect.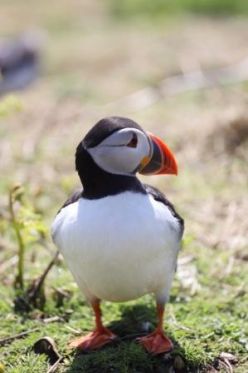 Puffin on Skomer Island © Crown copyright (2017) VisitWales
The Trust said: "We earn nearly 50% of our income through tourism-related activities: cafés, shops, holiday accommodation and boat landings, and the lockdown comes at our busiest time of year, which is disastrous!"
Welsh wildlife presenter Lizzie Daly, who hosts a weekly round-up of the camera footage, said: "Skomer is a wonderful Welsh island which, at this time of year, is full to bursting with vast colonies of ground-nesting sea birds and migrating visitors."
Janet Redler, Chief Executive of Janet Redler Travel & Tourism, added: "Skomer is a very special place, attracting thousands of people each year in normal times. While the pandemic has been devastating in terms of tourism, it is rewarding for birdwatchers and nature-lovers alike that the delightful little puffins can be seen live on camera. Hopefully, those who watch the live stream will be inspired to support the vital fundraising appeal."
More information about the puffin cam live stream, as well as details of the appeal, can be found at: welshwildlife.org/puffin-camera/
If you or your group would like to include a visit to Skomer Island on a tailor-made tour of Wales or the United Kingdom when things return to normal, please do contact us today.