The national tourism organisations of England, Scotland, Wales and Northern Ireland have joined in partnership to launch a new industry standard for UK tourism, in the wake of the coronavirus crisis.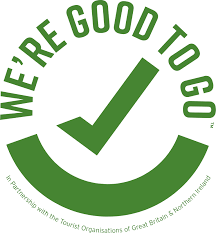 The 'We're Good To Go' scheme aims to provide a ring of confidence for tourism as the sector in the UK works towards reopening. It offers an industry standard and supporting consumer mark for businesses to demonstrate that they are adhering to government and public health guidance, have carried out a COVID-19 risk assessment and have checked that they have the required processes in place.
The scheme has been developed by VisitEngland in partnership with Tourism Northern Ireland, VisitScotland and VisitWales to ensure a standard-led approach across the UK, with input from more than 40 industry bodies, as well as destination management organisations across the country.
It is free to join and open to all businesses in the industry. To qualify, businesses must complete an online self-assessment, including a checklist confirming they have put the necessary processes in place, before receiving certification and the 'We're Good To Go' mark for display in their premises and online.
Businesses across the UK are assessed according to their respective national guidance, which differs in each of the four countries that make up the United Kingdom. In England, for example, businesses must align with the UK Government's official guidance for the tourism sector, including social distancing and cleanliness protocols.
An 'alert' system ensures that businesses signed up to the standard are notified of any changes to the official guidance and a call-handling service provides support. Assessors will also carry out random spot checks to ensure adherence.
Tourism Minister Nigel Huddleston said: "I want to encourage the public to experience a great British holiday this summer and be confident that they can do so safely. 
"This new industry standard will show people that tourism businesses, destinations and attractions are adhering to the guidance. It puts safety first and is an important move in getting this industry back up and running."
VisitEngland Director Patricia Yates said: ""We want visitors to be able to enjoy their holidays and to support businesses to be confident they have the correct procedures in place. Our priority is to make sure tourism rebounds to once again become one of the most successful sectors of the UK economy and this 'ring of confidence' is a crucial step on the industry's road to rebuilding."
Tourism in the UK is worth £127 billion annually to the economy, employs 3.1 million people and supports 200,000 small businesses and entrepreneurs right across the country.
Janet Redler, Chief Executive of Janet Redler Travel & Tourism, added: "As tourism businesses across the UK begin to open again, it is vital for visitors to be able to trust that they are safe. This valuable new scheme will give people the confidence that the places they are staying in, eating at, or visiting, have met an approved set of national standards to help ensure their wellbeing while on vacation."
If you or your group would like to plan a tailor-made tour of the UK, please do contact our friendly team and we will help to create the ideal vacation to meet all your needs and preferences.
Find out more here about the steps we are taking to assure those who travel with us that their health and safety is paramount.