Christmas as we know it today owes so much to the influence of Charles Dickens and events take place across the United Kingdom to celebrate the life and work of the country's most famous Victorian novelist.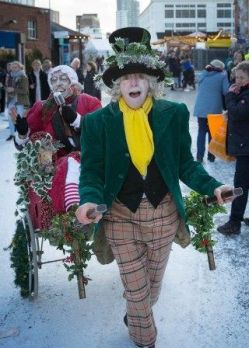 Scrooge at Portsmouth Festival of Christmas
The Charles Dickens Museum in London, located in the Georgian terrace house where Dickens once lived and where he wrote Oliver Twist and a number of other novels, is decorated for Christmas as Dickens would have known it. Each year, the museum hosts a number of Dickens-themed festive events, including performances of Dickens' Christmas ghost stories.
The Charles Dickens Birthplace Museum in Portsmouth, on the south coast of England, hosts an annual Festival of Christmas, which takes place at Portsmouth Historic Dockyard, celebrating all things Dickensian, with classic Dickens characters, an Old Curiosity Shop and traditional stalls and refreshments.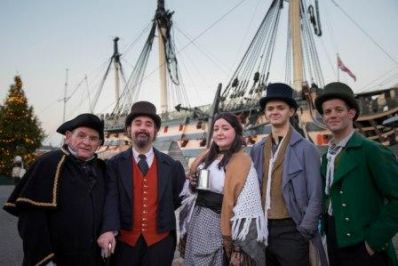 Dickensian characters at Portsmouth Festival of Christmas
Gad's Hill Place near Rochester in Kent was Dickens' country home for the last thirteen years of his life, and where he worked on a number of his later novels. Rochester holds a Dickens Festival twice a year and the Dickensian Christmas Festival features Christmas parades, costumed balls, guided tours and a Christmas market.
Performances of A Christmas Carol happen at theatres across the UK, including those by Gerald Dickens, Charles's great-great grandson. Gerald Dickens plays over 30 characters using his vocal and physical talents to bring the story to life.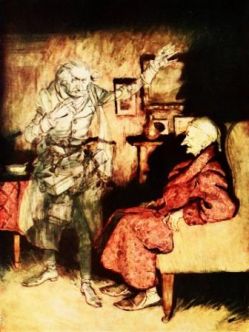 A Christmas Carol
Janet Redler, Chief Executive of Janet Redler Travel & Tourism, said: "The influence of Charles Dickens on our Christmas festivities cannot be over-estimated. Up and down the country, performances, festivals and celebrations take place which bring a Dickensian Christmas to life – so what better way to start the festive season than by enjoying a Dickens-inspired event on a winter tour of the UK?"
Merry Christmas!
If you or your group would like to enjoy a Dickens-themed winter tour of the UK, please do contact our friendly team and we will put together a customised itinerary for you.