Twr y Felin, Wales's first contemporary art hotel, is building on its success by opening 20 new bedrooms this summer. The hotel, which is owned by The Retreats Group, is located in Wales's smallest city, St David's in Pembrokeshire, and was originally built in 1806 as a working windmill. Today, Twr y Felin is one of the finest boutique hotels in Wales.
Windmill Wing, Twr y Felin
Opened in March 2016, Twr y Felin's success has been phenomenal, with the hotel achieving numerous awards and a steady rise in occupancy and revenue, resulting in the need for a further 20 bedrooms.
Featuring contemporary design throughout, the hotel is currently home to 21 luxury bedrooms and over 100 pieces of specially commissioned art.
Adding to the existing Windmill and Oriel Wings, the new Garden Wing will be home to state of the art rooms named after the caves, rocks, capes and islands around RSPB Ramsey Island, which is just off the coast of St David's peninsula.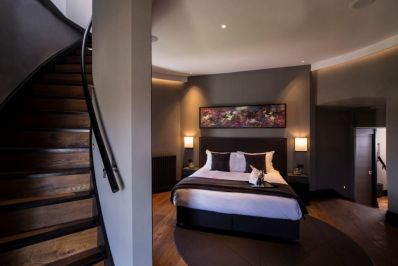 Windmill Tower Suite, Twr y Felin
Five of the ground floor rooms will have coast facing terraces, five first floor rooms will have Juliet or step out balconies, with views over St Brides Bay, and in addition a spacious, two bathroom, accessible bedroom will add to the one already available in Oriel Wing.
To cater for the increase in occupancy, the Oriel Bar at the hotel will be extended, and the Cornel Bar will offer a new alfresco area.
Twr y Felin, along with sister properties, Roch Castle and Penrhiw Priory, form a group of three luxury accommodation venues in the heart of the Pembrokeshire Coast National Park.
Twr y Felin Observatory – view towards Ramsey Island
The additional 20 rooms will enable Twr y Felin to generate the revenue needed to sustain its luxury tourism offer in the long-term future, and will create more luxury accommodation for guests to stay in when they explore Pembrokeshire. In turn, this will enhance the standard of Welsh tourism, helping to ensure that Wales's hospitality industry is on a par with the rest of the UK, and within the global market.
Janet Redler, Chief Executive of Janet Redler Travel & Tourism, said: "Twr y Felin is one of our favourite hotels in Wales and is a popular choice for many of our guests who are looking to enjoy luxury accommodation. The expansion is sure to enhance this wonderful hotel, situated in such a beautiful part of Wales, and will enable even more people to experience the delights of staying there."
If you or your group would like to enjoy luxury hotel accommodation at Twr y Felin, or indeed one of the other many luxury hotels in the UK or Ireland, please do contact our friendly team.
Photos courtesy of The Retreats Group.