A new film about Mary, Queen of Scots, is helping to inspire renewed interest in the story of Mary Stuart and the places in Scotland connected with her.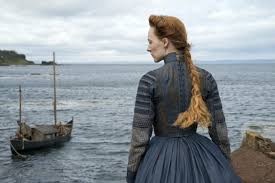 Saoirse Ronan as Mary, Queen of Scots, at East Lothian on the Scottish coast
From her birthplace at Linlithgow Palace, near Edinburgh, to Craignethan Castle near Lanark, where she stayed, Mary, Queen of Scots, is associated with many historical locations across Scotland.
Now, a new film about her life, and the tumultuous period of British history through which she lived, offers history fans the perfect excuse to follow in her footsteps, as well as to explore the the stunning filming locations used in the movie.
The film explores Mary's difficulty in asserting her authority in Scotland, with threats from protestants and from the English Queen, struggling herself to be a queen in a man's country.
Director Josie Rourke said of filming in Scotland: "We wanted to do as much as possible in Scotland and to show Mary in that environment and what her journey with it is. During the film, she comes to a deeper understanding and love of her country, so she had to be outside in it and witness the epic sweep of that landscape. Scotland is an extraordinary country, and it matches the scale of the story and the scale of what happens to Mary at certain points in the film. We just wanted to show Scotland in all of its incredible glory."
Filming locations open to visitors in Scotland include Strathdon in Aberdeenshire, a stunning and quiet part of Scotland ideal for spotting wildlife; the landscape of East Lothian to the east of Edinburgh; beautiful Seacliff Beach in North Berwick and Blackness Castle, a mighty fortification jutting out into the Forth of Firth. The photogenic Cairngorms and Glen Coe are also featured in the film.
For those keen to explore the history of Mary Queen of Scots, locations not to be missed include Linlithgow Palace, Mary's birthplace; majestic Stirling Castle where she spent the first few years of her life and where she was crowned Queen of Scots, aged nine months, and Craignethan Castle, south of Glasgow, where Mary is said to have stayed before the battle of Langside and her escape to England in 1568.
The National Museum of Scotland in Edinburgh has a vast selection of objects associated with Mary and her portrait hangs defiantly on display at the Scottish National Portrait Gallery, also in Edinburgh.
In 1587, Mary was put on trial for treason and imprisoned at Fotheringay Castle in Northamptonshire, England. A new exhibition at Edinburgh Dungeon this spring explores the harrowing tale of Mary's incarceration within England's castles leading up to her tragic end by executioner's axe.
Janet Redler, Chief Executive of Janet Redler Travel & Tourism, said: "The sad story of Mary, Queen of Scots, is one of the most memorable in British history and this new film provides a gripping reminder of the turbulent times she lived through. Across Scotland, there are numerous historical sites linked to Mary's life, not to mention the spectacular locations included in the film, so what better time to find out more about Scotland's most famous queen?"
A map of Mary, Queen of Scots locations and historical links to Scotland will be available to download from Friday 18 January, to coincide with the release of the film in the UK, from www.visitscotland.com/maryqueenofscots.
If you or your group would like to follow in the footsteps of Mary, Queen of Scots, on a tailor-made location tour or history tour of Scotland, please do contact our friendly team today.