A new film from VisitScotland celebrates Scotland as the home of golf and promises a warm welcome for golfers of all abilities and aspirations, now things are returning to normal.
The film is part of a £3 million marketing campaign welcoming back Scottish tourism and reminding people just what a beautiful country Scotland is.
While primarily aimed at the domestic market, the video will whet the appetites of golf lovers all over the world, encouraging people to rediscover the world-class golf Scotland has to offer and to take their golf holidays in Scotland.
As well as avid golfers, the film also targets those who have not played for a while, or not tried it before, to appreciate how golf combines fresh air, exercise, scenery, companionship and friendly competition.
The film features a blend of some of Scotland's iconic championship courses as well as those to suit any ability level and budget.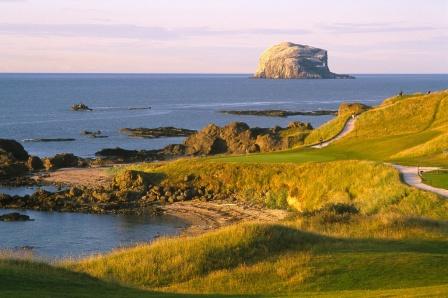 The Glen in East Lothian © VisitScotland
Golf was one of the first outdoor leisure activities in Scotland that people could enjoy after lockdown and, since restrictions for playing were lifted at the end of May, the topic 'golf' has seen the largest increase in searches in the last three months on Google and up 4% in the last month alone.
Golf tourism is worth more than £286 million to Scotland annually and employs over 4,400 people.
 
VisitScotland's Chief Executive Malcolm Roughead said: "Scotland is the home of golf and a world class destination for anyone with a passion for the game. With over 550 courses in Scotland, this film celebrates the huge variety of great venues right across the country."
Scotland's Rural Economy and Tourism Cabinet Secretary Fergus Ewing said: "Scotland's golf tourism industry, like the rest of the tourism sector, has been hit hard in the past few months but thanks to the dedication of people across the country to suppress the virus our golf courses and accommodation providers can begin welcoming visitors and guests again.
"As the home of golf, Scotland's golf tourism industry is the envy of the rest of the world and VisitScotland's golf campaign will help restart this vital part of our tourism economy." 
Janet Redler, Chief Executive of Janet Redler Travel & Tourism, added: "Golf is one of Scotland's biggest tourist attractions and Scotland is recognised all around the world for its golfing heritage and first class courses. It is great news that, as we come out of lockdown, there is growing interest once again in visiting Scotland for a golf vacation."
If you or your group would like to enjoy a tailor-made golf tour of Scotland, taking in the finest historic golf courses and playing some of the most famous of them, please do contact our friendly team and we will put together the perfect itinerary for you. As well as golf, our tours can include a range of other activities to suit your preferences, or indeed the preferences of any non-golfers in your group, as well as the finest hotels and delicious meals in the most desirable restaurants.