The east of Ireland is sometimes overlooked, as visitors pass through on their way to the rugged beauty of the west coast. But Ireland's east also boasts a wealth of wonderful landscapes, as well as many ancient ruins, historic towns and fascinating visitor attractions. Why not join Janet Redler Travel & Tourism on a tailor-made heritage tour to discover Ireland's ancient east?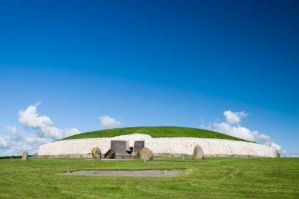 Newgrange at Brú na Bóinne © Tourism Ireland
Dublin is for many the first place they visit in Ireland, whether that is because they arrive at the city's international airport or nearby ferry port, or because it is a first-class tourist destination in its own right, famed for its friendliness and the well-known Irish craic. For those keen to explore Ireland's ancient history, the city is the perfect place to start a tour. View the sumptuous Book of Kells in the old library at Trinity College and browse treasures from the past at the National Museum of Ireland.
A short journey north from Dublin is Brú na Bóinne, one of the most impressive ancient sites in Ireland, and a must-see on any tour of Ireland's ancient east. A UNESCO World Heritage site on the banks of the River Boyne, Brú na Bóinne is home to Europe's largest and most important concentration of prehistoric megalithic art. It is dominated by the three huge burial mounds of Knowth, Newgrange and Dowth, and surrounded by many small passage graves.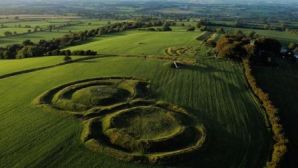 Hill of Tara © Tourism Ireland
The Hill of Tara, less than 20 miles away from Brú na Bóinne, is another major archaeological complex, made up of burial mounds, ditches and standing stones. According to tradition, the Hill of Tara is the seat of the High Kings of Ireland and the place where St Patrick began his conversion of the Irish people to Christianity.
Heading south from Dublin into the picturesque Wicklow Mountains, we come to pretty Glendalough. Described as a monastic 'city', this incredible site, nestled in a lush green valley, was a sixth century religious settlement and was once one of Ireland's greatest Christian foundations and seats of learning.
Travelling further south still there are many other interesting places to visit on a discovery tour of Ireland's ancient east. A walk along Kilkenny's Medieval Mile, for example, is fascinating, as is a visit to one of Ireland's oldest inns, Kyteler's Inn. Dunmore Cave on the outskirts of Kilkenny, despite being a fabulous natural wonder, has a blood-thirsty history, and the Dunbrody Famine Ship in New Ross explores emigration from Ireland at the time of the dreadful potato famine in the 19th century. 
Click here to find out more about a tailor-made tour of Ireland's ancient east with Janet Redler Travel & Tourism. 
Whatever your hobby and interest, whether that is history and heritage, food and drink, outdoor pursuits or concerts and culture, Janet Redler Travel & Tourism can put together the perfect tailor-made special interest tour of the UK & Ireland for you or your group. Please do contact our friendly team today.