Nestled in the heart of England, close to the Welsh border, is a gem of a tourist route exploring the unspoilt villages of Herefordshire and their charming medieval timber framed buildings, so evocative of the rural English past.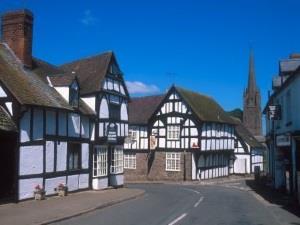 Weobley © Visit Herefordshire
The Black & White Village Trail begins in the ancient market town of Leominster, which is jam-packed with half-timbered and historic buildings, and traces its delightful 40-mile course through sleepy country lanes, timeless villages and the attractive little town of Kington.
Many of the black and white houses to be seen on the trail date from the Middle Ages and are timber-framed. This means that the framework was built from green (unseasoned) oak, and the panels in between were filled with lath – woven strips of wood – and plaster. Panels then had limewash applied.
The villages are, of course, more than just pretty places to visit. Each one has its own character and community, with tea-rooms, shops, craft workshops and pubs waiting to welcome the visitor.
Weobley © Visit Herefordshire
The village of Weobley – pronounced Webley – is considered by many to be the finest example of a black and white village in England. Established in the 7th century, Weobley became prosperous through the wool trade and later through glove and ale-making. In 1645, during the English Civil War, King Charles I stayed at The Crown Inn in the village.
Kington is one of Herefordshire's five market towns and was named in honour of King Edward the Confessor. Kington is on the English-Welsh border and boasts the highest golf course in England. The area is also reputedly haunted by a black dog, said to be the inspiration for Sir Arthur Conan Doyle's The Hound of the Baskervilles.
Pembridge has wonderful timber framed buildings along its main street and in the small square steps lead up to St Mary's Church, with its remarkable detached bell tower. This extraordinary structure, more like a pagoda than a conventional tower, is supported by massive 14th century timbers and houses the clock and a ring of five bells.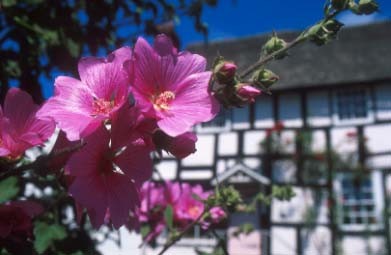 Pembridge © Visit Herefordshire
Close to Pembridge stands Dunkertons Cider Mill, where fine organic cider and perry is made using heritage varieties of apples and pears from local orchards. Also nearby is 18th century Burton Court, with its neo-Tudor front, designed by Sir Clough Williams-Ellis of Portmeirion fame, enclosing a 14th century great hall with a fine timber roof.
Last but not least we come to Eardisland, perhaps the prettiest village in Herefordshire, with its setting on the banks of the River Arrow. One of the most impressive buildings in the village is Stalk House, built around 1300 as a Yeoman's Hall, with many original windows and doors intact.

Janet Redler, Chief Executive of Janet Redler Travel & Tourism, said: "This part of Herefordshire boasts some of the most beautiful countryside in England, and there's nothing better than exploring these pretty towns and villages on a warm spring or summer's day. Although the Black & White Village Trail is best enjoyed by car, it is possible to explore parts of it by public transport or, for the more energetic, to enjoy some – or all – of it on foot or by bike."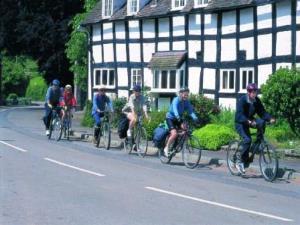 Cycling the Black & White Village Trail © Visit Herefordshire
If you or your group would like to take a step back in time and discover the sublime beauty of rural Herefordshire on a tailor-made tour of England, please do contact our friendly team today.