This St David's Day, as we won't be able to get together in quite the same way as usual, a weekend of digital events has been planned, for people all over the world to enjoy.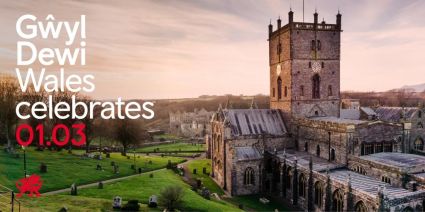 St David's Cathedral in Pembrokeshire © Hawlfraint y Goron / © Crown copyright (2021) Cymru Wales
On March 1 each year, the people of Wales celebrate their patron saint, St David. This year, over the St David's Day weekend (February 27 – March 1), Wales.com will be running its biggest ever digital festival across social media channels, working with partners around the world to showcase Wales at its best.
Wales.com is Wales's main international gateway website providing inspiration and information for those looking to find out more about Wales as a place to work, visit or study. The 72-hour festival will tell the stories of the people, culture, businesses and communities that make Wales so special. An innovative programme of digital events has been put together for audiences around the world and this will be supported through social media with the hashtag #walesdotcom.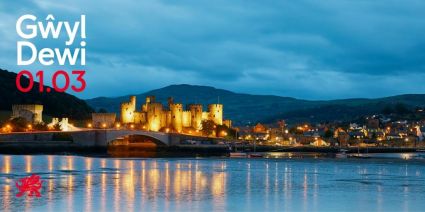 Conwy Castle in North Wales © Hawlfraint y Goron / © Crown copyright (2021) Cymru Wales
It will include an eclectic mix of content, stories and live performances, featuring new and established Welsh artists, showcasing the best of Wales. One of the aims of the festival is to give people the chance to discover more about Wales and to inspire people to visit this magical country, when we can all travel normally again.
Mark Drakeford MS, First Minister of Wales, said: There has never been a more important time for Wales to promote itself internationally and to extend our reach beyond our borders. Our national day provides a natural platform from which we can raise our voice to tell the world about our land, our values, our talent, our achievements and the positive difference we want to make in the lives of our people and our contribution to the wider world. 
"In his final sermon St David said 'Gwnewch y pethau bychain – do the small things'. We want to take his historic but relevant ambition and share that with the world. So, in 2021, St David's Day will be a focus for doing good things, big or small – and we will extend an invitation for people around the world to join us."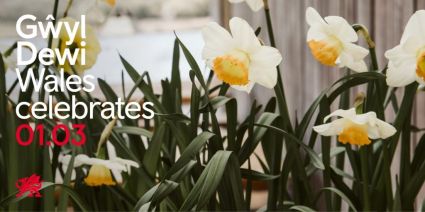 The daffodil is the national flower of Wales © Hawlfraint y Goron / © Crown copyright (2021) Cymru Wales
Janet Redler, Chief Executive of Janet Redler Travel & Tourism, added: "St David's Day is such an important occasion for Welsh people like me – and for all those who love Wales – and usually thousands of events take place across the country. It is great news that this year, as we are unable to travel as normal, Wales.com has put together it's largest ever digital festival. We look forward to joining in and helping to showcase our fabulous country to people all over the world."
Sit back with your laptop, smart TV or smartphone and enjoy some of the unique broadcasts across Wales's social media channels – and don't forget to share the content, films and stories with your friends, family, clients and colleagues! #walesdotcom #GwylDewi #StDavidsDay
Have a very happy St David's Day - Dydd Gŵyl Dewi hapus!
If you or your group would like to enjoy a tailor-made tour of Wales, getting to know the people, places, language and culture that makes Wales so special, please do contact our friendly team. We are Welsh travel experts, so we are ideally placed to put together the perfect tour for you or your group.