This spring our team member Kat joined Tourism Ireland and Failte Ireland on a familiarisation trip to Ireland's Ancient East, the latest brand experience to be launched by Tourism Ireland. Ireland's Ancient East is a region full of stories and adventures, historical significance and idyllic villages and towns surrounded by lush countryside. Kat has created a series of blogs so that you can read about her trip, and learn about the fabulous attractions available in Ireland's Ancient East for you and your groups.
Read the first instalment here.
Those of you who read about the start of our intrepid trip of Ireland will remember the warmest of welcomes we received. With easy travel, delightful nibbles to eat and the finest hotels to stay in, things had so far been wonderful.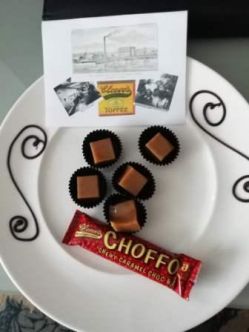 Irish hospitality - a gift in one of our hotels!
After a charming dinner at the Cornstore in Limerick, we finished the night with full bellies awaiting what Ireland had to bring us next! After a spot of breakfast we transferred to the next event, which was headed by Go Gaelic on the pitch from the Killaloe Gaelic Athletic Association. We learnt all about Ireland's ancient and unique national Gaelic Games, a treasured national past-time… and even had the chance to put our skills to the test on the field! We were also honoured to have the chance to see hurling played by the town's local youth team who kindly took some time to play. We've no doubt that we may have spotted an upcoming sporting star!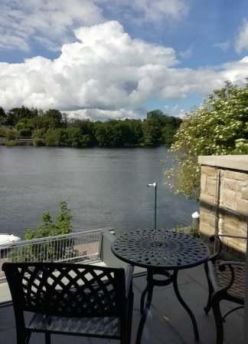 The Lake Hotel & Spa in Killaloe
Later that morning we drove to The Lake Hotel and Spa in Killaloe for a visit. This is always one of my favourite parts of my jobs! This hotel has stunning views sat right upon the River Shannon, with one of those natural scenes you seem to only find in Ireland. Surrounded by the Arra Mountains in a dramatic setting, I cannot think of anywhere better to recuperate, hop into the hot tub and delve into their wine list, which simply begs to be tried.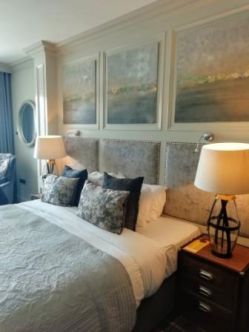 One of the bedrooms at The Lake Hotel & Spa
Very kindly we were offered a chance to try the Killaloe River Cruises on the River Shannon next! Naturally we jumped at the opportunity and set sail (or rather started the engine) on the Spirit of Killaloe. The boat has a large open top deck, so we sat on top at the mercy of the elements. Fortunately, it was a beautifully sunny day with the light dancing upon the waters below us. The scenery was breathtaking, and the calm waters made the journey an absolute joy. After a greeting with a glass of bubbly – it's a tough job! - and a circuit of the water we ended back at the harbour with the landlubbers for the next part of our day.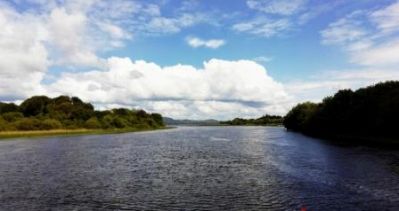 The River Shannon at Killaloe
Our next stop was Tuamgraney. Our group was split into two so that our next sites were not overcome by our numbers, and my party headed to Wilde's Chocolate. Wilde's Chocolate is local company that make handmade, artisan chocolates and have been doing so since 1997. They had me at "chocolate"! Set in Lough Derg, what they don't know about chocolate isn't worth knowing, and I was willing to test every ounce, droplet and morsel of their craft. The Malted Honeycomb & Choc Fudge Slice was to die for! They have chocolate slices, fudge, drops and spreads and other delightful products, so well worth the visit – and you can order online! It's free to visit the factory, and you might be able to pick up some free samples on your way.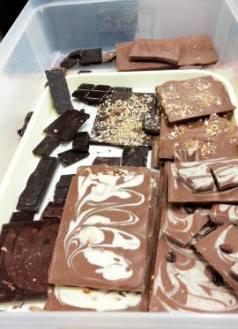 Wilde's Chocolate
After our joyous chocolate factory visit and tasting session, obviously it was time for lunch (if we could fit it in!). We headed over to Nuala's, a walking distance from Wilde's Chocolate. Their pub has been around since 1850, and you can feel the history as you walk in. They specialise in traditional pub cuisine, with a menu bursting with fillet steaks, Moroccan spiced lamb burgers and golden fried vegetable bhajis. It was also very nice to see that they have a well-stocked menu for coeliacs as well as vegetarians, so everyone is guaranteed to find something they love. If you are looking for a place to eat with a warm, family atmosphere and the chance to meet some locals, Nuala's is the place to be!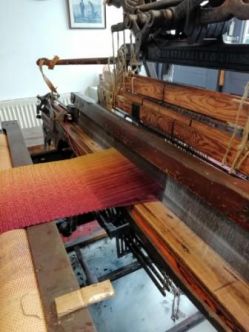 McKernan Woollen Mills
Next up was our visit McKernan Woollen Mills. This is another local organisation that export their beautiful garments across the globe. We went on the free tour of their mill that they offer, and it was a truly fascinating experience. The speciality of the mill is their scarves, which use traditional techniques to create vibrant, bold, beautiful and long-lasting scarves. The spinners who make the scarves are truly artists, with great eyes for combinations of colours and patterns. We met a couple of the brains behind the scarves, and it was clear to see their passion for their work, which I am sure makes it all the better.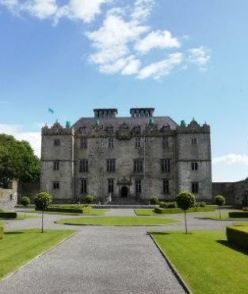 Portumna Castle
While I was sorry to leave the factory, our next stop on the itinerary was Portumna Castle. This spectacular castle is set on the shores of Lough Derg on the River Shannon and is an example of a house built during the transition period between Medieval town house to the Renaissance style manor house. The building is going through some renovations, but if anything, it adds to the character, life and history of the building. There are magnificent gardens sounding the architectural marvel, which are well worth having a look around. You can take a 45-minute tour, and I could well imagine spending a few hours taking it all in.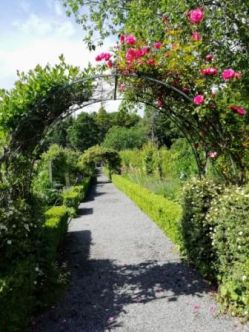 The magnificent gardens at Portumna Castle
Our day ended with a drinks reception and presentation from Deirdre Byrne from the Business Development team at Fáilte Ireland. They are the national team behind developing tourism in Ireland, and they gave us some fascinating insight into their dynamic plans for progress. This was followed swiftly by a much-needed dinner, and then bed at Glasson Hotel in Athlone.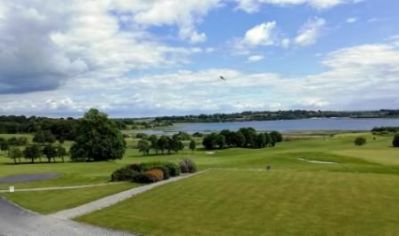 The glorious grounds of Glasson Hotel
When the sun rose, it was easier to take in Glasson Hotel, in all its glory. It is a gorgeous 1780 period family home that was transformed into a country club and hotel. It is a four-star hotel, with a beautiful golf course if you are that way inclined, and great spaces for workshops, conferences and even a day of pampering. In our case, we were here for a day of workshops. Again, we were welcomed by a number of speakers and took part in some interesting activities.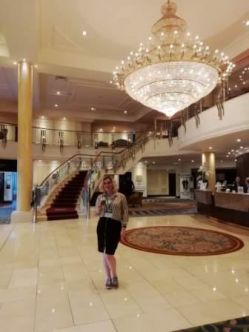 Knightsbridge Hotel welcomed us with Irish Coffee!
In the mid-afternoon the workshops were over, but with brains filled to the brim we left for County Meath to check in to the Knightsbrook Hotel. Situated on 186 acres of rolling parkland, we were warmly received at their reception desk, checked in, and put our feet up for a little while before dinner. Here there was also a fine golf club and spa which was begging to be used – if only time had allowed - and a number of interesting tourist spots in close proximity.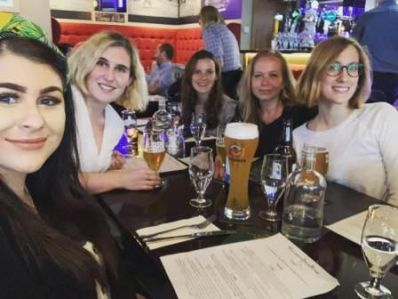 Our final night in Stockhouse Restaurant, Trim
We headed to nearby Trim for dinner at the Stockhouse Restaurant. I had heard some great things before we arrived, and after such a busy day I was salivating at the thought. In the shadow of Trim Castle, there is a menu jam-packed with great dishes. While it specialises in steaks, there is still a number of fish, chicken, vegetarian options and more. Even the fussiest of eater will find something to their desire. With our thirsts quenched and hunger satisfied it was time for bed, and the end of a fantastic day exploring Ireland and seeing the tourist hotspots there are to see.
If our blogs have got you excited about a potential visit to Ireland, particularly Ireland's Ancient East, why not give us a call or drop us an email on info@janetredlertravelandtourism.com? Our expert team can organise anything from driver-guided tours of Ireland to larger group tours, including anything from Dublin to tours of the Ring of Kerry, local pubs and the best hotels or B&Bs on offer!