Step back in time on our Time Travellers tour
Janet Redler Travel is proud to be a trade partner for England Originals, which is brought to you by England's Historic Cities – a partnership of destinations. Working with England Originals, we have put together our 'Time Travellers' package, which offers tailor-made itineraries focused on two millennia of history within two hours of London, and includes the City of London itself, Greenwich, Canterbury and Cambridge.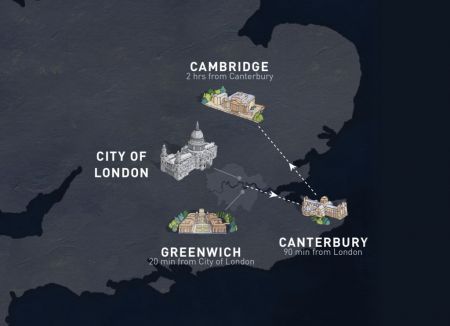 Start by exploring Roman London - or Londinium as the Roman's called it - and discover stories of monarchs and mastering the seas. Move on to Greenwich, where you can board historic ships and get to the centre of time itself. Visit the gloriously magnificent cathedral in Canterbury, with its infamous murder and global spiritual significance, and then sit beneath a world-famous tree, punt on the river or sink a pint where a major scientific breakthrough was announced, in the university city of Cambridge.
City of London – 2,000 years of history
Founded by the Romans, this ancient city has weathered invasion, war and fire to be custodian of centuries' old traditions, modern cultural icons, world-class restaurants, and some of the best views the capital has to offer.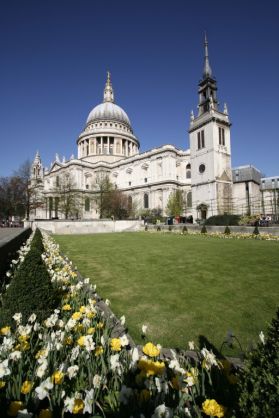 St Paul's Cathedral © England Originals
Admire the awe-inspiring interior of St Paul's Cathedral and climb up the steps to enjoy the breath-taking views from its world-famous dome. Ascend to the high-level walkways and see inside Tower Bridge for panoramic views of the London skyline and take photos of your feet as you look down on London life through the glass floor.
Tower Bridge © England Originals
The Guildhall Art Gallery hosts a rich variety of artwork from the 17th Century through to the present day and is home to London's Roman Amphitheatre. (Read more about our Tours of Roman Britain.)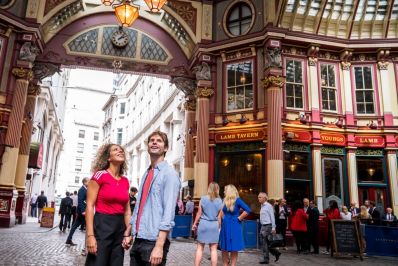 Leadenhall Market © England Originals
Enjoy a coffee-break in Leadenhall Market, a truly stunning Victorian covered market and discover Europe's largest arts centre, the Barbican, for a diverse range of art, music, theatre, dance, film and a hidden tropical forest. Wander the streets of Victorian London at the Museum of London or watch the sunset over London at Sky Garden with a cocktail in hand. (Discover more things to do in London.)
There are many different ways to get from the City of London to Greenwich, from a quick train journey or a taxi ride, to an unforgettable river trip. Arriving by boat is perhaps the most memorable way to reach Greenwich, whether that's by speedy Uber Boat by Thames Clippers, which depart every 20 minutes during the day and run from 20 piers on the river, or one of the more leisurely sightseeing cruises, which can even include lunch or afternoon tea.
Greenwich – home of time
Board magnificent ships and get to the centre of time itself, all within a short distance of central London.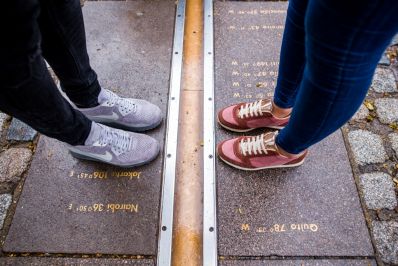 The Prime Meridian in Greenwich © England Originals
Greenwich is a historic London borough in the south east of the city, located in a fabulous position on the south bank of the River Thames. It is home to the Prime Meridian Line, which divides the world into eastern and western hemispheres, and the Royal Observatory, where you can learn all about Greenwich Mean Time and how Greenwich became the 'Home of Time'.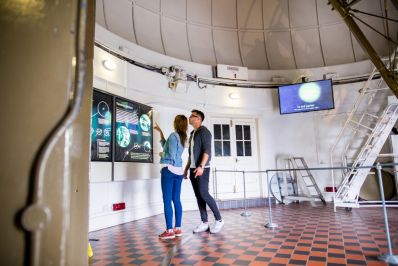 Royal Observatory, Greenwich © England Originals
The centrepiece of the Maritime Greenwich UNESCO World Heritage Site is the classical buildings of the Old Royal Naval College, which are considered amongst the finest in Europe. The Painted Hall at the Old Royal Naval College is one of the most spectacular and important baroque interiors in Europe. History comes to life onboard the Cutty Sark, built in 1869 and the last remaining tea clipper in the world.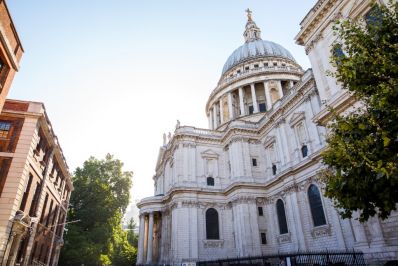 The Old Royal Naval College © England Originals
Savour London's most traditional meal of pie, mash and liquor at Goddards at Greenwich, established in 1890, before taking to the air on the Emirates Air Line Experience, the capital's only cable car, to enjoy a truly unique experience of east London. And then why not relax for early evening cocktails at Eighteen Sky Bar, at InterContinental London, with its sensational views?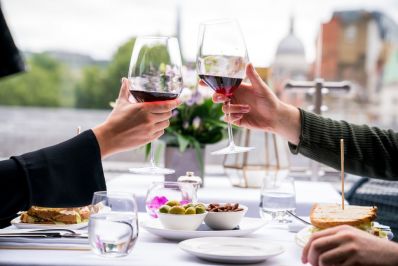 Enjoy sensational views of London © England Originals
Don't miss the 400-year old Queen's House in Greenwich, the first Classical building in England, and discover Eltham Palace and Gardens – the palace was once the childhood home of King Henry VIII and today is a striking 1930s Art Deco mansion, which was built around the medieval Great Hall.
Make your way back to the City of London to enjoy further sightseeing, to make the most of the wonderful shops, for a leisurely evening meal or to return to your hotel for the night. An early start will see you in Canterbury in less than an hour and a half, with regular direct trains from a number of stations in the capital. We would strongly suggest avoiding driving in London yourself, although we would happily arrange a private driver for you.
Canterbury – a cathedral city like no other
Canterbury was a centre of pilgrimage for hundreds of years and its cathedral, which forms part of a UNESCO World Heritage Site, is one of the oldest and most famous Christian structures in the world.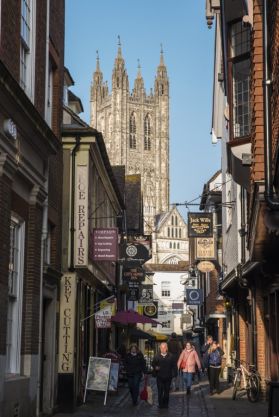 Canterbury Cathedral © Canterbury Connected
Canterbury Cathedral is the site of the tomb of Archbishop Thomas Becket, also known as Saint Thomas of Canterbury, who was famously murdered in the cathedral in 1170 on the orders of King Henry II. Following this sacrilege, the city became engulfed by pilgrims, who continued to visit Becket's shrine for centuries to come. Two hundred years on, pilgrimage to Becket's shrine inspired Geoffrey Chaucer to write 'The Canterbury Tales'. The cathedral is also the resting place of the architect of the Magna Carta, Stephen Langton, Archbishop of Canterbury from 1207-1228.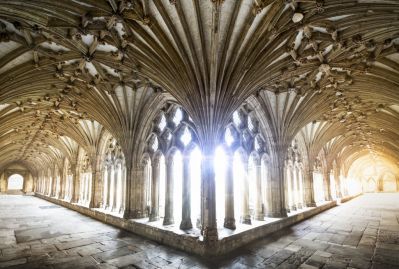 Canterbury Cathedral © Canterbury Connected
Playwright Christopher Marlowe was born in Canterbury in 1564 and, during his short life, set the Elizabethan stage alight for all who followed, including Shakespeare who was born the same year. He was not only a leading playwright and poet, but also a spy – his life and work blazed with danger and ideas, bringing audiences flocking and landing him with charges of blasphemy. Killed by stabbing at the age of 29, his brilliant cultural legacy lives on at the modern Marlowe Theatre. Enjoy a pre-theatre dinner there before seeing a play.
If you're travelling by train, we would suggest returning to London before changing trains to travel to Cambridge – the fastest trains can get you to Cambridge from the capital in just under 50 minutes. By car, your driver can take you to Cambridge directly from Canterbury in little over two hours, using the well-connected motorway network.
Cambridge – centre of science and discovery
In Cambridge, one of England's most splendid cities, find brilliant minds changing the world with science by day and climbing on rooftops at night!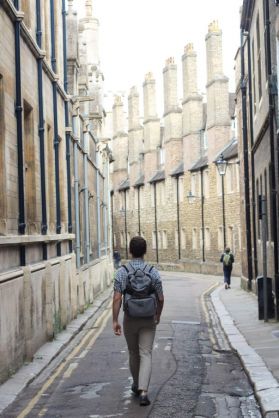 Trinity Lane, Cambridge © England Originals
Explore magnificent Trinity College at the University of Cambridge, the fourth oldest surviving university in the world, where, in 1661, Isaac Newton came to work on his Principia Mathematica, in which his famous work on gravity is recorded. The falling apple that prompted the work is in Lincolnshire, but a tree grown from a cutting of that tree grows outside his old rooms at Trinity College.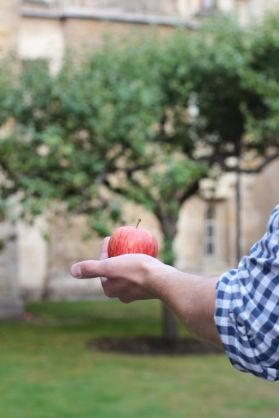 Newton's Apple Tree © England Originals
See the Corpus Clock outside of the Taylor Library at Corpus Christi College. Professor Stephen Hawking, one of the most brilliant theoretical physicists of all time, studied at Trinity Hall and Gonville and Caius Colleges in Cambridge, during which time he researched and published his masterpiece "A Brief History of Time". Appointed Lucasian Professor of Mathematics, the post that Isaac Newton himself once held, Hawking unveiled the incredible Corpus Clock in 2009, which features ripples emanating from the centre to symbolise his Big Bang theory.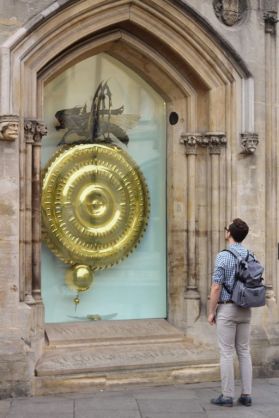 Corpus Clock, Cambridge © England Originals
King's College Chapel is the chapel of King's College Cambridge, and is one of the most sublime religious buildings in the world. Dating back to the 15th century, it is considered one of the finest examples of late Perpendicular Gothic English architecture and features the world's largest fan vault. King's College Chapel is Cambridge's most iconic building and is home to King's College Choir, one of the most famous and most accomplished in England. A choral service at King's College Chapel is not to be missed!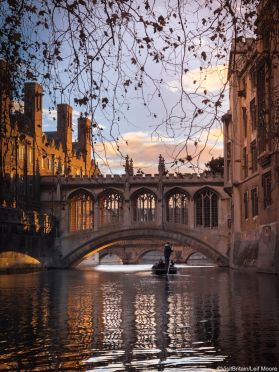 Punting under the Bridge of Sighs in Cambridge © VisitBritain / Leif Moore
The shallow River Cam meanders through 'The Backs' area of Cambridge, offering majestic views of the riverside colleges and gardens, so there is no better way to enjoy the city than by punt or boat. End your day with dinner at The Eagle Pub, where in 1953 the discovery of the structure of DNA was announced to the world. Opened in the 16th century as 'The Eagle and Child', and today known just as The Eagle, it remains the last galleried pub in Cambridge. And don't miss the pub's RAF Bar, the ceiling of which is covered with the graffiti of World War II airmen!
Make your way back to London to spend more time in one of the world's most exciting capital cities, or perhaps extend your tour with visits to some of England's other wonderful cities!

If your or your group would like to step back in time on a tailor-made Time Travellers tour, please do contact our friendly team today. We will look after all aspects of your vacation from the moment you step off the plane, including the best hotels to meet your budget, delicious meals to satisfy your tastes and local attractions to suit your interests. We will make all the train travel arrangements for you, organise car rental or even provide you with your own private driver guide!