Follow in the footsteps of England's thinkers and writers
Janet Redler Travel is proud to be a trade partner for England Originals, which is brought to you by England's Historic Cities – a partnership of destinations. Working with England Originals, we have put together our 'Thinkers and Writers' package, which offers tailor-made itineraries focused on three of England's most culturally influential cities: Oxford, Worcester and Stratford-upon-Avon.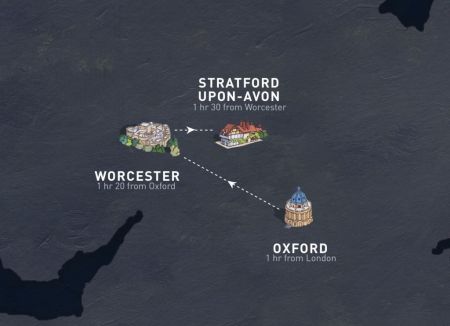 Lose yourself in academia, ancient and modern, in Oxford, home of one of the world's oldest and most prestigious universities, and then take time out to enjoy the River Thames on a traditional punt or boat. Head to Worcester, home of one of the world's finest porcelains, to savour the city's famous Worcestershire Sauce and to see the tomb of one of England's most infamous kings. Then revel in the Elizabethan delights of Shakespeare's Stratford-upon-Avon, where England's greatest writer was born, lived and is buried.
Oxford – city of dreaming spires
Victorian poet Matthew Arnold called Oxford 'the city of dreaming spires' because of the stunning architecture of the university buildings, and the city is still as magnificent to this day. Tour one of the University of Oxford's famous colleges; visit the Ashmolean Museum and see the Egyptian mummies; take to the water on a punt or boat and enjoy the views along the banks of the River Thames.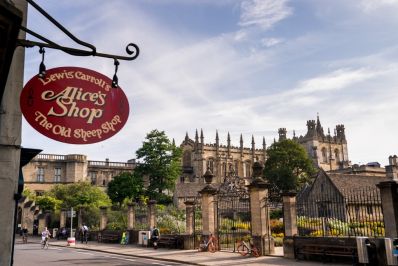 Discover Alice in Wonderland in Oxford © England Originals
Discover Alice in Wonderland by Lewis Carroll on a tour of Christ Church College. Founded in 1546 by King Henry VIII, Christ Church College is one of Oxford's largest colleges and boasts a number of architecturally significant buildings including Tom Quad, the largest quadrangle in Oxford, and the Great Dining Hall. Charles Lutwidge Dodgson (alias Lewis Carroll) taught mathematics at Christ Church, where he met his muse, Alice Liddell, upon whom he based his world-famous character in Alice's Adventures in Wonderland.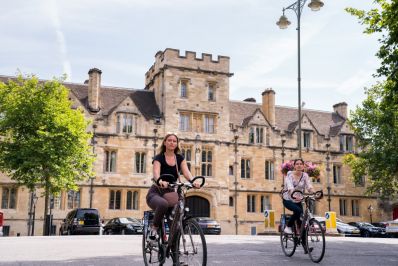 Balliol College in Oxford © England Originals
Other University Colleges not to be missed include New College, one of the largest and most architecturally striking colleges, which dates back to 1379 and was built as a miniature version of Windsor Castle, and Balliol College, the oldest academic institution in the English-speaking world still on its original site, which was founded in 1263 by Sir John de Balliol.
Explore The Ashmolean Museum of Art and Archaeology, the world's oldest public museum, founded by Elias Ashmole in 1677, with a rooftop restaurant, or grab a bite to eat at The Bear Inn and marvel at the pub's collection of over 4,500 snippets of club ties! Tie ends were clipped with a pair of scissors in exchange for half a pint of beer.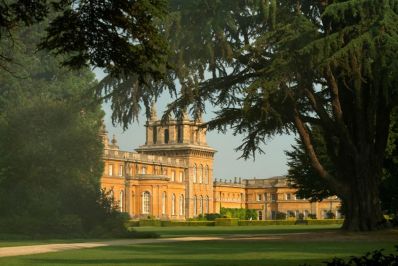 Blenheim Palace © Blenheim Palace 2022
Beyond the city, Blenheim Palace should not be missed! A masterpiece of Baroque architecture, Blenheim Palace provides an awe-inspiring experience for visitors. Home to the 12th Duke of Marlborough and his family and the birthplace of Sir Winston Churchill, Blenheim Palace is a UNESCO World Heritage Site with a long and fascinating history. It is set in 2,000 acres of park and gardens and is famous for its Capability Brown landscape.
Depart Oxford for a short train journey to Worcester, pick up a rental car or sit back and relax as your private driver whisks you through the fabulous English countryside…
A warm welcome in Worcester
Worcester is one of the oldest cities in Britain, with evidence of settlements dating back to 700 BC. The city was fortified in Saxon times and England's history can still be seen in the landscape today, from cobbled Tudor streets to elegant Queen Anne architecture. The street layout hasn't changed since the middle ages and the city's High Street follows the Roman thoroughfare.
Begin your exploration of the city of Worcester at the Museum of Royal Worcester, which houses the world's largest collection of Worcester porcelain. Royal Worcester was established in 1751 and is thought to be the oldest English porcelain brand still in existence. Granted a royal warrant by King George III in 1788, Royal Worcester is quintessentially English and the brand is known worldwide for its prestigious collections.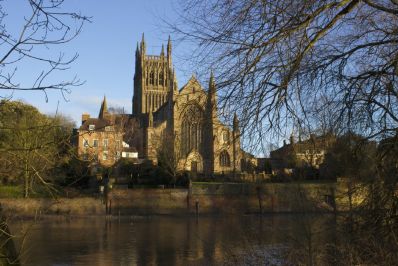 Worcester Cathedral © England Originals
Famous for housing the oldest effigy of a King of England, Worcester Cathedral is also celebrated as the birthplace of the American National Anthem! The cathedral is the burial place of King John, the infamous king who, in 1215, was forced to agree to Magna Carta, also known as the Great Charter, which was designed to reduce the level of power that the king held.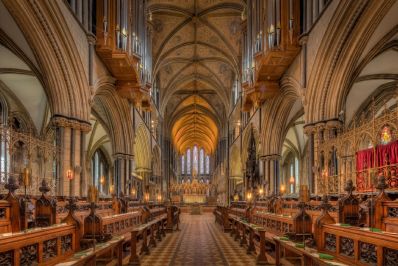 Worcester Cathedral © England Originals
The Three Choirs Festival has been held since 1715 and takes place in the city's cathedral once every three years. The organist for the 1790 festival was none other than John Stafford Smith, who wrote 'The Anacreontic Song', which became the American national anthem, 'The Star-spangled Banner.' Choral evensong at Worcester Cathedral is a truly sublime experience and classical music concerts take place regularly.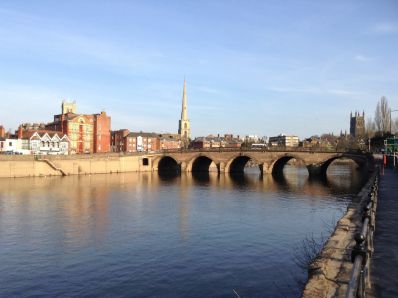 Worcester is on the banks of the River Severn © England Originals
Beyond the city, take time out to visit Witley Court and Gardens, the birthplace of famous English composer, Sir Edward Elgar. Once one of the great country houses of England, after a devastating fire in 1937 it became one of the country's most spectacular ruins.
Take a relaxing train journey train or enjoy a picturesque drive to Stratford-upon-Avon, perhaps stopping off at Warwick along the way to explore the majestic medieval castle.
Rediscover Shakespeare in Stratford-upon-Avon
Nestled in the rolling Warwickshire countryside, on the picturesque banks of the River Avon, lies the charming medieval market town of Stratford-upon-Avon. As the birthplace of William Shakespeare, the world's greatest playwright, it is steeped in more than 800 years of Olde English culture and history.
Begin your visit at Shakespeare's Birthplace in Stratford-upon-Avon, a restored 16th-century half-timbered house where William Shakespeare was born in 1564 and spent his childhood years. When you visit look out for the witches' marks carved into the beam at the top of the staircase leading to the cellar. They're known as daisy wheels or hexafoils and were believed to both protect against evil and be a good luck charm.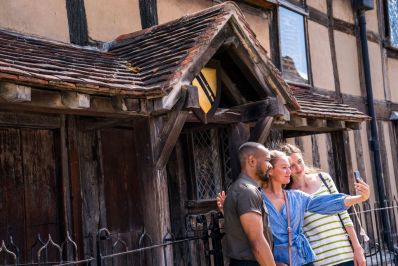 Shakespeare's Birthplace © England Originals
Finish the day with a pre-theatre dinner at the RSC Rooftop Restaurant followed by a play at the world-famous Royal Shakespeare Theatre. The Royal Shakespeare Theatre is a 1,000 seater 'thrust stage' theatre owned by the Royal Shakespeare Company dedicated to the English playwright and poet William Shakespeare.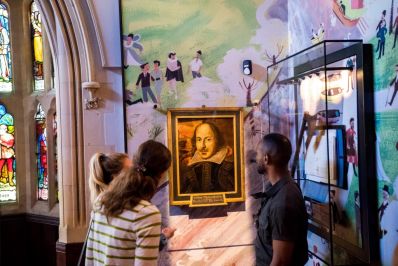 'The Bard' William Shakespeare © England Originals
At Shakespeare's Schoolroom see where William Shakespeare spent his schooldays, discovered theatre for the first time and was educated and inspired to become the world's greatest playwright.
Kenilworth Castle © England Originals
Just 15 miles north of Stratford-upon-Avon, Kenilworth Castle and Elizabethan Garden is an imposing ruined fortress that was once an Elizabethan pleasure palace, where Queen Elizabeth I herself spent time relaxing and enjoying the revels.
Make your way back to Oxford by rail or car, or if you choose to move on to London, a train will get you into the capital in two and a half hours, or by road there is a direct motorway.

If your or your group would like to follow in the footsteps of England's thinkers and writers on a tailor-made tour, please do contact our friendly team today. We will look after all aspects of your vacation from the moment you step off the plane, including the best hotels to meet your budget, delicious meals to satisfy your tastes and local attractions to suit your interests. We will make all the train travel arrangements for you, organise car rental or even provide you with your own private driver guide!