Explore England's Western Wonders
Janet Redler Travel is proud to be a trade partner for England Originals, which is brought to you by England's Historic Cities – a partnership of destinations. Working with England Originals, we have put together our 'England's Western Wonders' package, which offers tailor-made itineraries focused on three of western England's most majestic cities: Truro, Bath and Salisbury.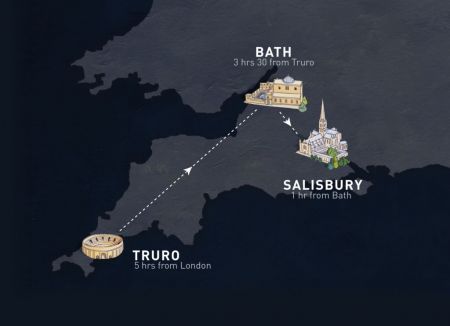 Hop on the Night Riviera Train in London, enjoy cocktails onboard and wake up by the sea in Cornwall – it's as simple as that and the perfect way to start your tour! Explore windswept castles, fuelled by cream teas and Cornish pasties, bathe in Roman springs before dining in Georgian elegance, and step back in time to marvel at prehistoric standing stones and gravity-defying cathedral spires.
Take time out in Truro
Cornwall is one of the most popular tourist destinations in the UK, with its rugged coastline, breathtaking countryside and quaint fishing villages. It is a must-see on any tour of the UK, and the county town of Truro is the perfect base for your visit.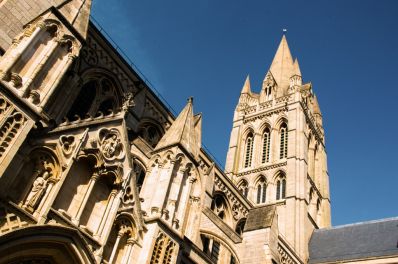 Iconic Truro Cathedral in Cornwall © England Originals
Discover Truro Cathedral, one of the most iconic buildings in Cornwall, with its three spires, amazing architecture and sublime stained glass windows. One of the most recent cathedrals to be built in England – it was only completed in 1910 – at its heart is the Father Willis Organ, one of the finest musical instruments in the country.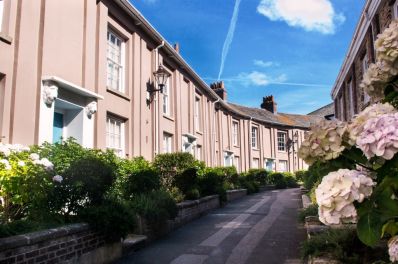 Truro is the county town of Cornwall © England Originals
Explore Cornwall's dramatic north coast immersed in myths and legends. Nowhere is more spectacular than Tintagel Castle, in its precipitous cliffside location, which is thought by many to be the birthplace of the fabled King Arthur. For centuries the castle and surrounding coastline has fired the imaginations of writers and artists.
As the location for many novels, films and TV series, there are lots of recognisable places to explore in Cornwall. Fans of the Poldark books and TV series can enjoy a location tour which takes in the Poldark Mine Experience near Helston, and Cornwall is also a magnet for fans of TV's Doc Martin, for example, as well as those who enjoy the novels of Rosamunde Pilcher and Daphne du Maurier.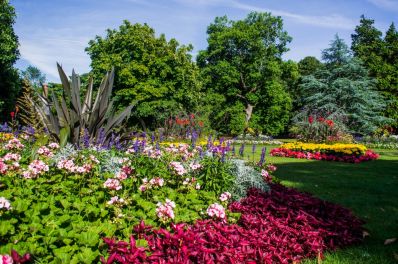 Lush sub-tropical gardens thrive in Truro © England Originals
Cornwall is well-known to foodies for its cream teas and its Cornish pasties, both of which are delicious, especially sitting by the sea! If you visit Portreath Bakery, you can see a traditional Cornish pasty being made… and of course try one yourself!
Depart Truro for a scenic rail journey to Bath, pick up a rental car or sit back and relax as your private driver whisks you along the highways…
Revel in the beauty of Bath
The city of Bath is a designated UNESCO World Heritage Site and boasts some of the finest architectural sights in Europe.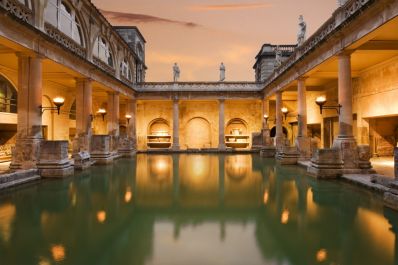 The Roman Baths in the city of Bath © England Originals
Tour the Roman Baths, at the heart of the city, which consist of the remarkably preserved remains of one of the greatest spas of the ancient world. The city's unique thermal springs rise at the site and the baths still flow with natural hot water. With over a million visitors in a typical year, the Roman Baths is one of the most visited heritage attractions in the UK.
Fans of the historic Roman Baths are sure to enjoy their own spa experience with a twilight session at the Thermae Bath Spa, Britain's only natural thermal spa. Bathe in the natural thermal waters – just as the Romans did!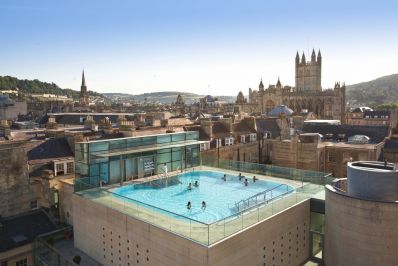 Thermae Bath Spa © England Originals
And then why not dine in Georgian style at Bath's magnificent Pump Room? The Pump Room, with its Corinthian columns, glittering chandelier and spa fountain, was once at the heart of the social scene in Georgian Bath, as high society flocked to the city to 'take the waters', which they believed would relieve all their illnesses and discomforts.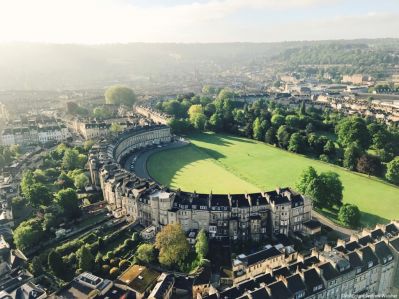 The Georgian Royal Crescent in Bath © England Originals
The Georgians were also rather fond of gin, so why not complete your Georgian Bath experience with a gin tasting and distillery tour at The Bath Gin Company? Learn about the history of the botanical drink, enjoy a tasting, and create your own blend!
A one hour hop by train will see you in Salisbury, or once again let your driver take to the road with you…
Reach for the sky in Salisbury
The cathedral city of Salisbury is the perfect fusion of ancient and modern, where medieval magnificence meets contemporary culture.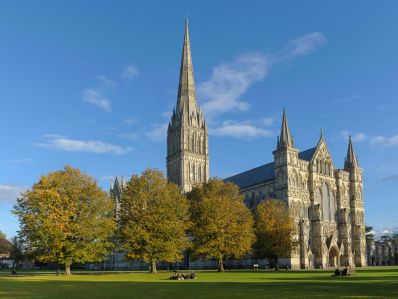 Awe-inspiring Salisbury Cathedral © England Originals
Prepared to be awe-struck by Salisbury Cathedral, one of England's finest medieval cathedrals and a leading example of English Gothic architecture. The cathedral is famous for possessing Britain's tallest spire, the world's oldest working clock, a 10,000 book library, and the best preserved original copy of Magna Carta. For many people, the Tower Tour is the absolute highlight of their visit to Salisbury!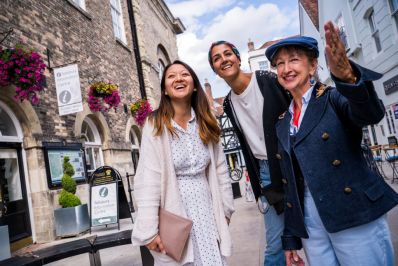 The perfect fusion of ancient and modern in Salisbury © England Originals
Savour dinner at one of Salisbury's oldest pubs. Salisbury is famed for its ancient pubs and the Haunch of Venison for example, stakes a claim back to 1320, when a mummified human hand was buried beneath one of its fireplaces!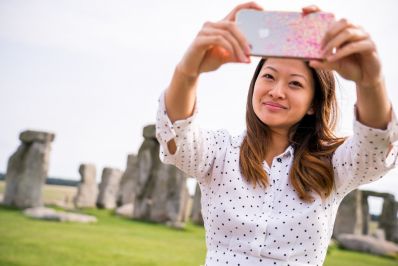 Magical Stonehenge is a World Heritage Site © England Originals
Step back even further in time at nearby Stonehenge, where you can get up close and personal with one of the world's most famous ancient monuments. Dating back over 5,000 years, the ring of monolithic stones is on the site of an even older earthwork and, on a mist enshrouded morning, there are few places in the world that are more magical…
A direct train will see you back in the capital city in an hour and a half, or the nearby M3 motorway will get you directly into London by road.

If your or your group would like to explore England's Western Wonders on a tailor-made tour, please do contact our friendly team today. We will look after all aspects of your tour from the moment you step off the plane, including the best hotels to meet your budget, delicious meals to satisfy your tastes and local attractions to suit your interests. We will make all the train travel arrangements for you, organise car rental or even provide you with your own private driver guide!