Discover a Treasure Trove in the North and East of England
Janet Redler Travel is proud to be a trade partner for England Originals, which is brought to you by England's Historic Cities – a partnership of destinations. Working with England Originals, we have put together our 'Treasure Trove' package, which offers tailor-made itineraries focused on three of England's most inspirational cities: Durham, York and Lincoln.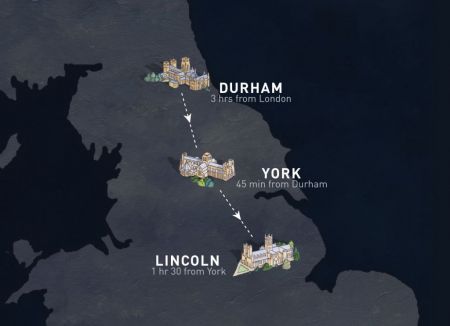 The route north to Durham from London starts at Kings Cross Station, home of Platform 9¾ for trains to Hogwarts in the Harry Potter stories. But you can take a real train to find sanctuary in a cathedral, dodge scary pigeons and Britain's wickedest woman, before picking up the Harry Potter theme again in York to wander the winding streets of medieval Diagon Alley and ducking under them to meet Vikings. Then, in Lincoln, find the tallest building in the world (in 1311!), the first recognised contract between a king and his people and the steepest coffee shops on 'Britain's Best Street'.
Durham – a World Heritage city
Durham, in north east England, is a city surrounding an incredible UNESCO World Heritage Site! With a grand medieval cathedral, a 900 year old castle and a world class university all nestled between quaint cobbled streets, in a picture postcard riverside setting, it is not to be missed!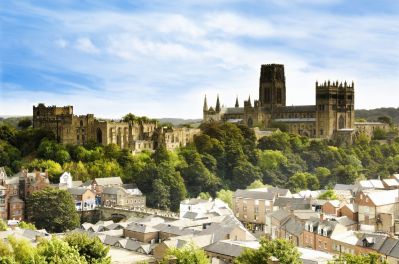 The city of Durham © England Originals
 At the heart of the World Heritage Site is Durham Cathedral, one of the grandest in England which is home to the shrines of two of early Christianity's most revered figures – St Cuthbert and the Venerable Bede. Today, visitors are equally likely to recognise the incised columns in the nave and the cloisters from the Harry Potter films. Indeed, the shape of Hogwarts was largely based on the cathedral itself.
When you're at the cathedral, look out for the Sanctuary knocker! In the medieval period Durham Cathedral offered the right of sanctuary – or protection – to criminals fleeing from the law. Anyone who grasped hold of the sanctuary knocker on the cathedral's north door was safe, at least for a while. Kept safe, fed and watered by the Benedictine monks of Durham the fugitives then had 37 days in which to consider their options – go to trial or into voluntary exile.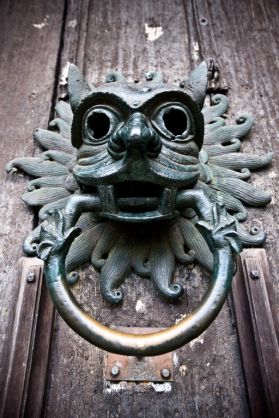 Sanctuary knocker at Durham Cathedral © England Originals 
Enjoy a tour of Durham Castle and University hosted by a student from Durham University. Durham Castle and University are also part of Durham's World Heritage Site, which was inscribed on the World Heritage List by UNESCO in 1986. Durham Castle was built over 900 years ago to protect the English borders and today it's home to the students of University College who will act as your guide to the Castle Keep, the leaning Black Stairs and the Great Hall where the scholars take their meals.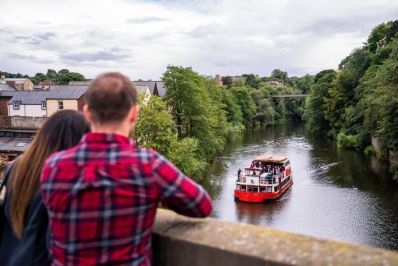 Enjoy a riverside walk in Durham © England Originals
Perhaps finish your day with a relaxing riverside walk and enjoy some of the best views of the cathedral, made famous in many photos and paintings. An easy walk of about a mile and a half will take you over a couple of the bridges on the River Wear and up into the heart of the old city, which is situated in a bend of the river, surrounded by water on three sides.
A train journey from Durham will take you directly to York in little over 45 minutes, or you may prefer to pick up a rental car for self-drive in an hour and a half. Alternatively, sit back and relax as your private driver takes the strain…
York – packed with world class attractions!
A vibrant, exciting, festival city with lots to do for all the family, York is perfectly placed half-way between Edinburgh and London. It really is quite unique, unlike any other English city.
Clifford's Tower in York © England Originals
Where to start on a visit to York? There really is so much to see and do! Chocoholics will want to head straight to York's Chocolate Story to unwrap 3,000 years of chocolate history! York is known as the UK's home of chocolate, from the Chocolate Orange to the globally famous KitKat. Discover how to make and taste chocolate like an expert. And if all that chocolate gives you a thirst, don't miss Brew York to sample some craft beer within the city walls.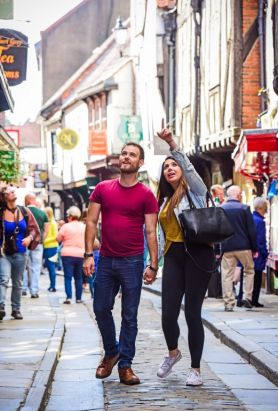 The Shambles © England Originals
Two landmarks dominate the York skyline and are well worth experiencing. York Minster, which boasts the largest expanse of medieval stained glass in the UK and is one of Europe's artistic masterpieces, and Clifford's Tower, a royal castle built for Henry III in the middle of the thirteenth century, which offers superb views over York.
Train geeks, and in fact anyone with a love of locomotives, will revel in the National Railway Museum, which tells the story of rail transport in Britain. Its collections include historically significant railway vehicles such as Mallard, a replica of George Stephenson's Rocket and a 1960s bullet train, as well as a number of sumptuous carriages from royal trains.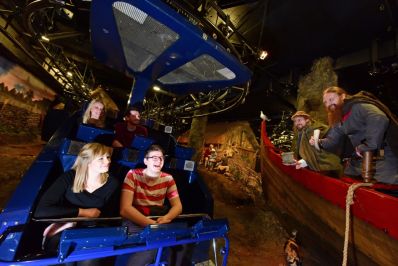 Jorvik Viking Centre © England Originals
Stroll along the Shambles, Europe's most intact medieval shopping street and an inspiration for Diagon Alley in the Harry Potter series, and then explore the Jorvik Viking Centre, a ground-breaking visitor experience where you take a journey through the reconstruction of Viking-Age streets and experience life as it would have been in 10th century York. And no visit to York is complete without a trip to Betty's Café Tea Rooms – a Yorkshire institution!
A couple of hours by train or road from York will see you in the splendid city of Lincoln.
Lincoln – home of Magna Carta
Lincoln is a cathedral city with a rich and fascinating history dating back to Roman times, situated on the site of an Iron Age settlement.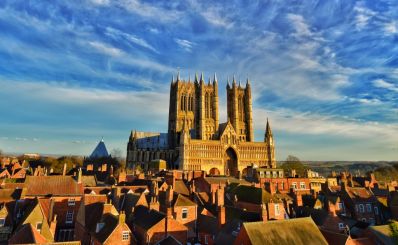 Lincoln Cathedral © England Originals
Explore the Gothic style Lincoln Cathedral, which was built between 1185 and 1311. Those with sharp-eyes might find a demon, a little charmer who became the symbol of the whole county, the Lincoln Imp. There is a spotlight to help you find him.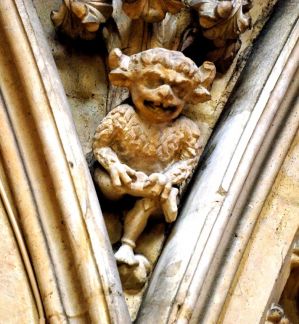 The Lincoln Imp © England Originals
Lincoln's picturesque Steep Hill was awarded the title 'Britain's Best Place' in 2012 by the Academy of Urbanism, because of its fascinating array of independent shops lining a parade of architecture that spans almost two thousand years. Along with The Strait, these are the amongst the best place in Lincoln to browse independent boutiques and to find tempting places to eat.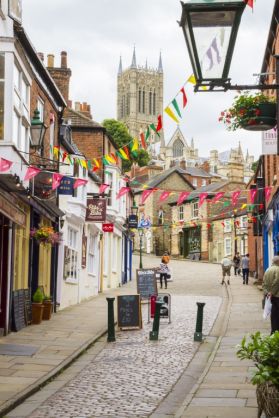 The Strait in Lincoln © England Originals
Lincoln's Magna Carta is the primary surviving copy of the original document of 1215, delivered to the cathedral's muniments room that year. Having been taken to Fort Knox, Kentucky, for security during the second world war, Lincoln's Magna Carta is now on permanent display in Lincoln Castle.
Standing almost in the shadow of Lincoln Cathedral, with sweeping views over the ancient city and the countryside beyond, the Medieval Bishop's Palace was once among the most important buildings in the country.
Head on to London from Lincoln by train or road, or extend your trip by travelling on to Cambridge or picturesque East Anglia.

If your or your group would like to discover a Treasure Trove of delights in north and east England on a tailor-made tour, please do contact our friendly team today. We will look after all aspects of your vacation from the moment you step off the plane, including the best hotels to meet your budget, delicious meals to satisfy your tastes and local attractions to suit your interests. We will make all the train travel arrangements for you, organise car rental or even provide you with your own private driver guide!