Landmarks across the world will be illuminated in green to mark St Patrick's Day on 17th March, with over 260 sites in 44 countries taking part.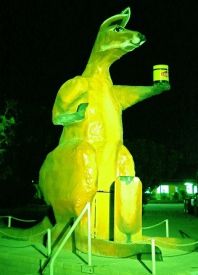 From Rome to Rio and from London to Las Vegas, a host of buildings and sites around the world are turning a shade of green to celebrate Ireland's national day.
Sites taking part for the first time this year include the One World Trade Center (the main building of the re-built World Trade Center complex in New York and the tallest building in the Western Hemisphere), four of Australia's famous 'Big Things' (The Big Banana, The Big Kangaroo, The Big Merino and The Big Tasmanian Devil), the beautiful Petit Palais on the Champs-Élysées in Paris and the Magic Fountain of Montjuïc in Barcelona. 
They are joined by some 'old favourites' which have gone green in previous years – including the Colosseum in Rome, the Sacré Cœur basilica in Paris, the Great Wall of China, Niagara Falls and the Christ the Redeemer statue in Rio de Janeiro. 
Tourism Ireland's annual 'Global Greening' initiative has gone from strength to strength – from its beginning in 2010, with just the Sydney Opera House and the Sky Tower in Auckland going green, to this year, with 267 sites taking part. 
Niall Gibbons, Chief Executive of Tourism Ireland, said: "This is the eighth year of Tourism Ireland's Global Greening initiative and it's bigger and better than ever this year, with some wonderful new additions like One World Trade Center in New York, A'DAM Toren in Amsterdam, the Petit Palais in Paris and the Chain Bridge in Budapest.
"St Patrick's Day traditionally marks the real start of the tourism season for us; our aim is to bring a smile to the faces of people around the world and to convey the message that Ireland offers the warmest of welcomes, as well as wonderful scenery and heritage."
Janet Redler, Chief Executive of Janet Redler Travel & Tourism, added: "St Patrick's Day is known around the world and this fun initiative helps to promote Ireland as a fantastic place to visit. With its beautiful landscape and superb hospitality, the 'Emerald Isle' really is a holiday destination like no other."
 
If you or your group would like to enjoy a luxury tailor made tour of Ireland, please do contact our friendly team today.