Conwy Castle, one of the most iconic landmarks in North Wales, has twinned with Himeji Castle in Japan, in the first such collaboration in the UK.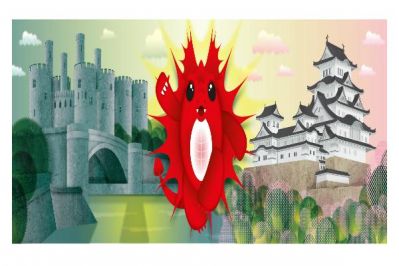 The twinning builds on recent work by Welsh Government and industry partners to develop a strong relationship with the Japan Association of Travel Agents (JATA) to present Wales as a tourism destination in the Japanese market.
Four years ago, there were no JATA-member package tours to Wales, but last year more than 4,000 Japanese tourists discovered the beauty and wonder of Wales on JATA package tours, with a focus on the North.
The aim of the twinning is to promote sustainable tourism at both castle sites, to use educational projects to promote knowledge about the castles, their histories and the communities around them, and to exchange skills and expertise through joint cultural and sporting activities.
The first step towards the twinning of these two UNESCO World Heritage Sites was taken in July 2018 when the Mayor of Himeji visited North Wales and joined the Mayor of Conwy to sign a Memorandum of Understanding. In October 2019, a delegation from Conwy attended an official ceremony in Himeji to sign a Co-operation Agreement to seal the twinning process.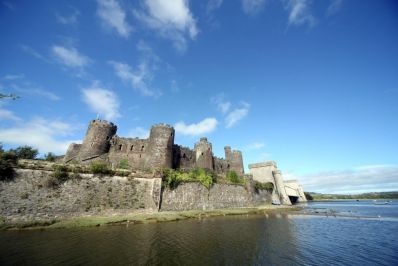 Conwy Castle, Crown Copyright Visit Wales
Conwy Castle is an imposing fortress, overlooking the medieval town of Conwy on the North Wales coast, which was built in the 13th century by King Edward I. UNESCO considers Conwy Castle to be one of the finest examples of late 13th century and early 14th century military architecture in Europe.
Himeji Castle dates back to the 14th century, with construction begining just 50 years after Conwy Castle. Situated on the main island of Japan, Himeji is Japan's largest and most visited castle and generally considered to be the country's most spectacular castle.
Lord Dafydd Elis Thomas, Deputy Minister for Culture, Sport and Tourism in the Welsh Government, said: "This is the first memorandum of understanding of its kind in the UK – the twinning of such great castles is an excellent way to celebrate our differences and deepen our cultural understanding. Following the welcome and interest in Wales from our Japanese friends during the Rugby World Cup, this twinning will further reinforce our friendship, as well as enhancing business, tourism and cultural opportunities between our two countries."
Jim Jones of North Wales Tourism said: This is just the beginning of a great and meaningful relationship between Conwy and Himeji. It's taken a lot of hard work by many people in both towns to get us to this point and now it's time to celebrate this very unique connection. We hope the profile of the twinning with Himeji will draw many Japanese visitors to Conwy, North Wales and Wales.
"Businesses and residents in Conwy have been going the extra mile for our Japanese visitors, taking Japanese language lessons, creating a welcome video, and learning about Japanese culture, so visitors can experience an extra warm welcome in the town. We're very excited to see this relationship flourish over the coming years."
Janet Redler, Chief Executive of Janet Redler Travel & Tourism, added: "Japan is one of our target growth markets for 2020 and not only does the twinning of these two magnificent castles help to promote Wales to Japanese tourists, but it also helps to raise awareness of the warm welcome awaiting visitors from Japan.
"North Wales has so much to offer travellers from all over the world and initiatives like this will, I am sure, help to encourage more Japanese visitors to our beautiful country."
If you or your group would like to enjoy a visit Conwy Castle on a tailor-made tour of North Wales, please do contact our friendly team.