For the first time ever, the summer solstice celebrations at Stonehenge will be streamed live for people to watch all over the world.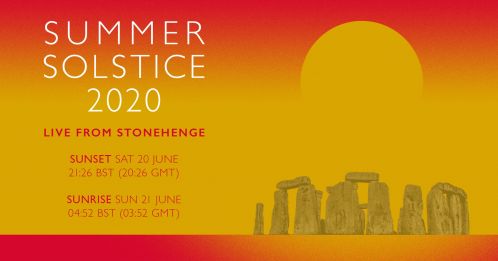 Stonehenge is a UNESCO World Heritage Site and the best known prehistoric site in Europe. It is synonymous with celebrations for the summer solstice, the longest day of the year, as crowds usually flock to see the sun rise from behind the site's famous Heel Stone.
Sadly, this year people will be unable to visit in person because of the measures in place to combat coronavirus, so English Heritage, which looks after the ancient site in Wiltshire, will be streaming the summer solstice celebrations live on its social media channels.
English Heritage will be broadcasting the sunset on Saturday 20 June and the sunrise on Sunday 21 June. Sunset is at 21:26 BST (20:26 GMT) and sunrise is at 04:52 BST (03:52 GMT). Those following the English Heritage Facebook page will get a notification when the stream is about to go live, approximately 30 minutes before.
The cameras set up by English Heritage will capture the best views of Stonehenge, allowing people to connect with this spiritual place from the comfort of their own home, wherever they are in the world.
Janet Redler, Chief Executive of Janet Redler Travel & Tourism, said: "We're looking forward to watching this year's summer solstice live from Stonehenge from the comfort of our armchairs, or indeed beds!
"Stonehenge is one of the most important sites in the world associated with the summer solstice, created as it was to frame the sunrise in midsummer. Next year we are looking forward to visiting Stonehenge with a large group from North America and enjoying an exclusive 'behind the ropes' tour of this magical place."
Stonehenge will reopen on 4 July, with timed access by ticket only, booked in advance. English Heritage is urging people not to travel to Stonehenge for the summer solstice this year, but looks forward to welcoming people in person once again next year.
If you or your group would like to enjoy a visit to Stonehenge in 2021 on a tailor-made our of England, perhaps focusing on the ancient history of the British Isles, please do contact our friendly team today.