The Royal Welsh Show, one of the UK's leading agricultural shows, takes place in mid-Wales each July and in normal times features over 400 different events, attracting tens of thousands of people from all over the globe. This year, for the second year running, the show will be taking place online.
Royal Welsh Show 2017 © Hawlfraint y Goron / © Crown copyright (2021) Cymru Wales 
Organised by the Royal Welsh Agricultural Society, the week-long celebration of Welsh agriculture, crafts and traditions runs from 19 – 22 July 2021. As well as bringing back memories to those who would usually be spending the week at the Royal Welsh Showground near Builth Wells, the organisers hope to offer a rewarding experience to newcomers too.
Agricultural shows are a feature of rural life across the UK. Traditionally these events brought farming communities together to share knowledge and expertise, generating good-natured competition between farmers and providing a welcome social opportunity. Today the shows are still a big part of country life, with much to offer visitors interested in agriculture, farming tradition and local culture.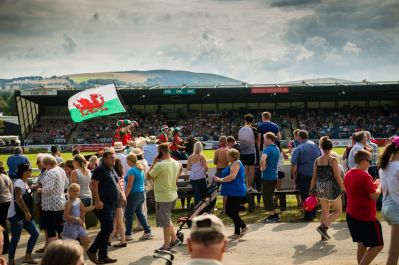 Royal Welsh Show 2017 © Hawlfraint y Goron / © Crown copyright (2021) Cymru Wales
Shows generally feature many activities, including livestock competitions, sheep-shearing, a show ring for exhibiting the best of rural life - whether that's carriage driving, vintage tractors or dog displays - numerous fascinating trade stands, and plenty of places to enjoy delicious Welsh food and drink.
This year, the virtual Royal Welsh Show is aiming to educate people in an inspiring and entertaining way about the value of agriculture and local produce, with competitions, presentations, workshops and question and answer sessions. Many award-winners will be announced throughout the week, from stand-out agricultural students to those who are notable within the agricultural sector in Wales.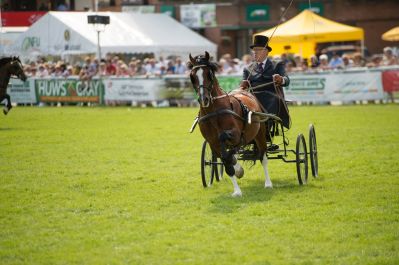 Carriage driving competition © Hawlfraint y Goron / © Crown copyright (2021) Cymru Wales
Steve Hughson, Chief Executive of the Royal Welsh Agricultural Society, said: "The success of last year's virtual show showed the potential that technology and modern communications offer events, such as ours. Of course, we never expected to have to cancel two consecutive shows, however as we are in that position, we feel that once again we want to create a different version of the virtual show to celebrate the event and allow everyone a taste of what we are all missing. I hope you enjoy this digital offering, and we look forward to welcoming you all back to the Royal Welsh Showground when restrictions allow."
With more and more visitors to rural areas of Wales, these days the Society is taking a growing role in explaining the countryside and rural life to those looking to enjoy their time in the wonderful Welsh countryside.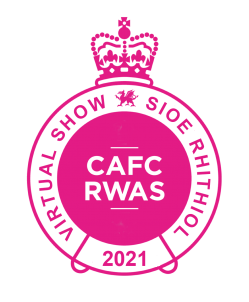 Janet Redler, Chief Executive of Janet Redler Travel & Tourism, added: "For anyone looking to experience Welsh country life, a visit to the Royal Welsh Show is a must. While sadly this year it was impossible to plan for a physical event, it's nice to know that there will be a virtual alternative. We're looking forward to joining in and we're sure the online show will help to whet the appetite for a return to the real thing in 2022 – fingers crossed!"
To watch the virtual event from 19 July click here, and for more information on how plans for the virtual show are developing click here. The show will also be featured on the Society's social media channels, where followers will be able to enjoy an array of informative posts and videos.
 If your or your group would like to enjoy a tailor-made tour of Wales, including a visit to the Royal Welsh Show, please do contact our friendly team today.