The new V&A Dundee in Scotland has welcomed its 100,000th visitor to the museum after just three weeks.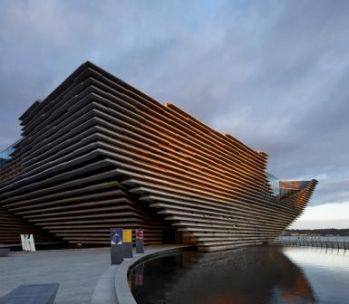 V&A Dundee, Scotland © Hufton+Crow
As Scotland's first design museum, V&A Dundee tells a global story, investigating the international importance of design alongside Scotland's outstanding design achievements.
The museum was designed by acclaimed Japanese architect Kengo Kuma and its complex geometry was inspired by the dramatic cliffs along the north-east coast of Scotland. V&A Dundee's construction and fit-out took three and a half years to complete and it stands at the centre of a £1 billion transformation of the Dundee waterfront, once part of the city's docklands. Stretching out into the River Tay, the museum is a new landmark for the region.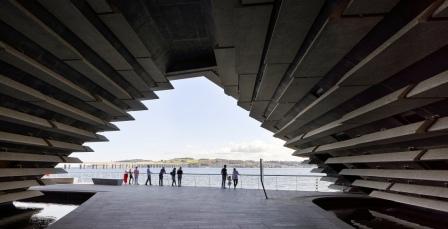 V&A Dundee, Scotland © Hufton+Crow
At the heart of the museum, the Scottish Design Galleries feature 300 exhibits drawn from the V&A's rich collections of Scottish design, as well as from museums and private collections across Scotland and the world.
At the centre of these galleries stands the magnificent Charles Rennie Mackintosh Oak Room meticulously restored, conserved and reconstructed through a partnership between V&A Dundee, Glasgow Museums and Dundee City Council. Visitors to the museum will be able to experience once again Mackintosh's extraordinary talent in designing this room, lost to view for nearly 50 years.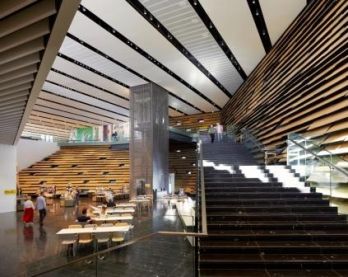 V&A Dundee, Scotland © Hufton+Crow
Philip Long, Director of V&A Dundee, said: "I'm very proud and delighted that in just over three weeks 100,000 people have already visited the museum. The feedback we have received from visitors has been fantastic and means so much to all of the team here at V&A Dundee.
"It's been a joy to see people enjoying the galleries, exhibitions and learning activities as well as exploring the wonderful building designed by our architect Kengo Kuma and enjoying all it offers. We are very much looking forward to welcoming even more visitors to Scotland's first design museum."
Janet Redler, Chief Executive of Janet Redler Travel & Tourism, added: "This world-class new museum is now a must-see on any tour of Scotland. We look forward to bringing our tour groups to Dundee and to visiting this exciting new attraction."
Within the first 12 months of opening, it is forecast that V&A Dundee will welcome around 500,000 visitors. After the first 12 months it is forecast the museum will attract around 350,000 people annually.
If you or your group would like to enjoy a tailor-made tour of Scotland, visiting some of the country's most fascinating museums and art galleries, please do contact our friendly team today.