It's great news that Dublin and Galway have made it into the top six friendliest cities in the world in the 2016 reader survey of major US travel magazine Condé Nast Traveler. Dublin is in third position, with Galway coming in sixth place.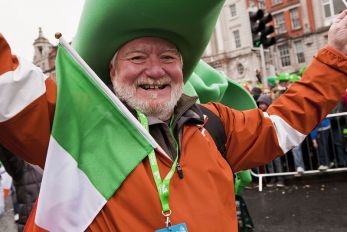 © Tourism Ireland
Every year, Condé Nast Traveler asks its readers to decide on their favourite cities around the globe in its Readers Choice Awards survey. The magazine has unveiled the results of its 2016 survey – completed by some 128,000 readers – including its list of the world's friendliest cities, where readers felt most welcome. To view the results, click here. 
Welcoming the news, Niall Gibbons, CEO of Tourism Ireland, said: "I am delighted to see two of our cities appear in the prestigious Condé Nast Traveler survey of friendly cities around the globe. It is another well-deserved accolade for Dublin and Galway.
"Again and again, our research shows us that the friendliness of our people is one of our unique selling points. It is the warm welcome and the 'craic' here that resonates with our overseas visitors and makes our cities, and the island of Ireland, such a great choice for a short break or holiday."
Janet Redler, Chief Executive of Janet Redler Travel & Tourism, added: "We are always assured of a warm welcome on our tours to Ireland, so it is no surprise to us that these two fantastic cities have been voted amongst the friendliest in the world.
"Just a few months ago on a driver guided tour of Ireland which took in both of these places, our visitors from California commented on just how friendly Irish people are, with so many taking the time to stop and chat to us."
The top ten friendliest cities, according to the 2016 Condé Nast Traveler survey, are:
Charleston, South Carolina
Sydney, Australia
Dublin, Ireland
Queenstown, New Zealand
Park City, Utah
Galway, Ireland
Savannah, Georgia
Kraków, Poland
Bruges, Belgium
Nashville, Tennessee
If you or your group would like to visit Dublin and Galway on a tailor made tour of Ireland, and experience the warm welcome for yourself, please do contact us.