A new exhibition at Liverpool's World Museum provides an unmissable opportunity for visitors to the city to see the world-famous Terracotta Warriors, one of China's finest national treasures.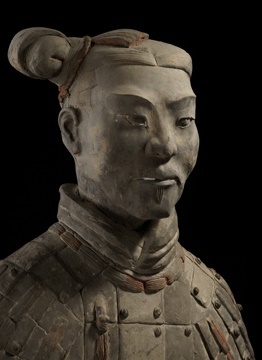 Armoured infantryman © Mr Ziyu Qiu
China's First Emperor and the Terracotta Warriors features more than 180 spectacular artefacts from museums across Shaanxi Province, more than half of which have never been on show in the UK before.
This landmark exhibition, which runs until 28 October 2018, tells the story of the formative years of the Chinese nation, from the pre-unification Qin Kings, to China's First Emperor, Qin Shi Huang's rise to power and the legacy of his achievements in the succeeding Han Dynasty.
Visitors will come face to face with the extraordinary Terracotta Warriors, including a life-size terracotta horse, as well as other exquisite objects from the Emperor's vast burial complex. Objects from the Han Dynasty explore ancient Chinese lifestyle, the economic prosperity of the empire and beautifully crafted artefacts from royal burials.
The exhibition has been curated by leading scholars and designed by National Museums Liverpool, working with the Shaanxi Provincial Cultural Relics Bureau and Shaanxi History Museum in China. China's First Emperor and the Terracotta Warriors also features immersive technology to create a unique and evocative interpretation of this historical collection.
David Fleming, Director of National Museums Liverpool, said: "This is a tremendous coup, not just for Liverpool, but for the whole of the UK. As home to one of the oldest Chinese communities in Europe, Liverpool is absolutely the right place for this exhibition, and we are hugely excited to be working with our museum colleagues in China to bring a collection of Warriors, and many other significant historical discoveries to the UK.
"The Terracotta Warriors have found incredible fame around the world since they were discovered by chance in 1974, and this is a once in a lifetime opportunity to see them in Liverpool. We thank our partners in this endeavour, including the Department for Digital, Culture, Media and Sport. I urge everyone to attend this 'must see' show, the highlight of Liverpool's 10th anniversary celebrations as European Capital of Culture in 2018."
Janet Redler, Chief Executive of Janet Redler Travel & Tourism, added: "This new exhibition provides visitors to one of the UK's most exciting cities with a fantastic opportunity to see one of the world's greatest treasures. If you're in the UK in 2018, we would urge you to go along!"
If you or your group would like to enjoy a tailor-made tour of the UK and Ireland, including a visit to Liverpool, please do contact Janet Redler Travel & Tourism today.