A group of wine connoisseurs from Sweden enjoyed a fascinating four day tour of the vineyards of Kent and Sussex this spring, thanks to Janet Redler Travel & Tourism.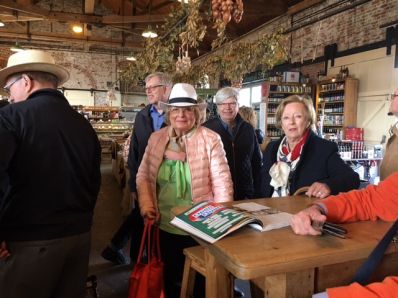 The tailor made holiday started with a visit to the award winning Bolney Wine Estate, where the group experienced a comprehensive tour as well as a tutored wine tasting. This was followed by an outing to the world renowned Ridgeview Wine Estate, founded in 1994 and famous for making sparkling white wines using traditional methods.
As well as taking in some of south east England's finest vineyards, the tour included a trip to Shepherd Neame, Britain's oldest brewer, giving the visitors a chance to discover the brewer's art and to learn how beers and speciality lagers are tested for quality.
A guided tour of the ancient city of Canterbury, a UNESCO World Heritage site, saw the visitors following in the footsteps of Chaucer's renowned pilgrims, taking in the shrine of Thomas Becket at the majestic cathedral.
The group then visited a number of other vineyards, including Chapel Down Winery and Vineyard, which supplied wine for the wedding of Prince William and the Duchess of Cambridge in 2011. Chapel Down was the first English producer to win a gold medal for sparkling wine at the prestigious International Wine Challenge.
Throughout the tour, the group enjoyed sumptuous meals and hospitality at some of the region's finest establishments, such as The Sportsman, a Michelin star restaurant in Whitstable.
"Working with a Swedish travel agent, we were delighted to put together this custom made tour for a group of food and drink enthusiasts," said Janet Redler, Chief Executive of Janet Redler Travel & Tourism. "As well as arranging visits to some of the leading vineyards and wineries, we were able to give the group a true taste of the Garden of England, with some of the finest food and accommodation in some of the most beautiful locations. At the end of the tour, we were so pleased to hear how much they had enjoyed it!"
If you would like Janet Redler Travel & Tourism to put together a tailor made special interest tour for you or your group, please do contact us.