Maritime Belfast Trust, the charity that preserves and promotes Belfast's authentic maritime heritage, has announced an exciting new outdoor interactive visitor experience which will bring to life part of Belfast's maritime story.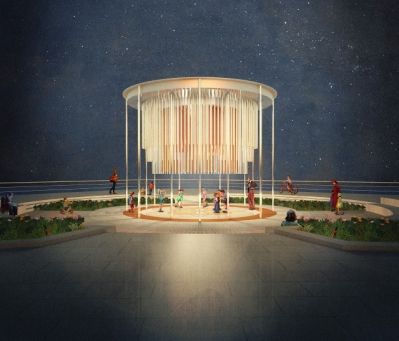 SoundYard will be located on Belfast waterfront on the site of a former brass foundry
Located on Belfast's Maritime Mile, SoundYard will celebrate the city's maritime heritage by recreating the sounds that once resonated in the area. Inspired by the noise of striking metal emanating from the old shipyards, SoundYard pays homage to Belfast's rich industrial heritage.
While children will enjoy the sensory experience within the structure, adults will be able to connect with the sounds to help interpretate the significance of the shipyards to the city. The experience will be free to visit and will open to the public later this year.
The Maritime Mile brings together many of Belfast's iconic waterfront attractions, including Titanic Belfast, HMS Caroline, Titanic Dock and Pumphouse, and the Belfast Harbour Offices.
As the home of Harland & Wolff, once the greatest ship builders in the world, Belfast was the birthplace of many iconic vessels including the renowned RMS Titanic. Today, the dockside offers numerous sights, attractions and opportunities to delve into the history of the city, from award-winning exhibitions to historic docks.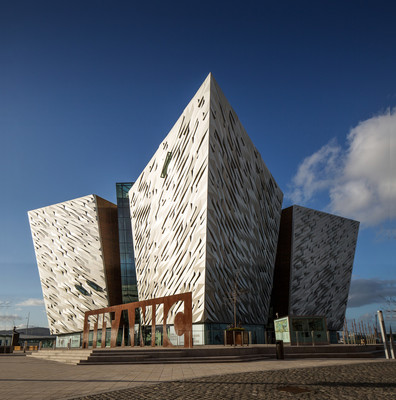 Discover the story of the world's most famous ship at Titanic Belfast © Northern Ireland Tourist Board
SoundYard's unique design was the winning submission in a Royal Society of Ulster Architects competition in 2019. Three talented young architects were inspired by the noise of striking metal from the old shipyards and the sounds from repurposed metal pipework. The project has been funded by Tourism NI, Maritime Belfast Trust, JP Corry and Belfast Harbour.
Tourism NI Director of Product Development, Rosemarie McHugh, said: "The new tourism brand 'Northern Ireland Embrace A Giant Spirit' is based on what we know visitors enjoy when they come to Northern Ireland – the giant spirit of the people, authentic local experiences and stories, and our magnificent landscape. This project by the Maritime Belfast Trust is another exciting addition to the visitor experience along Belfast's Maritime Mile and will bring the story of Belfast and the shipyards to life in an enjoyable way for visitors and locals alike."
Janet Redler, Chief Executive of Janet Redler Travel & Tourism, added: "This innovative new attraction is sure to bring a whole new dimension to Belfast waterfront, reintroducing the sounds of the shipyards to the area. Once the centre of the shipbuilding world, the Maritime Mile tells the industrial story of Belfast, and shouldn't be missed on a visit to the city."
If you or your group would like to enjoy a visit to Belfast on a tailor-made tour of Northern Ireland, or as part of an industrial heritage tour of the UK and Ireland, please do contact our friendly team today.