January may not seem like the most obvious month for a visit to Scotland, but if you're there on Burns Night (25 January), you can be sure of a big celebration!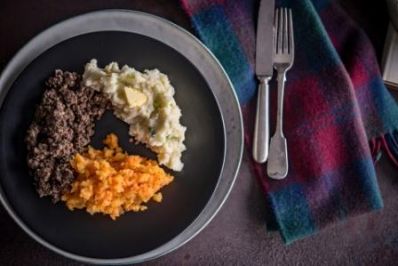 A traditional Burns Supper of haggis, neeps and tatties © VisitScotland
Scots and visitors alike will be toasting Robert Burns' legacy on 'the big night' (the anniversary of his birth) and celebrating Scotland with a wee dram and a traditional Burns supper of haggis, neeps and tatties. 
There are exciting events taking place across Scotland, including the Big Burns Supper festival in Dumfries, as well as the world's first Burns Supper drive-thru in South Ayrshire.  
After enjoying the food, Scotland fans can then follow in the Bard's footsteps including his birthplace, 
Alloway
 in Ayrshire – home to the 
Robert Burns Birthplace Museum
 – and Dumfries, which is home to places such as 
Ellisland Farm
 (built by Robert Burns as his home in 1788) and the 
Globe Inn
 pub (established in 1610, which was regularly frequented by Burns and is home to some fascinating memorabilia).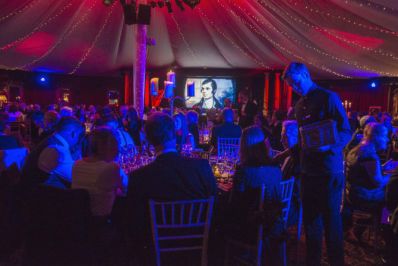 Burns Night party © Visit Scotland
Burns Night celebrations taking place in Scotland include:
Big Burns Supper, Dumfries, 23 January - 2 February 2020 
A Burns supper with a twist, the world's biggest contemporary Burns celebration runs for 11 days at the end of January in the vibrant capital of South Scotland, Dumfries. The festival takes place in venues, bars, art galleries, museums across the town. 
Burns' HameToun Events, South Ayrshire, 23 - 27 January 2020 
Celebrate the bard in his 'hametoun' with a celebration street party, Burns live music nights, Alloway birthday celebrations, the only Burns Supper in the world to take place in Burns Cottage, the winner of the Robert Burns Humanitarian Award and more.  
The world's first Burns Supper Drive Thru will take place at Newhailes House & Gardens in Edinburgh on 25 January. Visitors can order their meals on arrival and enjoy them from the comfort of their own cars. A bit of poetry or a song can also be expected. 
Supper with Burns at the Scottish Storytelling Centre, Edinburgh, 23 & 24 January 2020 
Visitors can enjoy a delicious three-course Scottish dinner – with the centrepiece Haggis – and a generous helping of Burns' stories and songs. 
Travels with Burns
Locations with a Burns connection are fascinating and certainly worth visiting on a trip to Scotland, including the Robert Burns Birthplace Museum in Alloway, South Ayrshire.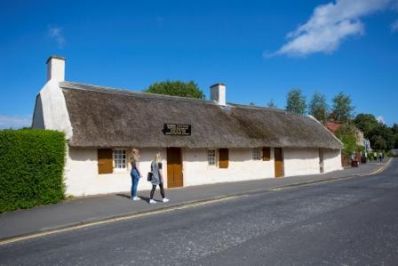 Robert Burns Birthplace Museum © VisitScotland / Kenny Lam 
There is also an opportunity to visit the home of Souter Johnnie, who was immortalised in a famous Burns poem, in Kirkoswald. Other Burns attractions in Ayrshire include the Bachelors' Club in Tarbolton, the 17th century thatched cottage where Burns established his debating club, and the Burns House Museum in Mauchline where Robert Burns lived and worked between 1784 and 1788. 
Burns enthusiasts, or anyone simply interested in seeing a beautiful corner of Scotland, can take a trip to Dumfries & Galloway
.
 Burns' former home 
Ellisland Farm
 is now a museum where some of his original writings and possessions are on display.
A welcome sight for those in search of warmth and comfort (and perhaps a whisky), the Globe Inn in Dumfries is notable in that it is one of the country's oldest hostelries and used to be frequented by Burns himself. It is rumoured that anyone who dares sit in Burns' old chair (which is still at the bar) is challenged to recite a line of his poetry and buy everyone a drink at the bar.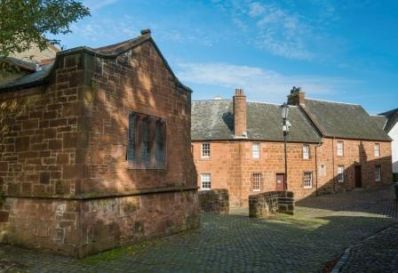 Burns House Museum in Mauchline © VisitScotland / Kenny Lam
Whilst in Dumfries, visitors can also spend an afternoon at Burns' final home, Robert Burns House, on the aptly named Burns Street. Discover the famous Kilmarnock and Edinburgh editions of Burns' work and take a look around the study where he wrote some of his best-loved poems. The Burns Mausoleum, the final resting place for Burns, his widow Jean, and five of their children, is also only a short walk away in St Michael's Kirkyard. 
Robert Burns' connections with Scotland's capital have long been celebrated. On 28 November 1786 when Robert Burns arrived in Edinburgh its gates were flung open to him. He stayed in Baxter's Close in a house which has been demolished and is now Deacon Brodie's Tavern on the Royal Mile. 
Also based on the city's Royal Mile,
The Writers' Museum
 has a permanent Robert Burns collection which is recognised to have national significance. Displayed in the museum is a collection of portraits of Burns along with the writing desk from his Dumfries home at which he wrote some of his best-known work. Whilst in Edinburgh, fans of Burns will be able to see one of the most famous portraits at the 
Scottish National Portrait Gallery
 - Alexander Nasmyth's portrait of Robert Burns. 
If you or your group would like to enjoy a tailor-made tour of Scotland following in the footsteps of Robert Burns, including a traditonal Burns Supper, please do contact our friendly team today.