Scotch Whisky tourism saw record numbers of visitors in 2017, with 1.9 million visits to Scotch Whisky distilleries from tourists from all over the world as well as from across the UK.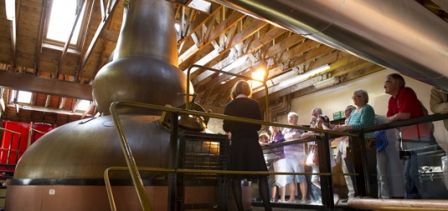 © Scotch Whisky Association (SWA)
The 2017 annual survey compiled by the Scotch Whisky Association (SWA) revealed spending at visitor centres was up by 15.6% to £60.9m. Visitor centres reported that the highest number of visitors came from Germany and the USA, followed by those from India, China and Japan.
Karen Betts, Scotch Whisky Association chief executive, said: "These record figures are great news for the industry and great news for Scotland. These are exciting times. Scotch Whisky distilleries have invested - and continue to invest - hugely in providing world-class visitor facilities at their sites all over Scotland, and they are collaborating in establishing new whisky trails and finding new ways of telling the story of Scotch to British and foreign visitors alike. And it's a wonderful story: part traditional, part modern and set among Scotland's communities and in its breathtaking landscapes."
Over the past 12 months distilleries have continued to recognise the value of Scotch Whisky tourism, making significant investments to improve the visitor experience - from introducing interactive experiences to extending opening hours, upgrading infrastructure to meet demand and improving the knowledge of tour guides. New and existing visitor centres are also planned to further tell the story of how Scotch is made, and to welcome visitors to the world of Scotch Whisky.
The increase in visits to 1.9 million is an 11.4% rise year on year and represents 45% growth in popularity since 2010. The SWA survey also details that on average over £32 was spent during each trip to a visitor centre, up almost 4% year on year and by £11 per visit since 2010.
The success story of Scotch Whisky tourism has also positioned the industry as one of leading UK attractions. The National Museum of Scotland and Edinburgh Castle are the top attractions outside London, both attracting over 2 million visits in 2017, just 100,000 more than those drawn to distilleries.
Malcolm Roughead, Chief Executive of VisitScotland, said: "We're delighted that the popularity of Scotch Whisky distilleries is continuing to grow with our visitors, which reflects the hard work and investment by the industry in delivering a world-class experience. Scotch Whisky is a culinary and cultural icon and one of Scotland's most valuable commodities, with visitors from across the globe coming to our shores to experience an authentic Scottish dram."
Janet Redler, Chief Executive of Janet Redler Travel & Tourism, added: "Scotch Whisky is famous the world over and many of our visitors to Scotland enjoy learning about its heritage and how it is made. Scotland's distilleries are often set in the most glorious locations, nestled in the rugged Highland landscape or perched on romantic island shores, and are a must-see on any tour of Scotland."
If you or your group would like to take a whisky tour of Scotland, or would just like to include a visit to one or two of Scotland's finest distilleries on your tour of Scotland or the United Kingdom, please do contact our friendly team.