The canonisation of Cardinal Newman by Pope Francis in October will put the holy sites associated with the new saint on the growing UK pilgrimage map.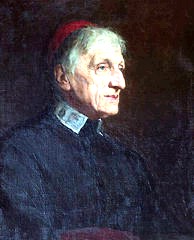 Portrait of Cardinal Newman, Birmingham Oratory © Mazur / catholicnews.org.uk
According to tourism trade body UKInbound, over seven million overseas tourists visit at least one religious site when they come to the UK, and the imminent canonisation of John Henry Newman in St Peter's Square in Rome in the autumn is set to boost the UK as a pilgrimage destination.
Cardinal Newman will become the first English person born since the 17th century to be officially recognised as a saint by the Roman Catholic Church.
John Henry Newman (1801-1890) was ordained as a Church of England priest but converted to Catholicism in 1845. He founded the Birmingham Oratory in England and was later made a cardinal. When he died at the age of 89, more than 15,000 people lined the streets of Birmingham for his funeral.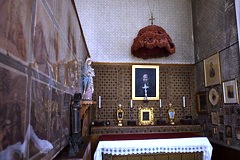 Private chapel of Cardinal Newman, Birmingham Oratory © Mazur / catholicnews.org.uk
Newman is widely considered to be one of the most significant figures of the 19th century. The cause for his sainthood was opened in 1958 and he was declared Venerable by Pope Saint John Paul II in 1991, after his life of 'heroic virtue' was recognised. Pope Benedict XVI declared him Blessed in Cofton Park near Birmingham in September 2010, as part of his historic visit to Britain.
The canonisation was made possible by a second miracle attributed to the intercession of Blessed John Henry Newman in 2013. After an initial investigation carried out by the archdiocese of Chicago, it was submitted to the Holy See in 2018, and approved by Pope Francis on 13 February 2019.
At the age of sixteen, Newman became an undergraduate at Trinity College, Oxford. After his undergraduate studies he was elected to a fellowship at Oriel College, at the time the leading college of the university, in 1822. In 1825, he was ordained a priest in Christ Church Cathedral and became curate of St. Clement's Church, Oxford.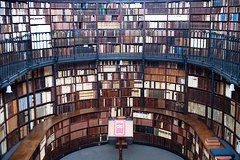 Private library of Cardinal Newman, Birmingham Oratory © Mazur / catholicnews.org.uk
In 1828 Newman was appointed vicar of St Mary the Virgin in Littlemore, near Oxford, where he arranged for a new church to be built. Newman lived in Littlemore from 1842 to 1846 and it was here that he converted to Catholicism. His former home is now the International Centre of Newman Friends, a college that aims to make the life and work of John Henry Newman known. Visitors are welcome to visit Newman's room and chapel and the museum and library for studies and research.
In February 1848, with the approval of Pope Pius IX, Newman established, in Birmingham, the first Oratory of St. Philip Neri in the English speaking world (also known as Birmingham Oratory). While guided tours of the Newman Memorial Church and Shrine at the Oratory are available by arrangement, a new Newman Museum will open later in the year, following his canonisation, and will contain over 20,000 digital copies of Newman manuscripts.
When Newman died he was buried in Birmingham Oratory's cemetery and the inscription on his grave reads 'out of shadows and symbols unto the truth' – a message still relevant today for those seeking the meaning of faith in the modern world.
If you or your group would like to enjoy a tailor-made pilgrimage of the UK following in the footsteps of John Henry Newman, or indeed if you would like to explore the other religious sites and pilgrim routes of the UK and Ireland on a religious tour or pilgrimage, please contact our friendly team. We can take care of all aspects of your tour, including accommodation, transport and admissions, from the minute you step off the plane.