Northern Ireland has been named the world's Best Food Destination in 2018 at a major travel and tourism awards ceremony in London.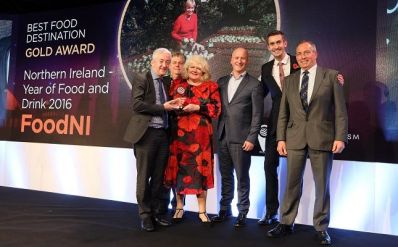 The entry from Food NI, Northern Ireland's food and drink promotion body, won gold at the prestigious International Travel and Tourism Awards in for Northern Ireland as The Best Food Destination in 2018.
Food NI pipped other global food destinations, including San Sebastian/Donostia in Spain, to lift the prestigious award for Northern Ireland for its organisation of the highly successful Year of Food and Drink in 2016.
The awards were held as the showpiece of the annual World Travel Market in London, the world's leading global travel trade event, which attracts over 50,000 travel professionals from around the world. Entries were invited from across the world.
The coveted award was presented to Michele Shirlow, Chief Executive of Food NI, who said: "I am thrilled to receive this strategically important award which positions Northern Ireland internationally as the leading destination for premium quality and innovative food and drink. This international award is a marvellous accolade for our industry and local producers in particular and should be a major benefit for our rapidly developing tourism industry as it seeks to attract even more visitors from across the world and in particular golf enthusiasts for The Open in Portrush in 2019."
Food NI played the central role with Government departments including the Department of Agriculture, Environment and Rural Affairs, Tourism NI, Tourism Ireland and Invest NI in delivering Northern Ireland's first year-long Year of Food and Drink in 2016, a celebration of outstanding food and drink and the people who produce it and provide it.
A carefully selected independent panel of judges made the awards a reality. Every judge was a prominent member of the travel community, with the right experience and know-how to select the very first International Travel & Tourism Awards winners.
The awards were held for the first time during the three-day World Travel Market and attracted 70 entries from across the world.
Janet Redler, Chief Executive of Janet Redler Travel & Tourism, said: "It's great news that Northern Ireland has been named the world's Best Food Destination in 2018, and we know from our own experience just how good the food there can be. This award recognises all the hard work of those involved in the Year of Food and Drink 2016, from small local producers to internationally recognised restaurants.
"This year's WTM has been another exceptional event, giving us the chance to make new contacts and meet old friends, and we thoroughly enjoyed it."
If you or your group would like to enjoy a food and drink tour of Northern Ireland, or indeed the rest of the UK and Ireland, please do contact our friendly team.