The Wales Coast Path has launched a series of self-guided, themed walking itineraries covering the entire 870-mile trail, to help visitors discover new and exciting ways to explore the Welsh coastline.
The Wales Coast Path is a designated footpath which follows, or runs close to, the coastline of Wales, from Chepstow on the edge of the Forest of Dean in the south, right round to the historic city of Chester in the north. The Wales Coast Path was launched in 2012 and is the first dedicated footpath in the world to cover the entire length of a country's coastline.
The new self-guided themed itineraries have been specifically designed by the network of officers who spend their days managing - and enjoying - the path.
The Welsh coastline is extremely varied and really does offer something for everyone. From cliff top strolling to estuary exploring, picturesque fishing villages to vibrant cities, industrial heritage to unconquered castles, desolate windswept beaches to bustling seaside resorts. Whether you are in Wales for a single day or an entire vacation, the Wales Coast Path has a lot to offer.
Among the new routes are a selection of short, family-friendly augmented reality walks, and a series of longer three-day itineraries developed to provide flexibility for visitors to go completely off-grid, test their fitness, or enjoy a family weekend activity. Showcasing Wales's beaches, estuaries, cliffs, woodlands and hills, themes include 'Wow Walks', 'Mindfulness Walks', and 'Culture Heritage Walks'.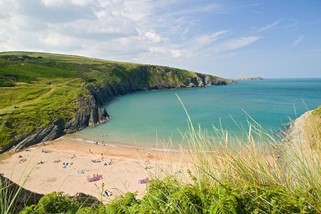 New for 2020 are walking itineraries focused on mindfulness, perfectly suited for those who want to focus on reconnecting with nature, family and themselves. These itineraries highlight the positive benefits of walking whilst showcasing Wales's beaches, biodiversity, woodlands and hills, with a selection of routes crafted to offer walks for all abilities.
The itineraries, which can be downloaded via the Wales Coast Path website, or as apps for Apple iOS and Android devices, include information such as maps, distance covered and public transport links. Even if you can't travel to Wales at the moment, the itineraries will help to whet your appetite for when things get back to normal.
The apps help bring the path alive using augmented reality, 3D films and games. There is even a built-in electronic postcard to share special moments on the path with family and friends. Some aspects of the app are also designed to work exclusively with information boards especially installed at seven locations.
Janet Redler, Chief Executive of Janet Redler Travel & Tourism, said: "These fantastic new itineraries for the Wales Coast Path are brought to life by the interactive apps, which create a whole new level of interest for anyone keen to explore the Welsh coast. While the spectacular Welsh scenery is enough to excite many walkers, the apps provide the additional information and inspiration needed to get the most out of your visit."
If you or your group would like to explore the wonderful Wales Coast Path on a tailor-made walking tour or as part of your vacation in Wales or the UK and Ireland, please do contact our friendly team today.