The Royal Albert Hall in London has launched its 150th anniversary year with a 90-second tribute to live music entitled Your Room Will Be Ready, narrated by Sir Mick Jagger, lead singer of the Rolling Stones.
Directed by BAFTA-nominee Tom Harper (The Aeronauts, Wild Rose), and scored by Academy Award-winning composer Steven Price (Gravity, Fury), the short film focuses on the anticipation and energy of live events. It pairs images of the empty venue with more than 40 pieces of archive event footage from 1933 to the present, and Sir Mick reading from For Friends Only, a poem by W.H. Auden.
The film includes legendary moments in music history, alongside appearances from artists, athletes and activists. It contains previously unseen and unreleased footage of Chris Cornell, Jimi Hendrix, and Creedence Clearwater Revival, as well as rarities including Diana Ross' 1973 Hall debut, restored footage of Led Zeppelin's now-legendary 1970 appearance, and Peter Whitehead's film of the Rolling Stones' 1966 headline show. The film also includes historic footage of Queen Elizabeth II and Sir Winston Churchill.
The Royal Albert Hall is a concert venue in central London which was built in the 19th century and named by Queen Victoria in memory of her husband Prince Albert. It is one of the United Kingdom's most famous buildings, easily recognised by its distinctive round shape. Since it opened, the world's leading artists from many performance genres have appeared on its stage. It is also the venue for the Proms series of classical music concerts, which take place each summer.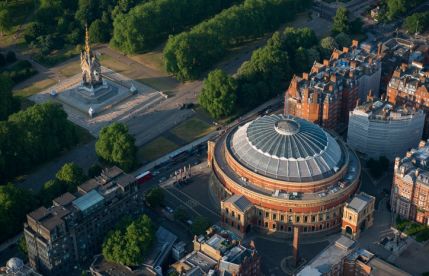 The Royal Albert Hall © VisitBritain / Jason Hawkes
Sir Mick Jagger said: "Without doubt the Royal Albert Hall is one of the greatest concert venues in the world and so I was delighted to be asked to read a short poem by W.H. Auden as part of this excellent short film by Tom Harper.
"I have some wonderful memories of performing there with The Stones in the 1960s when once or twice it did get a bit wild, with enthusiastic fans joining us onstage and almost bringing the show to an abrupt end – but we soldiered on and had a great time."
Director Tom Harper said: "The Royal Albert Hall is a magnificent building even when it's empty, but what makes it truly special is the connection it fosters through those shared experiences. That is what this film is about; not only a celebration of performances from the hall's glorious past, but also the sense of anticipation of some of the things to look forward to when we can be together again."
The film is the first event of the hall's 150th anniversary celebrations, which will extend into 2022 and include major commissions from British artists, headline performances from music icons, and a series of showcases promoting the next generation of talent.
Janet Redler, Chief Executive of Janet Redler Travel & Tourism, added: "This splendid film brings to life the history of the Royal Albert Hall and looks forward to a time when we can all enjoy concerts and performances once again. The Royal Albert Hall is one of London's best known landmarks and is a truly world class music venue."
If you or your group would like to enjoy a tailor-made concert tour or opera tour of the United Kingdom or Ireland, please do contact us today to start planning your visit.