VisitScotland is helping to quench the thirst of gin fans the world over with the creation of an interactive map which pinpoints the country's gin producers.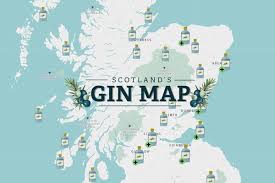 While Scotland may be most famous for whisky, interest in gin as a drink has soared in recent years and production in Scotland has taken off. In fact, Scotland now accounts for 70% of the UK's total gin production.
Scotland's Gin Map takes gin lovers on a tour of over 40 gin producers in the country – with more expected to be added in the future. Using the map, gin fans can explore the spirit by region, find their favourite brands, learn where they can 'make their own' gin or embark on a distillery tour.
From Shetland's most northerly isle to Dumfries in the south west of Scotland, there are new distilleries, exciting events and unique gin-themed experiences popping up the length and breadth of the country. The spirit's increasing popularity, especially for craft and artisan products, is worth around £1.2bn to the UK economy, with that figure set to soar to £1.5bn by 2020.
Steve Duncan, VisitScotland Marketing Manager, said: "Thanks to a huge surge in craft spirit production, Scotland's gin credentials are on the rise. While we may be best known for whisky, we also have a long history of producing really good and award-winning gins, which is clearly borne out by the rise in the number of Scottish producers over the last few years. Some of the world's best-selling gin brands are made in Scotland and the number of producers is rising every year.
"Our new interactive map, which can be updated easily, is designed to support the growing interest in Scotland's gin, helping visitors plan their gin journey, learn about producers and enjoy tours and tasting experiences.
"With a fifth of visitors visiting whisky distilleries as part of a trip, there is a real potential to grow gin tourism in Scotland and appeal to new audiences."
Janet Redler, Chief Executive of Janet Redler Travel & Tourism, added: "While Scotland is well known for its whisky distilleries, it is perhaps less famous for its gin. However, with over two thirds of the UK's gin production now taking place there, Scotland is in fact the gin capital of the UK!
"We're sure that anyone looking to take a food and drink tour to Scotland would appreciate a visit to at least one of the country's many gin distilleries, to find out more about this popular spirit."
If you or your group would like to enjoy a tailor-made gin tour of Scotland, or indeed a food and drink tour to any other part of the UK and Ireland, please do contact our friendly team.